Welcome Aboard
Current issue highlights: Reviews of the C&C 34+ and MacGregor 26X , and a Watkins 27 refit.
Speaking seriously: The Cunningham 101, Fire aboard, Louvers made easy, Maximizing stowage, Weather in pictures, Mast-raising magic, A multi-tasking seacock, A mast boot for all seasons, and Replacing rudder bearings.
Lighter fare: Salvaging a dream, The last voyage, Simple solutions: Poor man's vacuum bag, Quick and easy: Shrouds in hosiery and Hatch covers, New product launchings, and The view from here: The design spiral.
---
What's New At Good Old Boat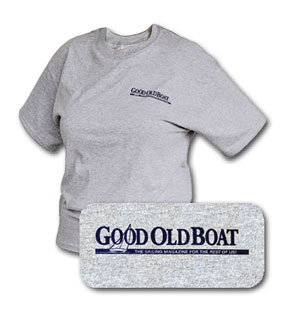 In honor of boat launch time, we've marked down a few T-shirts and our great denim logo shirt as well. For a limited time (through May 31) our shirts. our Gray Work Shirt and our Will Work for Boat Parts Shirt are both only $18. Our denim shirt is on sale for only $31.50 instead of $35. One more deal on all clothing orders through the end of May: we'll add a FREE CD to each order. That's one full year of back issues normally sold for $25.
The newest of our Archive eXtractions
Here's the very newest in our line of Archive eXtractions (downloadable books in PDF format) available at AudioSeaStories.com. This one is the first of a series of downloadable Review Boat collections. It includes all the boats reviewed so far by Good Old Boat in the 25- to 27-foot range. You'll probably be able to guess what the next book in this series will include …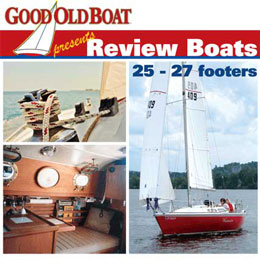 Other New article collections
Two other new Archive eXtractions, which are downloadable collections of articles published in Good Old Boat. Boatbuilders is a collection of PDF articles about the companies that built our good old boats. Archive eXtractions are available at www.audioseastories.com, our downloads site.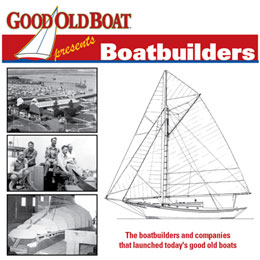 Hand-in-hand with the Boatbuilders collection of articles is Boat Designers, a collection of PDF profiles, published in Good Old Boat magazine in the past about the people who designed our good old sailboats 10, 20, 30, and more years ago. This downloadable "book" of articles is available at www.audioseastories.com. Look in Archive eXtractions.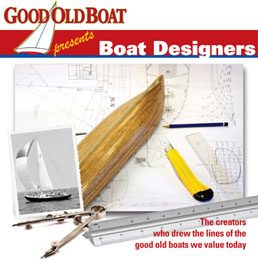 Facebook Following Grows!
Good Old Boat has nearly 2,500 Facebook friends, fans, and followers … and the list is growing every day. Thanks for "liking us," as they say!
Good Old Boat


Promote Your Page Too
Shows and Events
Look for us at these events in 2013. We'll launch announcements as they come about, and check for more details on our Facebook page, too.
Swiftsure International Yacht Race
Sponsored by Good Old Boat
May 23-26, 2013
US Sailboat Show, Annapolis, MD
Oct. 10 - 14, 2013
You asked for it! Good Old Boat is now available as a digital subscription. Have it your way: paper subscription or digital subscription.
We also have individual copies (paper or digital) available. Back issues too (single copies or by the year)! That pretty much covers the waterfront, we think. And speaking of the waterfront, let's all go sailing!
If you need a back issue immediately, we can handle it. We now sell all previous issues of Good Old Boat as downloadable back issues for $8 each. Or you can buy an entire year's worth (years 1998 through 2012). Prices vary for these. If you're searching for specific articles or topics this index of all our issues should be useful. It's a very handy look-em-up tool. Many back issues are still available in the old-fashioned paper format, too.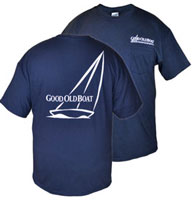 We now offer 10 styles of T-shirts. The newest are two Big Logo T-shirts. You'll be able to catch the message on these … even at a distance! The first is a navy short-sleeved affair with a white you-can't-miss-this logo on the back. The second is a long-sleeved white shirt (Think: sun protection!) with a huge red and blue logo on the back. As long as we're making a break from tradition by offering a long-sleeved shirt, we thought we'd go all out: both shirts have front pockets.!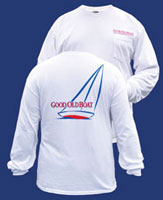 Other newish shirts are: "We Ain't Leanin' Till Someone's Screamin'" in a radical red, "Sailing is Life. The Rest is Just Details," in a knock-em out deep teal, and a plain and simple (tasteful and understated) Good Old Boat logo on a gray shirt, perfect for doing boatwork. A little grease or oil will blend right in!

Other favorite T-shirts are our "To Sail or Not to Sail -- What a Stupid Question" in khaki, the "Are We There Yet? -- Who Cares?" shirt in a medium blue color called "iris." Sailors also like the sunny yellow shirt that says "Gone Sailing. Will Return WheNEVER."
Our classics are "Wind. The Free, Clean, Fun Fuel for Your Boat" in serene green and our "Will Work for Boat Parts" T-shirt on white.
To order any of these shirts, or our logo ball cap and denim shirt, please visit our online Books and Gear page.
---

Back To Top
---