Welcome Aboard
Current issue highlights: Gulf 32 review, Balboa 20 refit, and Denys Rayner profile.
Speaking seriously: Leach Lines 101, Strength savers, The gadget-filled boat, What's in a boat's name, Making an electrical panel, Ice magic, Screens for cowl vents, Watertight chainplates, and Tearing Levity apart.
Lighter fare: You can't get there from here … , Morale boosters, The Alberg 30 turns 50, Our readers' boats, New product launchings, Reflections: Shoestring cruising, Simple solutions: A cover for a dinghy motor, Quick and Easys: The Reinpin, The view from here: Sunflower blooms.
---
What's New At Good Old Boat
A sailor's songs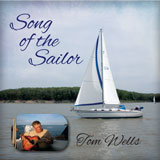 The official Good Old Boat Troubadour, Tom Wells, has produced two CDs with his sailing songs. Each CD has 12 of Tom's sailing songs . . . all original music and lyrics. Song of the Sailor is best described as his serious and philosophical album. The second is a collection of his more light-hearted and humorous songs called Fun on the Foam. They're available from www.AudioSeaStories.com for $9.95 each.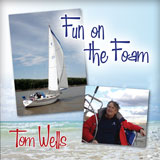 While we were at it, we posted several free sample songs for you. We think you'll recognize yourself in some of Tom's music about the sailors and the lifestyle he knows.
New article collections
We've added another new Archive eXtraction to the downloadable collections of articles published in Good Old Boat. This time it's Boat Reviews 28-30 Footers. It extends our Boat Reviews of 25-27 footers, and accompanies the recent Boatbuilders (about the companies that built our good old boats) and Boat Designers (about the people who designed our good old sailboats). Archive eXtractions are available at www.audioseastories.com, our downloads site.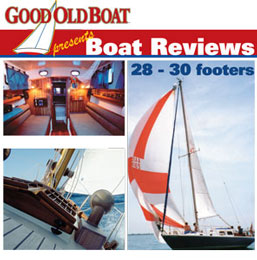 These downloadable "book" of articles are available at www.audioseastories.com. Look in Archive eXtractions.
Facebook Following Grows!
Good Old Boat has more than 3,000 Facebook friends, fans, and followers … and the list is growing every day. Thanks for "liking us," as they say!
Good Old Boat


Promote Your Page Too
If you need a back issue immediately, we can handle it. We now sell all previous issues of Good Old Boat as downloadable back issues for $8 each. Or you can buy an entire year's worth (years 1998 through 2013). Prices vary for these. If you're searching for specific articles or topics this index of all our issues should be useful. It's a very handy look-em-up tool. Many back issues are still available in the old-fashioned paper format, too.
New ebook
Marcie Connelly-Lynn has just posted the first of a series of cruising tales on www.AudioSeaStories.com.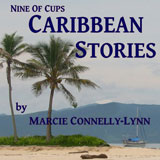 Nine of Cups Caribbean Stories tells of the first destination Marcie and David Lynn explored in what has since then become a 70,000-nautical-mile tour of 30 countries on five continents since they sold up and sailed off in 2000. You can guess that many more ebooks will follow. Dave and Marcie cruise aboard their Liberty 458 cutter, Nine of Cups. This first ebook is available for download for only $3.99.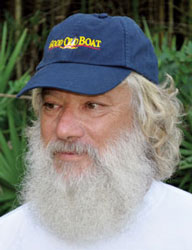 Our newest ball cap is a nice dark blue. That way the occasional grease spot, some dirt, and the hard-earned sweat stains won't show as much. Besides, we think it would look good on you! It's $18 and available online.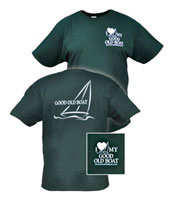 We now offer 11 styles of T-shirts. To the Big Logo T-shirt line we've added a Hunter-green short-sleeved one. You can catch the message on these … even at a distance! And on the front is your personalmessage about how "I ♥ my Good Old Boat". This goes with the new navy short-sleeved pocket tee, and a long-sleeved white shirt (Think: sun protection!) with a huge red and blue logo on the back. As long as we're making a break from tradition by offering a long-sleeved shirt, we thought we'd go all out!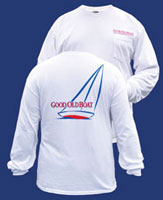 To order any of these shirts, or our logo ball cap and denim shirt, please visit our online Books and Gear page.
You asked for it! Good Old Boat is now available as a digital subscription. Have it your way: paper subscription or digital subscription.
We also have individual copies (paper or digital) available. Back issues too (single copies or by the year)! That pretty much covers the waterfront, we think. And speaking of the waterfront, let's all go sailing!
---

Back To Top
---