Welcome Aboard
Current issue highlights: Matilda 20 feature, Hunter 35.5 feature, Cal 34 refit.
Speaking seriously: Sail Telltails 101, Adding a DC electrical circuit, Departures and arrivals, Winterizing without tears, No time for perfection, 10 ways to save sailing dollars, Surface-mounted deadlights, Rebuilding a deck.
Lighter fare: A heavy-weather lesson, Falling in love with sailing, Caveat vendor, Pioneers of Lake Winnebago, Reflections: Setting standards, Simple solutions: Helm seat, Quick and Easys: Light'er up like Christmas and Grab hook or hookhold, New product launchings, The view from here: Labels divide us.
---
What's New At Good Old Boat
Launched, christened,
and celebrated!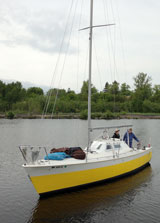 Good Old Boat subscribers and crew had a gala weekend surrounding the launch of the editors' 11-year refit of a Mega 30. More details here.
A sailor's songs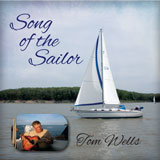 The official Good Old Boat Troubadour, Tom Wells, has produced two CDs with his sailing songs. Each CD has 12 of Tom's sailing songs . . . all original music and lyrics. Song of the Sailor is best described as his serious and philosophical album. The second is a collection of his more light-hearted and humorous songs called Fun on the Foam. They're available from www.AudioSeaStories.com for $9.95 each.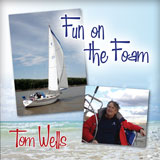 While we were at it, we posted several free sample songs for you. We think you'll recognize yourself in some of Tom's music about the sailors and the lifestyle he knows.
New article collections
We've added another new Archive eXtraction to the downloadable collections of articles published in Good Old Boat. This time it's Boat Reviews 31- to 36-Footers. It extends our Boat Reviews of 25-27 and 28-30 footers, and accompanies the Boatbuilders (about the companies that built our good old boats) and Boat Designers (about the people who designed our good old sailboats). Archive eXtractions are available at www.audioseastories.com, our downloads site.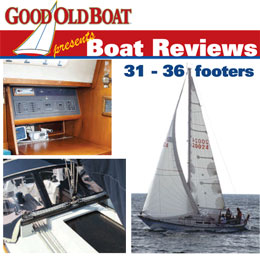 These downloadable "book" of articles are available at www.audioseastories.com. Look in Archive eXtractions.
Facebook Following Grows!
Good Old Boat has more than 3,300 Facebook friends, fans, and followers … and the list is growing every day. Thanks for "liking us," as they say!
Good Old Boat


Promote Your Page Too
And we Tweet too!


Yes. We're posting on Twitter these days. Join the fun @GoodOldBoat.com.
Brand New ebook
Available for download on www.AudioSeaStories.com.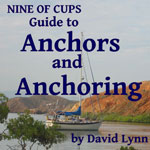 David and Marcie Lynn have learned much about anchoring in the 14 years they've spent wandering the world under sail. Along the way they've talked to other cruisers, voyagers, yachties, and fishermen about their anchoring techniques and are sharing that accumulated wisdom in their second downloadable eBook.
It covers everything from selecting the right ground tackle for your boat and your cruising plans to how you go about deploying a series anchor. Called the Nine of Cups Guide to Anchors and Anchoring, the file is 2.2 MB in PDF format and is available as a download for just $4.99.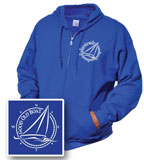 As the seasons change, so should your sailing wardrobe. Zip up a new Good Old Boat logo zip-front hooded sweatshirt in red, royal blue, or black for just $45 and postpone the signs of the approaching season.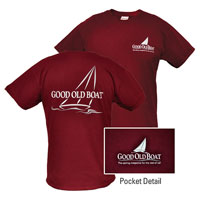 And even more styles of T-shirts. To the Big Logo T-shirt line we've added a Maroon short-sleeved one and a Grey Heather one. You can catch the message on these … even at a distance! This goes with the Hunter Green big-logo short-sleeve, the navy short-sleeved pocket tee, and a long-sleeved white shirt (Think: sun protection!) with a huge red and blue logo on the back.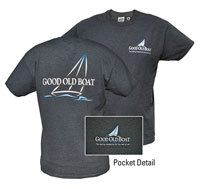 To order any of these shirts, or our logo ball cap and denim shirt, please visit our online Books and Gear page.
You asked for it! Good Old Boat is now available as a digital subscription. Have it your way: paper subscription or digital subscription.
We also have individual copies (paper or digital) available. Back issues too (single copies or by the year)! That pretty much covers the waterfront, we think. And speaking of the waterfront, let's all go sailing!
---

Back To Top
---