Welcome Aboard
Current 2013 issue highlights: Reviews of the O'Day 322 and Hunter 29.5 and a Chris Craft Capitan refit.
Speaking seriously: Windvane Steering 101, Pilothouses and performance by Rob Mazza, Hurricane aftermath: OK, what now?, Ratio rationale, A replacement lift pump, Keeping diesel dry, An antenna post as art, Single-step boarding ladder, Hull envy.
Lighter fare: Reviving a passion and a boat, New product launchings, Reflections: Boatyard ghosts, Simple solutions: Better leecloths, Quick and Easys: Instant whisker pole and Selvagees to the rescue, The view from here: Perils of the chartplotter.
---
What's New At Good Old Boat
Other New article collections
We've added yet another new Archive eXtraction to the downloadable collections of articles published in Good Old Boat. This time it's Boat Reviews 28-30 Footers. It extends our Boat Reviews of 25-27 footers, and accompanies the recent Boatbuilders (about the companies that built our good old boats) and Boat Designers (about the people who designed our good old sailboats). Archive eXtractions are available at www.audioseastories.com, our downloads site.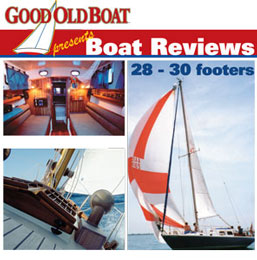 These downloadable "book" of articles are available at www.audioseastories.com. Look in Archive eXtractions.
Facebook Following Grows!
Good Old Boat has nearly 3,000 Facebook friends, fans, and followers … and the list is growing every day. Thanks for "liking us," as they say!
Good Old Boat


Promote Your Page Too
If you need a back issue immediately, we can handle it. We now sell all previous issues of Good Old Boat as downloadable back issues for $8 each. Or you can buy an entire year's worth (years 1998 through 2012). Prices vary for these. If you're searching for specific articles or topics this index of all our issues should be useful. It's a very handy look-em-up tool. Many back issues are still available in the old-fashioned paper format, too.
You asked for it! Good Old Boat is now available as a digital subscription. Have it your way: paper subscription or digital subscription.
We also have individual copies (paper or digital) available. Back issues too (single copies or by the year)! That pretty much covers the waterfront, we think. And speaking of the waterfront, let's all go sailing!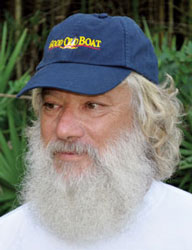 If your favorite sailor (that could even be you!) already has one of everything, here's something new. We've just introduced a new ball cap for the discriminating tastes of sailors everywhere. Heck, even Santa wears it when he goes on vacation in the tropics after all the heavy lifting and flying is over. It's $18 and we'll ship it right to you in plenty of time for Christmas!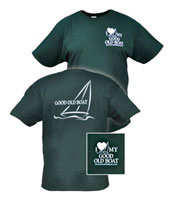 We now offer 11 styles of T-shirts. To the Big Logo T-shirt line we've added a Hunter-green short-sleeved one. You can catch the message on these … even at a distance! And on the front is your personalmessage about how "I ♥ my Good Old Boat". This goes with the new navy short-sleeved pocket tee, and a long-sleeved white shirt (Think: sun protection!) with a huge red and blue logo on the back. As long as we're making a break from tradition by offering a long-sleeved shirt, we thought we'd go all out!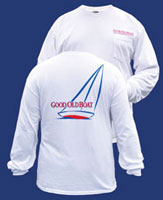 To order any of these shirts, or our logo ball cap and denim shirt, please visit our online Books and Gear page.
---

Back To Top
---