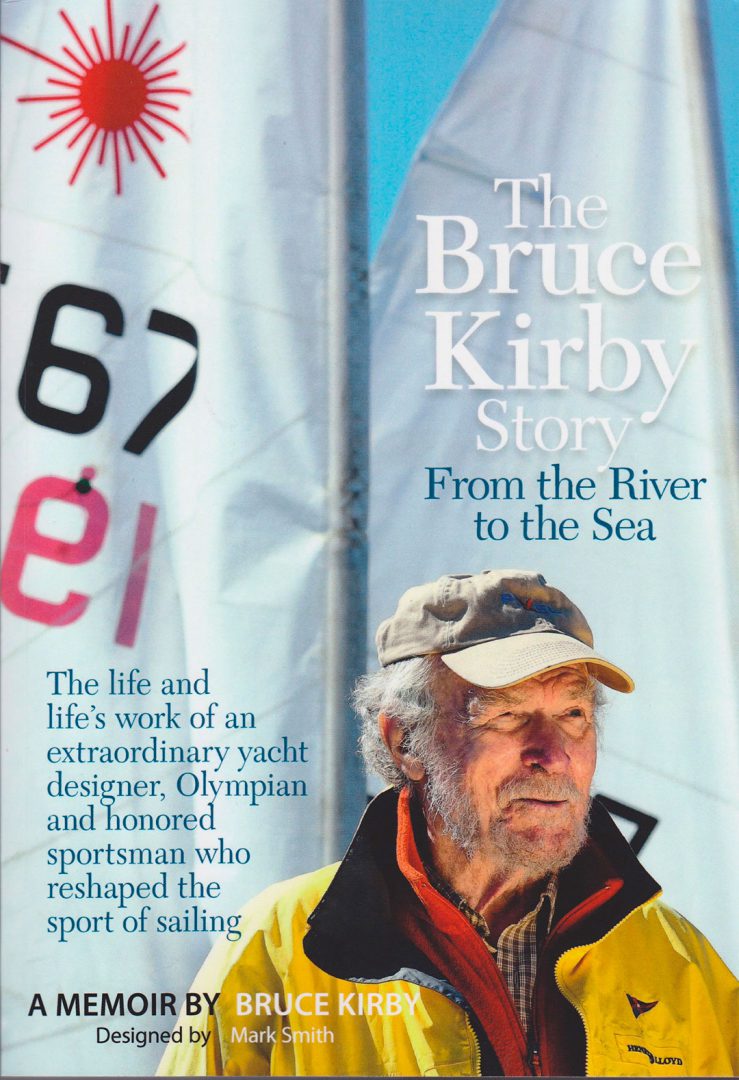 The late Bruce Kirby was one of the most influential yacht designers of the 20th century. Though known primarily for the Laser, his design career lasted over 40 years in two countries and spanned a range of sailboat types from dinghies to the America's Cup 12 Metre class, with successful forays into IOR racers, one-design keelboats, and shallow-water cruisers. 
With a background in journalism, he tells his own story in a readable and compelling manner. This isn't a traditional autobiography in which you would expect Kirby to chronicle the overlapping events in his life. Instead, he's written it an episodic fashion, with each chapter focusing on different subjects. 
Kirby had already completed six chapters over several years by the time his eyesight began to fail, and he asked Mark Smith to help finish the project and do the design work. Over the past few years, Kirby sent portions of these early chapters to me for comment, and I had the pleasure of interviewing him about his design career, especially his involvement in the International Fourteen dinghy. Indeed, in the chapter on his Fourteen designs, he's kind enough to quote me as the "class historian," so in that regard, some of this book was already familiar to me. 
Appropriately, he does start at the beginning of his life, building and sailing model sailing yachts as a child in Ottawa. At the same time, he sailed with his father on Lake Deschenes—really a widening of the Ottawa River (hence the river in the title)—on two classic wooden race boats. 
From there he delves in fascinating detail into his early days sailing and then designing winning International Fourteen Foot Dinghies. He particularly focuses on the heavy-air last race of the 1958 Team Racing in Cowes between three boat teams from England, Canada, and New Zealand. After that series, he put pencil to paper to design an International Fourteen that could be as fast as the New Zealanders upwind. He went on to design seven International Fourteens over his career, with the Kirby V the most successful. 
Only then does he insert a chapter devoted to his hectic cub reporter days with the Ottawa Journal and the Montreal Star. You can see how his adventures on the crime beat may have influenced his damn-the-torpedoes approach to yacht design and to life in general. His sailing background convinced his editors to send him to Newport, Rhode Island, in 1962 to cover the America's Cup. That coverage led to his hiring as the editor of the newly launched One-Design Yachtsman magazine in Chicago, and certainly stood him in good stead when designing his own America's Cup 12 Metre years later. 
Next, he delves into his offshore racing, with vignettes about sailing the C&C 61 Sorcery and the Peterson 36 Magic Twanger in two St. Pete-to-Fort Lauderdale races in the Southern Ocean Racing Conference (SORC). He describes racing his custom 40-footer, Runaway, the 1981 Fastnet as part of the Canadian Admirals Cup team. This is but one chapter where I wished he had gone into more detail, because I know he sailed on the C&C Corvette Elecktra in the 1968 SORC with George Cuthbertson, George Hinterhoeller, and Ian Morch, three of the four founders of C&C Yachts, as well as being aboard the prototype C&C 35 Red Head with Lars Bergstrom when the rudder failed. 
One of the longest chapters details his infatuation with the Sharpie concept; he designed several for home and professional building in plywood under the Norwalk Sharpie designation. This chapter includes a first-person account of an Australian owner sailing one of Kirby's Sharpie designs across the Bass Strait from Australia to Tasmania and back—an amazing adventure, though not revealing about Kirby himself. 
Chapter 9 addresses the creation and development of the Laser. I suspect that Kirby saw this as his last opportunity to "set the record straight," which he does with characteristic zeal. He emphasizes that the design was far more than the apocryphal doodle on a yellow legal pad. He chronicles his evolving relationship with Ian Bruce, the Laser's instigator and original builder. Having been caught myself in the often-fraught designer/builder relationship, this makes for fascinating reading, although, it would be interesting to get Bruce's side of the story. Unfortunately, this will never happen, since Bruce predeceased his once good friend and fellow 14 sailor. The chapter then goes on to chronicle the continued struggle of subsequent Laser builders and Kirby's battle to receive contractual royalties for the design, culminating in winning the final court case but still not receiving the monies awarded. 
In the final chapters, Kirby pays tribute to larger-than-life personalities Paul Elstrom, Ted Turner, and Uffa Fox, as well as  highlights some significant designs in his portfolio, including the San Juan 24 and 30, Ideal 18, the Pixel, the Sonar, the custom shoal-draft  cruising boat Phebe for author Nathanial Philbrick, and a pedal-powered boat to cross the Atlantic. 
This book has been in the works for many years. At one time, I even encouraged Kirby to take on a writing partner, to which he replied in some exasperation, "Rob, I was a journalist, and a damn good one! I think I am more than capable of writing my own story!" I only wish he could have published it during his lifetime, so we could ask some follow-up questions. It is a very good read, and it reminds us how much he is missed.
A Memoir by Bruce Kirby, Designed by Mark Smith, Published by Kirby Smith Publishing, LLC.