Readers who enjoyed Bert Vermeer's review of the Vancouver 27 in the September/October 2023 issue of Good Old Boat will get a kick out of best-selling author Donald Hamilton's Cruises with Kathleen: Matt Helm's Creator Gives Up Power and Returns to Sail.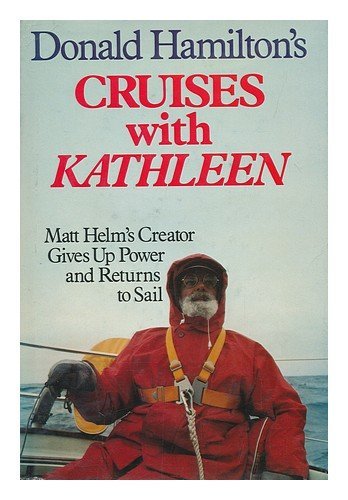 An experienced sailor in his younger days, Hamilton wrote that he recalled "the romance of sail as . . . a lot of hard, wet work—and to hell with it." He and his wife Kathleen were living in New Mexico in the 1970s, ". . . completely happy with my handsome 40-knot Mako 22 and her two thundering Johnson 115s." But then a nationwide fuel shortage hit and he began to remember the good old days gliding along under sail on a sunny day with a favorable wind.
He found himself hooked again. An inveterate magazine-article saver, he began going through his old file of sailboat clippings. He found an advertisement for a 50-footer and wondered why on earth he had ever thought he could afford it ("the novel writing business has been good to me," he wrote, "but not that good.") He was about to crumple up the page when " . . . something prompted me to turn it over. There, on the other side, was My Boat." It turned out to be a Robert Harris-designed, Canadian-built Vancouver 27. Hamilton bought Hull #3 and christened her Kathleen.
He and his son Gordon picked up the boat at False Creek Marina in Vancouver and headed south to Los Angeles. They trucked her overland from California to the Texas Gulf Coast and then sailed east to Florida, Cuba, and the Bahamas. Lots of sailors put pen to paper but relatively few of them can write; Hamilton, on the other hand, is the real McCoy. He wrote a string of Matt Helm novels that Hollywood turned into hit movies starring Dean Martin. Hollywood also bought his Saturday Evening Post serial Ambush at Blanco Canyon, renamed it The Big Country, and cast Gregory Peck, Jean Simmons, Charlton Heston, Carroll Baker, and Burl Ives in starring roles. Ives won an Oscar for Best Supporting Actor.  The film runs fairly often on Turner Classic Movies.
Salty and opinionated might be a good description of Hamilton's style; he keeps the narrative of the voyage going as he delves into subjects ranging from autopilots and bilge pumps to celestial navigation and the qualifications that should be required of ocean racers. His chapter titled "Midnight Thoughts on the Great Bahama Bank" alone is worth the price of admission for cruising sailors. The book is out of print but copies are available through AbeBooks and Amazon. 
My wife's parents and the Hamiltons were good friends in Annapolis in the 1940s and early 1950s; she and her sisters grew up knowing the four Hamilton children. Over the years, we were fortunate to have dinner with Don and Kathleen (Kay) in Santa Fe and drinks aboard the boat in Annapolis. We were lucky to have known them.