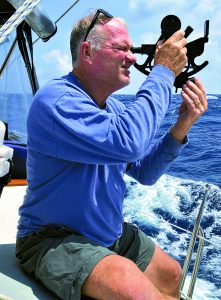 In a lifetime of passagemaking and writing, John Kretschmer pays the love of sailing forward.
BY ERIN CAREY
This article first appeared in our January/February 2020 issue. Subscribe now for more great features like this one. 
When we were planning our eventual leap to the full-time sailing life, my boss brought a book into work for me one day. It was old and tattered, and on its cover was a 20-something guy looking resolutely salty in yellow foul- weather gear, the sea swelling behind him. My boss said it was a great read and I should check it out before we set sail. But I never did, and once we moved aboard the book was packed on a shelf in our Moody 47, Roam, and there it stayed.