End The Dinghy Dilemma
By Susan Peterson Gateley
Article taken from Good Old Boat magazine: Volume 3, Number 2, March/April 2000.
It's quick and inexpensive to stitch together
the one that suits you best
Dinghies are a mixed
blessing. They are a "must" for cruising, allowing you the option of anchoring
out in a quiet cove or in a busy harbor when all the docks are full, and
they are wonderful for entertaining the kids in a quiet anchorage. A dinghy
also makes cruising safer, since you can use it to carry out a second
anchor on a windy night, or to kedge your cruiser off, if she is not too
inexorably grounded.
However, finding
a good dinghy that meets your needs and desires is no simple task. An
ideal dinghy in our view was one we could sail, row, or tow, while being
stable but still fairly lightweight. It also had to be narrow enough
to fit on our 32-footer's foredeck. (As a good old boat, she's not too
beamy.) We soon concluded that the only way to get the dinghy we wanted
was to build it ourselves.
Where and how to
transport the dinghy while you're under way is a common cruisers' dilemma.
Small motherships all too often lack space to carry a dink on board.
Towing it leads to frayed painters and nerves and the occasional embarrassment.
More than one cruiser has managed to wrap a prop shaft up in a lovely
bundle of dinghy painter while working into a strange harbor.
Limited deck space,
especially on good old boats of 30 feet and less, prompts many sailors
to opt for inflatables. These skippers reason that their blow-up boats
can be easily deflated and stowed compactly. The only thing is, they
usually aren't. It's too much of a pain to disassemble and re-assemble
the darned things every day. So they end up dragging astern just like
hard dinks.
Inflatables have
a couple of drawbacks, too, when compared to rigid dinghies. In my opinion,
the worst is their utter dependence on outboards. In anything more than
a light breeze, your standard inflatable rows like a wet noodle. The
stubby little oars are so short you can't manage more than a dainty
little snatch at the water with the oar tip at best. And the bulky blow-up
boat presents ample sail area to the wind, making manual propulsion
in anything more than a light breeze problematic at best.
Build your own
One solution is
to customize your own dinghy to fit the available deck space aboard
your cruiser. With new materials and techniques, even amateur carpenters
with five thumbs can manage a fairly serviceable and completely watertight
dinghy. Thanks to epoxy and fiberglass cloth, it should prove fairly
durable, too, given normal usage. And those assorted sticky-goos and
cloth coverings allow you to slide by with something far short of the
perfect bevel. Three or four winter weekends in the basement with a
minimal tool kit (that should include a circular saw and an electric
drill for speed's sake) will produce a very serviceable custom-made
plywood dinghy.
My first custom-fitted
dinghy was an Itty Bitty pram (shown at left), designed many years ago
by master naval architect William Atkin. He wrote that, inch for inch,
you get maximum carrying capacity in minimum space with the basic boxy
pram. By flaring the sides outward sharply, you gain additional carrying
capacity and stability in a very small dink. Putting as much rocker
as the quarter-inch plywood will tolerate greatly improves rowing performance
and seaworthiness of prams.
I built my tender
several inches narrower than the usual beam of most production dinghies.
This allowed me to jam the 7-foot 7-inch pram onto my 23 footer's afterdeck
and boomkin, between her rudderpost and backstay. If a small tender
is still too big for available deck space, another alternative is to
build a two-piece dinghy. Each piece is a discrete watertight entity,
and each will float independently. By joining the two halves with a
latch or hinge arrangement, you end up with a more-or-less regular-sized
dinghy. (Phil Bolger carried this folding boat idea to an extreme a
few years back with his folding 30-foot schooner.)
Downloaded plans
Thanks to the rise
of the stitch-and-glue technique so well promoted by Harold ("Dynamite")
Payson and others, almost anybody can craft a watertight dinghy. This
was the method we used recently to build the dinghy pictured above.
We used plans downloaded off the Internet for a tender called the D4
Dinghy, whose creator supplied dimensions for the bottom and side panels
of plywood. This eliminated any tricky lofting steps. The D4 tender
plans were developed by Jacques Mertens, who operates a website called
Boat Plans Online. Mertens has been selling marine supplies and books
online since 1986, when he operated from a bulletin board via Fidonet.
Today, he offers plans for several small tenders, including the D4,
whose plans were downloaded by more than 80,000 people last year.
After cutting out
the sides and bottom of plywood and the stiffening athwartships bulkheads,
the stitch-and-glue method of building requires that you drill approximately
two million holes, spaced about three inches apart, near the edges of
adjoining plywood pieces. Then you stitch your boat together, using
bits of copper or steel wire three or four inches long. We twisted the
wires together on the outside, giving the developing dinghy a distinctly
prickly aspect. The next step was to build up a fillet of epoxy putty
along the inside joints between the bottom and the sides and the bulkheads.
A light bulb worked well for shaping and smoothing the fillet of putty.
After this had set
up, the developing hull was quite rigid. We then clipped the excess
wires off the outside and faired out the joints externally with more
putty before applying 3-inch biaxial cloth tape on the seams for strength.
The seams were glassed on both sides and now, even with just two bulkheads
in place, the developing dinghy hull was stiff and strong.
Prone to checking
Ultimately, we also
covered the entire plywood exterior with a fine-weave, 3-ounce cloth
to increase the dinghy's
durability. We also tried to seal all exposed edge grain with epoxy
resin. Fir plywood is very prone to checking and
weathering,
and we thought that covering the dinghy's bottom and sides might extend
its life as it sat upside down through
the summer. My previous pram of painted plywood had to have a new bottom
installed after only four years of daily use to and from a mooring and
being left upside down on the dinghy float between trips. The epoxied
and painted stitch-and-glue hull has weathered well to date after a
full year of upside-down exterior storage.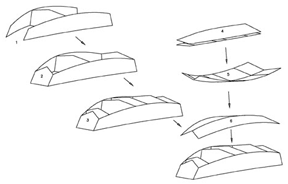 The finished D4
pram proved highly satisfactory as a tender and sailing dinghy. I found
it more stable to step down into than a friend's Dyer dinghy, and it
seems to tow well in a Lake Ontario chop of up to, perhaps, four feet.
Best of all,
when it gets really rough, we don't have to tow it because it will fit
on our foredeck.
Susan Peterson
Gateley (featured in the January 2000 issue of Good Old Boat) has written
two books about boats she has known. Ariel's World and Sweet Water both
feature her good old 23-foot 1930s vintage homebuilt sloop. She now
sails Lake Ontario with her husband, Chris, on Titania, a 32-foot Chris-Craft,
and gives sailing lessons with a Lippincot Lightning. Both are circa
1968. Visit Susan's website at http://www.silverwaters.com.