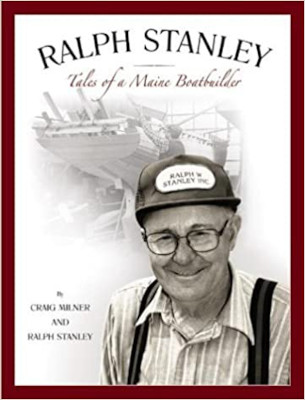 When I was asked to review Ralph Stanley: Tales of a Maine Boatbuilder, I was already prone to like the book. First, I love wooden boats. Second, I have met Ralph Stanley — or, more precisely, seen him in action. My family has a place across Frenchman Bay from Mount Desert Island where for more than half a century Ralph Stanley has plied his trade. I have stood on hallowed ground in Southwest Harbor — the air rife with scents of freshly hewn timbers — and watched as he planed a garboard plank intended for a Maine lobster boat and inserted a "fashion piece" onto the stern of a nearly completed Friendship sloop. He and his associates went about their business that day as though on a mission. Nonetheless, they were more than hospitable to gawkers wandering in from the street and all but blushed with home-spun modesty whenever one of us commented on the beauty of the boats they were building.
So I had high expectations for this book and was not disappointed. The book, written in cooperation with journalist Craig Milner, is a gem. It matters naught whether or not the reader has an interest in how wooden boats are designed and built. There are several chapters devoted to these issues but, as with everything in this book, they are written in classic understatement.
The remaining 27 short chapters carry the reader through the life of this Renaissance man and the many influences that have fashioned his career. We meet his family. We meet summer people "from away" who take young Ralph under their wing. We even meet Hillary Clinton and other government dignitaries when Ralph is summoned to Washington to receive a highly coveted Master Artist award from the National Heritage Fellowship.
But it is when he is describing his boats that the essence of Ralph Stanley emerges. In the back of the book is a list of 60-some vessels that have come out of his shop, including the names of people for whom they were built, starting with a lapstrake dory in 1946 and ending with a Friendship sloop in 2004. It would be no different for a parent describing his children or an author or artist profiling her portfolio of creativity. All are labors of love.
In current world, where people seem obsessed with material possessions and a "me too" mentality, it is refreshing to meet a man of substance and genuine humility for whom shallow emotions are unfathomable. They simply aren't part of who he is, never could be.
Ralph's view of life is his work, his desire to make a design already appreciated into something perhaps a little bit more appreciated. His life is a testimony to the values of old-fashioned work ethics, genuine humility, and a constant striving for excellence. You can almost hear him add: "Ayuh, building wooden boats is what I do. What's all the fuss about?"
Ralph Stanley: Tales of a Maine Boatbuilder by Ralph Stanley and Craig Milner (Down East Books, 2004; 160 pages)