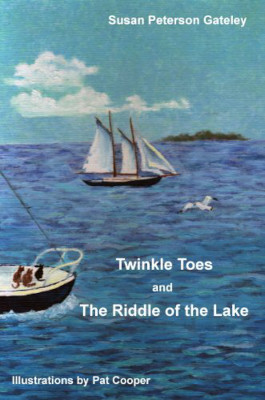 Twinkle Toes and the Riddle of the Lake is a book written by a cat. Don't let that put you off; this cat is not a bad writer. A quick Google search shows that quite a few cats have taken to writing, though not all were as successful as this one. This appears to be a children's book but it has much to recommend it to adults. It is a great book to read aloud to your school-age kids or grandkids. The story will keep them interested while at the same time educating both reader and listener about the perils facing our Great Lakes.
As mentioned, Twinkle Toes and the Riddle of the Lake is written from the perspective of the real author's cat Twinkle Toes. Twink, her mother Dusty, and her cousin Miss Piggy are landlubbers all. They hate the idea of cruising in a small sailboat. Nevertheless, they are shanghaied aboard Skipper Sue's 23′ wooden yacht,Ariel, for a cruise across Lake Ontario. They soon figure out that the fastest way home is to solve the mystery of where the lake's eels have gone. To do that, they have to sail to the lake's most remote island, Main Duck. The cats have a number of adventures on the way and learn a lot about the history of the lake from various characters they meet.
Part 1 of this book is the fact-based novel told from the perspective of the cats. It includes a glossary of nautical terms as well as diagrams of the boats involved. Part 2, an extensive appendix called "Skipper Sue's Notebook,"contains a number of environmental and historical articles. Included are short chapters on subjects as diverse as slaves and the Underground Railroad, eels, ship ballast, and territorial swans.
Twinkle Toes is a good read for children, parents, and anyone interested in the Great Lakes, particularly Lake Ontario. It has enough action to keep youthful readers interested while giving valuable insights into the history and ecology of the lake.
Twinkle Toes and the Riddle of the Lake by Susan Peterson Gateley (Ariel Associates/Whiskey Hill Press, 2009; 230 pages)