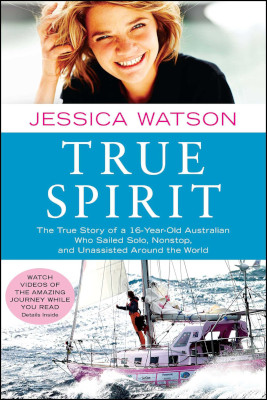 The subtitle pretty well sums up the "plot" of this nonfiction story except to say that the Australian teenager who sailed back into Sydney Harbour on May 15, 2010, was a girl. A young woman. A very young woman with a dream who started planning her trip some five years prior to her departure. A young woman who joined the ranks of Jesse Martin, Tania Aebi, Zac Sunderland, Mike Perham, and David Dicks. The night before she set sail (for the second time, but that's another story), she said to her parents, "Tomorrow I'm going to wake up and sail around the world." And that's what she did.
Jessica tells her story in a perfectly teenage way, though with surprising maturity. The young woman rounding Cape Horn was a long way from washing dishes to pay for sailing experience!
The book is divided into three sections: The Starting Point, The Voyage and Home. The first section is told in a conversational manner, introducing those who would become her shore team and sponsors, detailing her plan and how she made it come true, and telling how her parents coped with both the idea and the fallout from public opinion.
The second section of the book, the journey itself, is a combination of blog entries she made while underway, along with additional background and detail that draw the reader into her adventure. This reader began to question if she was sailing with Pollyanna until the author 'fessed up that at the beginning of the voyage she kept her lower moods to herself in order not to worry her parents. Then there are lists. What she missed most about land/home. What she would miss most when the journey was over. Maintenance lists.
The third section tells of her return to port, sailing the 33' Ella's Pink Lady into the harbor to a pink carpet welcome by a huge crowd of Australians, including the prime minister.
A number of nifty extras make the book a winner. There are 16 full pages of photos, Jessica's health chart from before and after the voyage, several of her favorite recipes and three appendices. The appendices include: A Guide to Ella's Pink Lady, which labels the parts of the boat; Internal Guide, which does the same thing for the interior, and a glossary. An icon appears periodically throughout the book to alert readers to video on Jessica's YouTube channel that was taken live at the time they are reading about. Definitely a unique twist, and a good one! This book is worth the experience.
True Spirit: The True Story of a 16-Year-Old Australian Who Sailed Solo, Nonstop, And Unassisted Aroung The World, By Jessic Watson (Atria Books, 2010; 368 Pages)