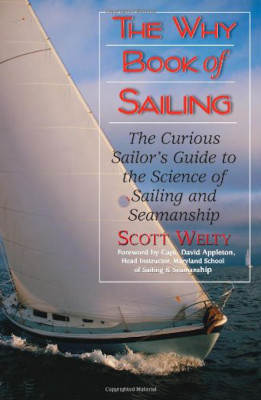 In The Why Book of Sailing, author Scott Welty tackles the challenge of explaining the science of physics, as related to sailing — without the heavy concentration on mathematics that usually goes along with that subject. He translates this science into layman terms in an enjoyable manner that doesn't make the non-scientific reader feel intimidated. Although I was educated in classical physics — along with the subject's associated mathematics —I found this book to be a breath of fresh air, and the explanations accurate and entertaining.
Sailors know that the forces of nature — the forces of physics – affect their boats in many ways. On the water, wind, tide, current, gravity, and many other natural phenomena exist in a world of dynamic and constant change; and in this world the author presents Archimedes' principal of flotation, moving through wind and water, forces and torque, navigation and piloting, on-board electricity, optics, and environmental concerns. Scott Welty looks at the sailboat through the eyes of a popular scientist and explains the scientific reasons why the boat behaves as it does, all done with clarity and ample explanatory illustrations that will help all sailors be more in tune with their boats and the water around them.
Time-starved readers can open the book at random and, in a few minutes, read a short and concise explanation of something they have always wondered about, without worrying about continuity reading — or they can use the index to access a specific question or topic. Author Welty also supplies a listing of websites in the back of the book for additional information.
Not surprisingly, Scott Welty is a recently retired teacher of physics who now is a full-time sailor and liveaboard. While cruising his 30-foot Enee Marie, he also finds time to write for Sailing and Ocean Navigator. When ashore, which is infrequent, he makes his home in Chicago, Illinois.
If you are at all curious about things nautical, The Why Book of Sailing guarantees to answer your questions in an enjoyable and accurate fashion.
The Why Book of Sailing: The Curious Sailor's Guide to the Science of Sailing and Seamanship by Scott Welty (Burford Books, 2007; 179 pages)