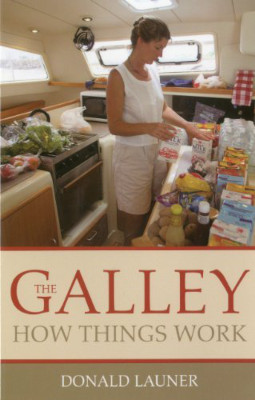 The short version of this review? Buy the book. It is comprehensive. Applicable. Balanced. Informative. Understandable.
If you prefer further details, read on.
Author Donald Launer tells readers that The Galley: How Things Work is not the typical galley book. No recipes; few references to food at all. This book is about "the infrastructure of a boat galley." Launer then proceeds, over the next 100 pages, to do a dynamite job of detailing equipment available for galleys, how the stuff works, installation requirements for said stuff, and suggestions — all in a basic, comfortable-to-read framework.
A hundred pages. Fifty-five illustrations covering everything from accumulators to electric instantaneous no-tank water heaters, along with concrete examples of the author's own schooner. Launer is frank, supporting his recommendations with facts. He is clear about the drawbacks of equipment or installation procedures, but presents all options. The pros and cons are laid out, along with specific "what happens if" examples. Once Launer has made clear the disadvantages, he puts just as much effort into describing how to make it work if a person is sold on it. With all equipment and procedures, he weighs the materials available and their cost, the installation cost and the life expectancy of the setup.
When he says that boaters "should" install a particular piece of equipment, he explains clearly why he considers it to be critical. He often identifies certain subsections of boaters who need particular items and why. He may then go on to explain why it is good for everyone to have it aboard, but again, he doesn't push.
Launer's suggestions are both eclectic and practical:
The freshest source for diesel for stoves is likely the gas station.
Stores catering to the RV crowd carry a wider variety of 12-volt galley appliances and are cheaper to boot.
Maple cutting boards are safer than plastic. (Don't believe it? Read the book.)
Solid fuel includes pine cones.
Cell phones and curing fiberglass can trigger carbon monoxide detectors.
The long version of this review? Buy the book.
The Galley: How Things Work by Donald Launer  (Sheridan House, 2009; 304 pages)