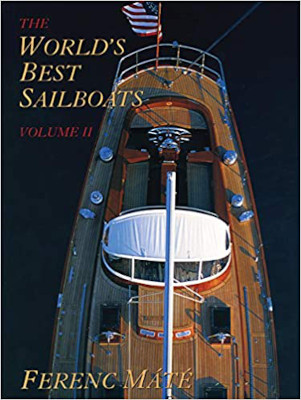 There's no doubt about it: like sex, hyperbole sells. Magazines and books push it 'round the calendar: The best doctors in Dallas. The best chai in Berkeley. The best beaches in Rhode Island. Best mutual funds, best vacations, best of the best. Why waste your time groveling with second-raters when you can have The Best?!
The World's Best Sailboats — Volume II follows Volume I of the same title, one of the most successful nautical coffee table books of all time. More than 100,000 copies are in print. Featuring 19 builders and hundreds of professional color images, it was also, from an author's point of view, a rare financial success. Before writing it, Máté approached each company and sold them a place in the book. Besides this coverage for a flat fee, each company also received a certain number of bound overprints it could later use for sales and publicity. And Máté got the seed money needed to travel around and research the book. Royalties came on top of that. Clever, eh?
Such marketing does little to compromise a dream book, because you don't expect to — and won't — find critique in these pages. The 18 companies in Volume II (there are several that appear in both) include Alden, Cabo Rico, Hallberg-Rassy, Hinckley, Island Packet, Nautor, Shannon, and Sweden Yachts, and they are quality builders. There's precious little to quibble with regarding their construction practices – though they do vary.
Beyond the 535 photos, which are rich, the appeal of this book, of any Máté book, is his engaging style. Easygoing, thought-provoking, and always with just enough surprises to keep you reading on. His study of each company begins with the principals. Like Alden's Dave MacFarlane, whose demand for style and order (or is it nervous energy?) compels him over lunch to rearrange Máté's utensils while they talk.
Each chapter then ranges through the company's design philosophy, construction methods (such as an explanation of how Island Packet makes its own deck core material out of microballoons, and how two men laboriously install genoa track at Sweden Yachts), and a look at the model line-up. One can learn a great deal about how good new boats are put together. They, after all, are tomorrow's good old boats.
Both volumes of The World's Best Sailboats are a pleasure to look at, entertaining to read and, well, just plain nice to heft in your hands.
The World's Best Sailboats by Ferenc Máté  (Albatross/W.W. Norton, 2003; 299 pages)