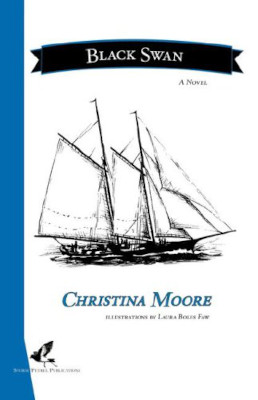 The Black Swan is a stew of a novel — like the stews the narrator cooks up on the century-old stove in the galley of the Black Swan, a 90-foot steel schooner from the turn of the 20th century plying the tourist windjammer trade on the coast of Maine. No one flavor dominates; instead, we get spicy ingredients — a brutal mate, cowed crew, unseen captain and a mystery that could ruin the ship and her owners, as well as a comfort-food story of personal discovery and healing. Toss in a generous primer on the routines of a well-managed tour of the coast of Maine, and you have a hearty meal indeed.
And like a stew, the narrative is all tossed together. In the first chapter, headed by the word "tunc," the narrator, Margaret Noonan, leaving behind a wrecked career and sinking marriage, joins the Black Swan, only to find herself isolated on an unhappy ship. In the next chapter, headed by the word "nunc," the reader finds happy passengers, a gleaming galley smelling of fresh-baked bread, a new captain, and a happy, hard-working Margaret, captain of belowdecks. "Nunc" and "tunc" now and then alternate throughout the book; the "tunc" chapters telling the story of the mystery of the Black Swan and her strange crew, and the "nunc" chapters telling the happy aftermath.
Clearly, Christina Moore did not write a straight-ahead mystery novel. Even the murder at the climax of the book is foretold in many of its details in a story told in a shore-side bar. The heart of the story is Margaret's journey from wounded middle-aged corporate survivor, working her way through isolation and loneliness to healing and integration, into the world of the Black Swan and its coastal homeport. The reader admires Margaret for her grit, her hard work, and the effort she makes on behalf of the paying passengers, who are sometimes as much victims as she is. In the end she does not find romantic love, but something almost better, a place where she is needed and respected, a place like home.
The Black Swan will not satisfy if the reader is looking for the direct action and struggle of a Sea Wolf, but it has some of the nitty-gritty of the seaboard life found in Dana's Two Years Before the Mast. But the story is compelling as the resourceful and undaunted Margaret strives to deal with her personal demons, and faces the harshness of her mate and the smuggler's mystery of Black Swan's past as well as her present.
The Black Swan by Christina Moore (Storm Petrel Publications, 2007; 223 pages)