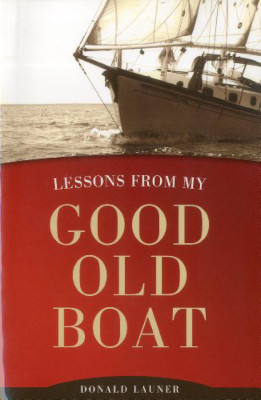 It is a true pleasure working with Don Launer as a member of the Good Old Boat team. His articles go back almost to our first issue, since it was very early in our formation that he discovered us. We recognized immediately the great value of Don's contributions and made him a contributing editor without having met him in person.
Later, we did meet at a boat show, and some time after that we spent several days with Don when we decided to feature this very competent sailor and the boat he built from a bare hull. The story of Don and Delphinus appears in our January 2006 issue.
Within an hour spent aboard Delphinus, my husband and magazine co-founder, Jerry Powlas, fell deeply in love with Don's Lazy Jack 32. This is a boat which sails as it should and is set up and outfitted as one should be for minimal effort and maximum sailing. From bow to stern, Delphinus is a clear testament to Don's skills as a craftsman and sailor.
The great many articles he has prepared for Good Old Boat also speak volumes (if you'll pardon the pun) about Don's ability to communicate the knowledge he has gained over many decades spent sailing. And they say even more about the breadth and depth of this sailor. He is a master in every way, and we're delighted to offer a regular forum for Don Launer and his nautical talents.
This collection of the articles he has written over the years, mostly but not solely for Good Old Boat, makes the scope of his experience evident. Upon thumbing through this book, you are likely to ask, "Is there any nautical theme Don hasn't yet addressed?"
We hope the answer will be, "Yes," although we have the same nagging doubts you do. If, after a lifetime of sailing and boatbuilding, he has left nothing out of this collection of his work, what remains for the next issue of Good Old Boat and the one after that? As you enjoy this book, think of this as one collection which will eventually need an update. Like all good old boats, it is a work in progress. We hope Delphinus has many more lessons in store for Captain Don Launer.
Lessons from My Good Old Boat by Don Launer (Sheridan House 2007; 288 pages)