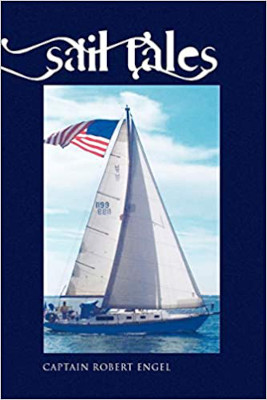 According to author Robert Engel, "Sail Tales is about the adventures a humble sailboat owner had over the years." Spanning 43 years of sailing — and still going strong — he's had plenty enough adventures to select 56 to tell us about: good, bad, and in-between.
Captain Bob's book contains many hard-earned tidbits of nautical wisdom, such as the simple fact that the timing of a sailboat trip cannot be predicted. He says, "If you need to get to a certain place at a certain time, take a bus, not a sailboat."
I believe any sailor will find the two pages of sailboat "rules" Bob includes to be both funny and heartbreakingly true, including:
Nothing on a boat is level or square.
A rule of physics: on a boat there is no such thing as an easy, quick job.
If two sailboats are in sight of one another, it's a race.
The book is organized into seven sections, mostly in chronological order. The first four sections are organized according to the progressively larger boats owned and sailed at the time, with a short history of each boat.
Bob's first tale is how, as a former powerboat owner, he had unknowingly joined the ranks of the insane — "those special people who own and sail sailboats." A large number of his sail tales take place along the eastern shore of Long Island, New York, and between the two arms of the north end. The rest take place in Virginia Beach and south into Florida. Bob repeatedly attempts to describe the Long Island area, but any reader not intimately familiar with the north end of Long Island will soon wish he had included a map illustration in the book.
For the most part, the stories are interesting and often humorous. Some, like "Upgrading Evening Star," were a little tedious, but even that tale had a nugget of gold at the end.
I felt that a few of the stories were not very well composed, even amateurish, though the underlying story was good.
Words such as "horsepower" were split into two and the articles have unusual comma usage. The lack of an editor became rather annoying and seems strange, considering the author is a retired English teacher.
The stories are all short — most are only three or four pages. With 56 tales in 217 pages, it's a nice little book to keep handy for when you have a few minutes to fill (though it's not a "pocket book").
After all, who among us doesn't enjoy a nice sail tale?