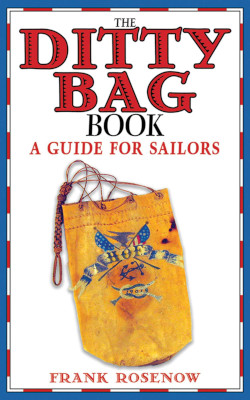 This is a magnificent little book for anybody who wants to do his own sail repair or fancy canvas work. First published in 1976 by Sail Books, Frank Rosenow's The Ditty Bag Book was reissued again in 1982. Now, thanks to the author's son and Skyhorse Publishing, it is available in paperback.
Rosenow (1944-1993) learned his nautical skills growing up in Marstrand, Sweden, raced and sailed cruising boats, and later apprenticed himself to master sailmaker Gunnar Andersson. In the 1970s, while continuing to cruise, he became a columnist for Sail magazine, where he is remembered for his award-winning pencil and watercolor illustrations. He also wrote Seagoing Knots (1980), Sailing Craft (1983) and Canvas and Rope Craft for the Practical Boat Owner (1988), all of which are still available through online book dealers.
Rosenow divides The Ditty Bag Book into two parts, tools and processes, and begins with the absolute basics. He describes the sailmaker's bench and how to use it, what sort of clasp knife one should use, how to sharpen it and take care of the sharpening stone, what needles to use and how to care for them, how to choose and use a sewing palm, using beeswax to prepare the twine, and the sorts of twine to use. He takes you through the use of the sailmaker's hook, types and uses of prickers, and spikes and fids, all the while making recommendations along the way as though he is your personal mentor. He clearly explains the craft of worming, parceling, and serving rope or wire rigging to protect against dampness and chafe as well as heaving tools and wire locks.  Finally, he shows you how to sew in rings and grommets and goes over traditional and wire rope, tape and canvas. All of this is beautifully illustrated by his drawings on the use of the tools.
Now you are ready, in part two — processes, to employ all you've learned. Rosenow takes you first through the step-by-step process of making a ditty bag, from the seams you'll sew, cutting the material to size and then sewing it, running and roping seams, adding decorative touches, making the lanyard and a turk's head slider. Truly a guidebook, you'll learn by making your own ditty bag, just as apprentice sailmakers did in the past, and then you can get more practice by following Rosenow's directions for repairing and patching damaged sails, palm-and-needle whipping, making chafing gear, creating a rope fender and, finally, splicing.
Ben Fuller, curator of the Penobscot Marine Museum in Searsport, Maine, says: "Reading this little volume and practicing the skills therein is like being an apprentice to a master sailmaker, showing you everything from tool selection to the details of how to hold a needle." I couldn't agree more, and despite a couple of minor production errors (for example, the cover illustration is not the one described in the cover note written by Rosenow), I give it my highest recommendation.
The Ditty Bag Book By Frank Rosenow (Skyhorse Publishing, 2011; 127 Pages)