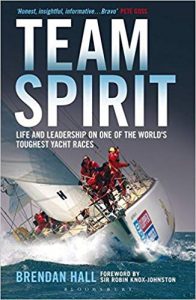 We all know that sailboat racing in any craft larger than a dingy is a team sport. The larger the boat, the greater number of crew and the more challenging the teamwork required to succeed. The first American recreational sailboat racing on New York Bay in the 1840s occurred on workboats called New York sloops. Twenty to 30-feet long with enormous rigs, they were ballasted with sandbags piled on the weather rail and took a crew of 10 to 15 to sail. Today, sailors aren't hefting sandbags, but teamwork is still the foundation of successful racing.
ASA's Spinnaker Sailing in Redwood City, California, where I took sailing lessons long ago, began offering "team-building" sailing regattas for Silicon Valley corporate groups in 1986. The concept caught on in that youthful, high-tech mecca, and soon the Olympic Circle Sailing Club (OCSC) in Berkeley, California, got into the corporate-training field. Today, corporate managers easily can find team-building sailing programs, a sampling of which includes team challenges at Pacific Yachting, Adventure Associates, Schooner Woodwind in Annapolis, and Sunsail, the latter of which offers team-building programs in the British Virgin Islands, Port Solent in the U.K., and more recently, on San Francisco Bay.
In 1995, Sir Robin Knox Johnson, the first person to make a singlehanded non-stop circumnavigation, conceived the Clipper Round the World Race. Since its first race in 1996, Clipper Ventures has offered paying amateur crewmembers the chance to do the whole race around the world or on one or more legs of it on a fleet of identical yachts skippered by qualified captains. In contrast to the Global Challenge race, which has been run four times since 1992 with heavy, steel one-design yachts going westward against prevailing winds and currents, the Clipper race uses lighter, faster fiberglass boats and follows prevailing currents and winds. Thus far, eight races have been held, and crew applications for the 2013 race are currently open. <http://www.clipperroundtheworld.com/index.php/sign-up/>
Team Spirit, by Brendan Hall, skipper of the Spirit of Australia, winner of the 2009/10 race, is a crisply written, deeply engaging account of the race as well as a wonderful primer on leadership and teamwork. Hall, a man with a remarkably healthy ego, is unafraid to confront himself, to explore both his strengths and weaknesses, and to learn from experience. Only 27 when he undertook the race, he is not your typical 20-something.
Hall begins by tracing his year of pre-race preparation, seeking out mentors from previous Clipper captains, and his early grasp of what makes a good leader. His chapter on training his crew, he confesses, is not what some sailors might expect, for he realizes here (and over and over again during the race) that sailing technique is only 20 percent of leadership — the other 80 percent is people skills. And, this is true not only for the skipper of the race, but for the crew as well, for whom 80-percent attitude easily wins over 20-percent aptitude.
At the end of each chapter, Hall offers real and succinct leadership lessons revolving around "what if" questions, judgment, feedback, and creation of a "no-blame culture" and more. Throughout the race, Hall and his crew learn early on to focus on long-term victory as opposed to short-term glory and to share responsibility for every aspect of bringing the Spirit of Australia safely through each leg and on to final victory.
Any sailor who races in a crew and any skipper who oversees a racing crew, whether it is on an E-Scow, a J-105, a Beneteau First, or even smaller two to three-person craft should read this book. I guarantee it will keep you on your seat's edge and that you will learn a lot of very good things about leadership and teamwork. In the end, I'm sure any reader will be a better sailor for having spent a few hours with Team Spirit.
Team Spirit: Life and Leadership on One of the World's Toughest Yacht Races by Brendan Hall, Foreward by Sir Robin Knox-Johnson (London: Adlard Coles Nautical, 2012; 236 pages)