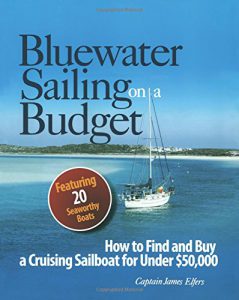 Let's face it. "The rest of us" are on a budget and have to watch how much we spend on our boats, which is why we read this magazine. Many of us have also had the grand dream of sailing off for a few years to live like Jimmy Buffett or replicate Joshua Slocum's voyage, but we wonder how much it will cost and if we'll ever be able to live that dream. However, every once in a while, a resource comes along that somehow gives us a hint that maybe, just maybe, it's possible. Capt. Jim Elfers' book is such a resource.
The first 45 pages of Bluewater Sailing on a Budget are devoted to what to look for and what to beware of when choosing your boat. After that you get objective reviews of 21 different boats, from 20 different manufacturers, ranging in size from 35 to 42 feet. The prices range from $18,000 ñ $40,000 for an Islander 36, to $50,000 ñ $100,000 for a Hans Christian 38, but most models presented range from $30,000 ñ $50,000, some lower and some higher, depending on age and condition. Each review comes with a table of the usual stats on length, displacement, etc., but also gives the years the boat was in production and the number of hulls produced. Elfers also provides personal experiences he's had with some models, information on contact he's had with some of the designers and owners, and a section entitled "The Good, the Bad, and the Ugly," which speaks for itself. He closes with the story of how he became the proud owner of Dream Keeper, a Cartwright 40 he purchased for under $30,000, so he knows whereof he speaks.
There's a lot more in this little book – fewer than 170 pages – than one would expect. The writing is clear, concise, and easy to understand, and if not riveting, at least interesting. Elfers himself is a marine surveyor with over 50,000 miles of sailing experience, and is the author of The Baja Bash II, a cruising guide to Baja, California. There are also lists of websites, books, and articles to aid in your search. If you're in the market for a bluewater boat, or if you'd just like to see what's available, Bluewater Sailing on a Budget would be well worth your while to look into.
Bluewater Sailing on a Budget: How to Find and Buy a Cruising Sailboat Under $50,000 by Jim Elfers (International Marine/Ragged Mountain Press, 2014)