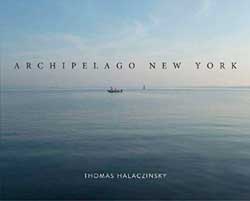 Archipelago New York is an extended photo essay chronicling documentary filmmaker Thomas Halaczinsky's single-handed sail in his 30-foot sloop, Sojourn, in and around New York Harbor and out to Long Island's east end by way of the Long Island Sound. Specifically, Halaczinsky documents his sails in and around Jamaica Bay, along the Brooklyn waterfront, through New York harbor, up the East river through Hell Gate, and then east through Long Island Sound past Fishers Island to Rhode Island and back, with detours to Greenport in Gardiner's Bay, as well as to Montauk. It is, Halaczinsky tells us, a "trip [he] had been dreaming of since first arriving" in New York from Europe twenty years before.
The book begins with the author outward-bound on "a route virtually identical to that of Adriaen Block, the Dutch Explorer who in 1614 first sailed up the East River into Long Island Sound and charted the territory, calling it an archipelago." While cruising east along Long Island's north shore, Halaczinsky stops early on at City Island and Oyster Bay, and on his return passes close by a number of lesser known islands in NYC waters, such as Hart Island, a potter's field "where more than a million souls" have been buried since 1868; North and South Brother Islands, the first of which was once the sight of Riverside Hospital, where Typhoid Mary and others infected with "highly contagious diseases" were quarantined; the infamous Riker's Island; and Swinburne and Hoffman Islands, "both…constructed from landfill." At the journey's close, Sojourn is back off Manhattan, sailing south toward the Battery and her Brooklyn berth, when, recalling the opening chapter of Melville's Moby Dick, Halancinsky "[s]uddenly [understands] why, throughout time, people have gazed at the water in awe."
No book exists in isolation, and Archipelago New York immediately calls to mind William Kornblum's At Sea in the City: New York from the Water's Edge (Algonquin: Chapel Hill, 2002) and Dutch-born photographer and writer Robert De Gast's enduring classic, Western Wind Eastern Shore: A Sailing Cruise Around the Eastern Shore of Maryland, Delaware, and Virginia (John Hopkins UP: Baltimore, 1975).
De Gast, like Halczinsky, was a photographer, and at the heart of his book are the black-and-white photos he took while circumnavigating the Delmarva Peninsula in his 22-foot sloop, Slick Ca'm. Like many of De Gast's photos, a good number of Halaczinsky's images contain dark and moody skies, which evoke desolation and loneliness. But De Gast almost always brings us much closer to living things. So close that we think at times we might just touch the shore. In doing so, De Gast transforms an otherwise lonely shoreline into something curiously familiar, inviting and safe. We look, it seems, right into the eye of an egret wading in the shallows, or make out a cabin's doorknob on a boat half sunk along the shore many years before.
If De Gast encourages us to approach what has been forgotten, many of Halaczinsky's photos portray various island shores as distant and remote. Dangerous, even. Except for a few shots of New York City beaches, people are conspicuously absent, as are other small sailing craft. Of course, the New York City shoreline is hardly an inviting place for small craft. Any number of hazards — broken pilings, construction debris, submerged bulkheads — stand guard along the shore. As William Kornblum makes clear in his book, there aren't many places one can safely approach the New York City waterfront in a small boat. And so, like early European Dutch explorers he mentions, who kept their distance when sounding new shores, Halaczinsky likewise smartly keeps his.
But even away from New York City, Halaczinsky often keeps more sea room than he might sometimes need, literally and personally. We learn little, really, about the author's deeper motivations, and some of his insights at times seem trite, as when upon returning to New York he remarks that, "approaching the city from the water in a small sailing vessel is a thrilling experience." Writer and sailor Jonathan Raban has called loneliness an inevitable condition of travel, a spur to experience, but over the course of several weeks of cruising Halaczinsky hardly seems touched by solitude, and he isn't driven to engage either locals or other sailors along the way. Sojourn may touch bottom here and there, but she never touches lives. To borrow from sailing's lexicon, when it comes to reverie and reflection, Halaczinsky tends to pinch, rather than sail full and by. The end result is a narrative that feels somewhat thin. Even Halaczinsky's treatment of the small islands close by Manhattan is something of a gloss compared to Kornblum's histories of them in At Sea in the City.
Halaczinsky claims Kornblum's book as the inspiration for his own book and voyage, but Archipelago New York lacks the kind of casual intimacy with place that Kornblum achieves; with Halaczinsky, one gets the sense that the author doesn't quite know the way in through the shallows, while with Kornblum one can almost feel the keel of his old catboat, Tradition, scratch bottom as he pokes his way in to places few go. Though an academic by training, Kornblum knows how to tell a story, and when he describes how "[b]reakers along the shore become the distant city's ruffled sleeve," the metaphor appears so effortless we feel this scene is one the writer has experienced countless times.
In comparison, Halaczinsky's rather unsalty language is something of a disappointment at times. He repeatedly uses the word "lean" for "heel" and speaks of "sailing half-wind, faster and calmer." I suspect by "half-wind" he might mean a beam reach, but when he "pull[s] down the sheets" and "luff[s] to lean the boat even more," readers who know how to sail will likely find themselves dismayed. Sailing has its own language, and for good reason. But technical precision is only part of it. When it comes to writing about sailing, a lubberly tongue isn't likely to strike sailing's lyrical note.
Nevertheless, the book has its better points. Before beginning his voyage, Halaczinsky makes clear that he means for us to understand archipelago as "more than a geographical description of a group of islands." He means it "poetically…the aquatic stage of Odysseus' long journey home." That said, we must look to Halaczinsky's images for whatever poetry we might find. In the end, the effect is cumulative, building the way the summer thunderheads build over the waters Halaczinsky sails. In brooding shots of the Rockaway shoreline, in the nearly ethereal portrait of three girls wading in a summer sea somewhere out near Orient, in a rust-streaked red nun looming like a stark warning amidst an otherwise gray approach to the East River, or in a shot of a brightly painted cottage perched atop stained pilings in Broad Channel, Halaczinsky conjures up an archipelago of his own — one, I think, where the Greek poet George Seferis, no stranger to tired harbors and uncertain passages, might have felt strangely at home.
Archipelago New York by Thomas Halaczinsky (Schiffer Publishing, Ltd., 2018; 160 pages; $29.99 hard)