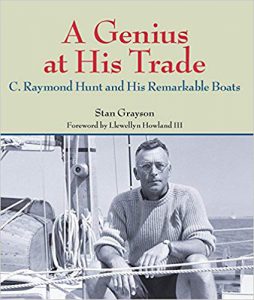 Although he died almost 40 years ago, Ray Hunt left an indelible legacy in yacht design. Hunt is now more known for the development of the Deep-Vee powerboat hull configuration, which remains today virtually unchanged from his original concept. You may also know him for the design and development of the original Boston Whaler cathedral hull form. However, author Stan Grayson does an excellent job in detailing Hunt's extraordinary design and truly remarkable sailing career, starting as a youngster as the first winner of the Sears Cup in 1925, and detailing race win after race win in R-Boats, Q-Boats, 6 and 8 Metres in the 1920s and '30s, and soon in boats he designed himself.
Despite a limited formal education, Hunt was a remarkable intuitive sailor, and his interest in sailing soon turned to yacht design. Working with Waldo Howland in the early days of Concordia Company, Hunt firmly established his yacht design career with the legendary Concordia Yawl in 1939. That success was soon followed by the innovative 110 and 210 plywood double-enders for a variety of other builders. The Concordia 41, designed in 1953, further enhanced his design credentials, especially when he and his family sailed their own Concordia 41, Harrier, to a six-race sweep of Cowes Week in England in 1955, against the best British yachts of the day. Although designed to the CCA Rule, Grayson neglects to mention that at Cowes, Harrier inevitably raced under the RORC rating rule, which further enhances her success at Cowes.
This book is a logical and welcome companion to Llewellyn Howland's own recent book, No Ordinary Being, the biography of designer Starling Burgess, who also emerged from the Boston area. The paths of these two remarkable individuals overlapped not only tangentially in Hunt's R- and Q-boat racing in Marblehead, but also more directly when Hunt was included in the afterguard of Chandler Hovey's America's Cup J-Boat campaign in the Frank Paine-designed Yankee in 1930 and 1934 against the Burgess-designed Enterprise and Rainbow. Paine and Hovey would play important roles in Hunt's design career, with Hovey later underwriting the design and construction of Hunt's own ill-fated America's Cup contender, the 12 Metre Easterner in 1958. Ted Hood also played an early part in Hunt's sailing career, and Grayson underscores the parallels between Hunt's "Shoaler" designs and Hood's later large centerboarder designs, both with high dead-rise angles and low centerlines.
While Grayson does not shy away from Hunt's well-known alcoholism, he does not explore in any depth the impact that it may have had on his personal and professional life. Maybe I'm being overly critical of a book that, without question, adds greatly to the history of 20th century yacht design, but I was also puzzled by Sir Max Aiken commissioning Hunt to design the ocean racer Drumbeat, supposedly based on Harrier's success at Cowes, but then have Hunt deliver not a development of Harrier, but a development of the shoal-draft centerboarder, Shoaler. Uh? Grayson also has trouble explaining the nature of Drumbeat's twin centerboards, which are not shown on either the Shoaler or Drumbeat hull lines in the book.
This book also details Hunt's remarkable success in the 5.5 Metre class, with three boats that Grayson tells us departed from the norm for the class, but then doesn't really tell us how they diverged, and supplying only lines plans for one of the boats. I know – picky, picky, picky!
Like Howland in his book on Burgess, Grayson also goes out of his way in crediting Hunt's design associates, starting with Bill Harris at Concordia and Fenwick Williams and Arthur Martin in the Hunt office, and then his partnership with John Deknatel in Hunt Associates, established in 1966, a firm that still thrives today under Deknatel's leadership.
The invention of the Deep-Vee alone would have established Hunt as a genius in yacht design, but Grayson provides a very detailed account of one breakthrough after another, well illustrating Hunt's intuitive approach not only to sailing, but also design. Hunt was a remarkable innovator, but relied on others to transform his often-quixotic ideas to reality and ultimate success. If the modern goal is to "think outside the box," Hunt's whole design career embodied that from the day he first put pencil to paper. This book would be a welcome addition to any serious boater's library. The cover photo alone – Hunt aboard Harrier, staring intently at the camera – is well worth the price.
A Genius at His Trade: C. Raymond Hunt and his Remarkable Boats by Stan Grayson with a Forward by Llewellyn Howland III (Tilbury House Publishers, 2015; 304 pages)