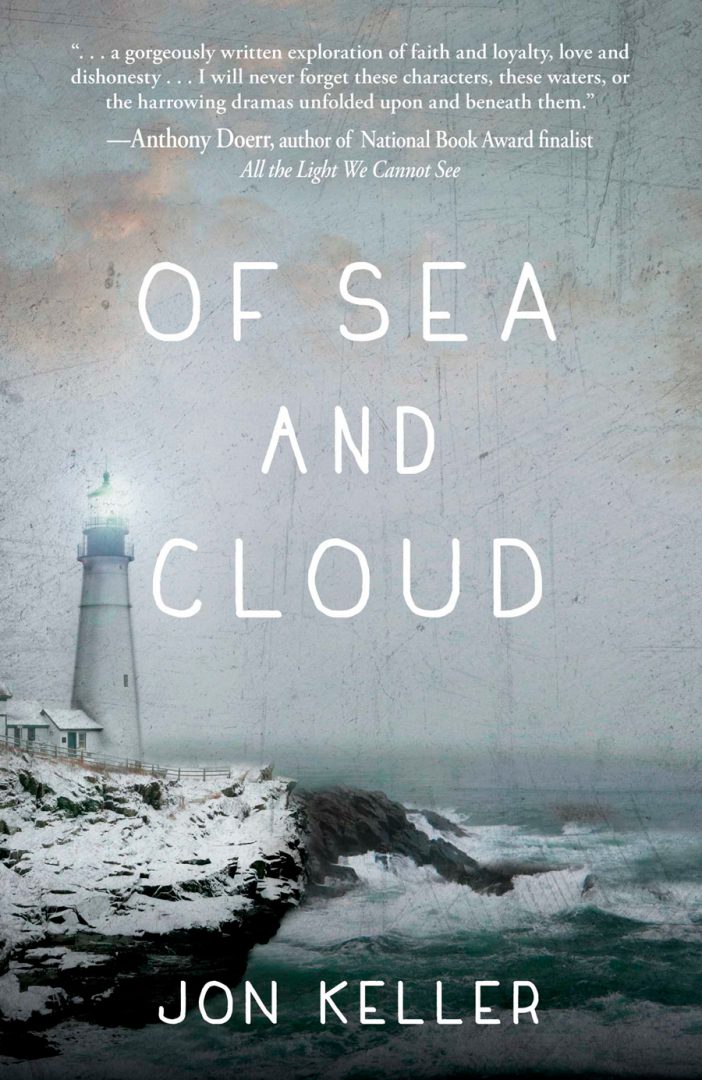 If you suffer from seasonal affective disorder, you might want to plug in your UV lamp before cracking open Jon Keller's riveting first novel, Of Sea and Cloud. In the depths of coastal Maine's winter, the darkness can be a living thing that stalks and haunts mere mortals who are longing for the turn of season. But the darkness in Keller's novel goes far deeper than the mere shortness of days, as he tells a story of murder, betrayal, loyalty, family, and a battle for the soul of the lobster industry and, by extension, a community.
Set in a fisherman's village and its scattering of islands, Of Sea and Cloud is centered on the sons of lobsterman Nicolas Graves, Bill and Joshua, the latter known as Jonah and the story's protagonist. It pits the complicated, dysfunctional legacy of Nicolas and his sons against the forbidding former Calvinist minister Osmond Randolph, Nicolas' partner in a lucrative lobster pound, and his arrogant, malevolent grandson and heir, Julius.
Thrown into this volatile mix is Nicolas' best friend, Virgil Alley, who nurses brandy and milk like the rest of us drink water while trying to discern Osmond's black motives, and his 18-year-old daughter Charlotte, with whom Jonah is in love, but who is desperate to leave the tortured coast and claustrophobic world of the lobsterman's wife that she sees as the future if she stays.
Each of these characters is finely drawn. They and their relationships are complex, flawed, and fraught, and once you meet them, you won't be able to put this book down.
The fate of small-scale fishermen and the communities of families, boats, and wharves that sustain them is set against the threat of mercenary outsiders who see money and investment in others' history and homes. While a version of this story can be told about every traditional fishing community, Keller takes it to a shadowy new place with Osmond, whose twisted sense of blood and family taints his very being.
Though he speaks with the rhythm and cadence of a preacher, his towering, muscular presence bespeaks simmering, unhinged violence, and he menaces the story like Poe's raven, dark-winged and relentless. In one scene, enraged that Jonah has cut lobster pots that Osmond had placed to intimidate him, Osmond attacks the water itself, terrifying his grandchildren: "Osmond approached Julius with the line coiled around his fist like a boxing glove. Julius ducked and moved past him and tucked himself beside his sisters as Osmond stood alone at the open stern of the boat and uncoiled the rope. His hair fell in ravels. He braced his legs and paused for seconds and then began to whip the tip of the rope against the surface of the sea until sweat rolled from his face and his frame slumped in exhaustion. Then slowly without a word to his grandchildren he steered the boat for home."
Like a silent current flowing beneath these characters, larger forces are always at work to remind the reader subtly of some deeper power—perhaps even irony—a presence that anyone who has spent time in this world of 12-foot tides, impenetrable fog, and omnipotent weather can't escape. "The earth spun and darkness approached and far at sea the tide shifted beneath the moon," Keller writes, as Jonah wades across the rocks and wrack of low tide in search of his father's skull, which ends up in a place it has no business being.
Throughout, Keller's taut and contained lyricism is as closely held as the characters themselves—quintessential tightlipped Mainers—yet with spare, precise language he casts mesmerizing spells. An example: "He pushed the skiff across the frosted planks and into the black water. The last of the tide rushed out like a cloth pulled from beneath him. A gull from somewhere unseen swooped and landed on the bow of the skiff and watched him as he rowed. It batted its wings and stamped its feet. A hush descended and the timeless clatter of wood and water and boat rose into the night sky."
There is nothing so simple as redemption in this novel; that would be too easy. But there is an abiding truth of generations, family, ambition, and imperfect love. Set in this beautiful, tormented place, it makes for a story as compelling and inexorable as the tide.
Of Sea and Cloud by Jon Keller (Gallery Books, 2014; 322 pages; $24.99 hard, $15.99 soft, $4.99 digital)