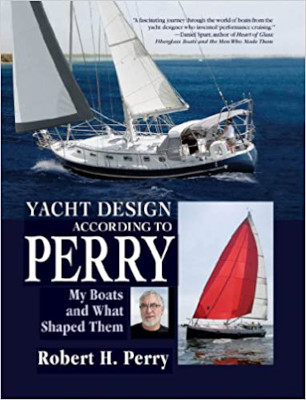 A refreshingly blunt book, even the title hides nothing: Yacht Design According to Perry is, as the title suggests, a chronicle of designer Robert Perry's opinions, memories, criticisms, and philosophies concerning the world of boats and his impact upon it.
While Robert Perry's career has been a varied one, Yacht Design According to Perry is focused on Bob's development of fast cruising yachts, starting with the famous Valiant 40 and continuing through his many double-enders and, later, his fast cruising sleds. Indeed, the book encompasses everything from the chunky little Baba 30 to Icon, a custom 65-foot cruising sled carrying almost 2,000 square feet of sail while displacing only 27,700 pounds on her 58 feet of waterline. In his designs, Bob always attempts to combine the romance of boats from the boards of masters like Atkin, Garden, and Neilson, with the speed-giving qualities h
e learned designing to the IOR rule under Dick Carter prior to starting his own design firm.
Bob structures the book with alternating chapters, the first chapters are a series of memoirs chronicling the design of a boat or a series of boats; the second look at a specific element of boat design. The memoir sections of the book provide a history or an outline of his career, describing boats he built and the people he met building them, and giving telling accounts of a series of boats he designed for a company, or custom boats designed for clients' particular needs. These chapters do a superb job of modeling the design spiral, providing an extremely clear and specific outline of the design process for each boat and illuminating Bob's overarching concerns an
d style. The world of boats is made up of a wide variety of people with a wide range of perspectives, and Bob's experiences as a designer remind us of this.
In the portions of the book devoted to providing information, Bob relates his own prejudices and preferences for different details of design. The information presented starts quite broadly, with descriptions of basic ratios and measurements, but by the end the book presents in-depth looks at concentrated areas of design features like bow, rig, and keel design. It should be mentioned that this book is not designed to please everyone; one of its many good qualities is that Bob sets down his opinions in a candid manner; no ink is wasted on temporizing. The book is also full of illustrations and drawings. Photographs abound.
Whether you're contemplating your next boat, considering upgrading your present one, or just curious why the hooker moored across the harbor from you is faster than yours, this book will make an enjoyable read.
Yacht DesignAccording to Perry: My Boats and What Shaped Them by Robert H. Perry (International Marine, 2008; 280 Pages)