Twice Hooked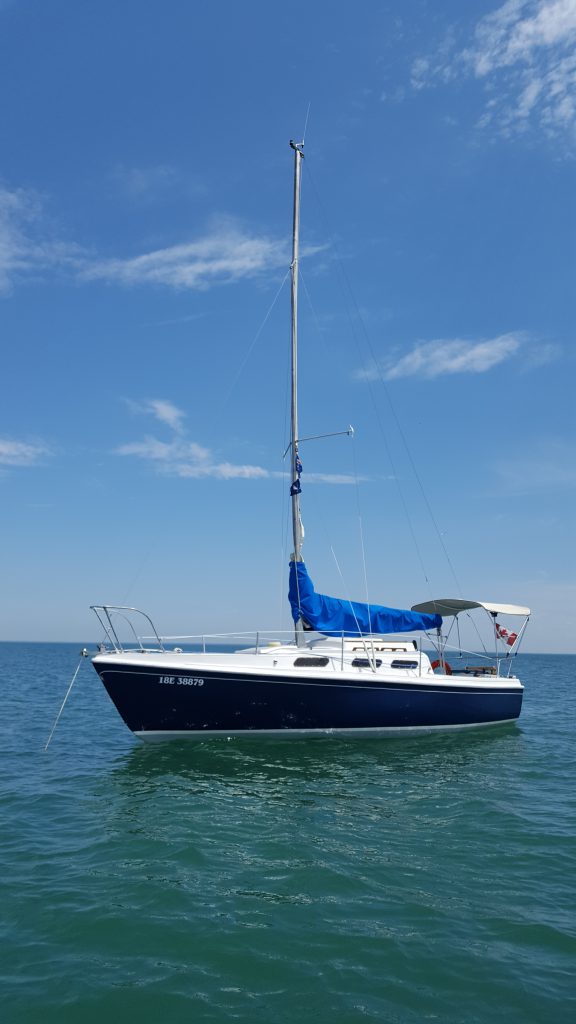 For me, there are few experiences as satisfying as finding a quiet, secluded anchorage where I can enjoy the freedom of a peaceful sunset and lazy morning. You'll recognize my boat because there's an over-sized galvanized anchor on the bow, perpetually coated with dried mud from the last night I spent on the hook. This sailor is firmly planted in the cruiser garden, where I till the watery thoroughfares of the Great Lakes.
So it was that I was on a week-long cruising vacation, exploring the northeastern shore of Lake Ontario. Past Presqu'ile Point sits Prince Edward County and miles of beautiful sandy beaches. The area is dotted with quaint towns and wineries, promising a slower pace of life that draws cottagers from far and wide, including friends of ours, whom we decided to pay a visit. 
Because there are no keel-boat marinas near, we decided to anchor off the beach at Pleasant Bay Camp. All that separated us from our friends' cabin property was a few hundred yards' tromp over a sand dune.
The day was sunny, bright, and warm. A moderate south-west wind was kicking up 2-foot waves on the white-sanded shore. Because of a very gradual seabed slope, we anchored quite far out. We sunk the Lewmar-made Bruce-style anchor from the bow. As the family packed beach toys and towels in our kayak, I noticed a slight wind shift, causing Nomad, our Luger 26, to drift broadside to the waves. In that moment, my inexperience allowed a dangerous syllogism to form in my mind.
Major premise – Anchors secure boats.
Minor premise – You can't have too much security.
Conclusion – Two anchors are better than one.
So, before we went ashore to meet our friends, I pulled our secondary anchor (a Fortress), from its cozy slumber in the lazarette, tossed it off the stern, and pulled on the rode to orient Nomad perpendicular to the waves, bow pointing to deeper water. After I cleated the stern anchor rode, we disembarked for some fun with friends.
An hour later, having returned to the boat alone, I stood staring with absolute terror at the foredeck, where the anchor roller was bent and twisted and nearly ripped off the boat. Two of the four bolts that were securing the roller were severed.
One or both anchors had shifted and now both worked to keep Nomad positioned so that she was broadside to the increasing wind and waves. She was being pounded mercilessly, each wave hitting with brutal strength. Then in a moment I realized that the anchor roller is the deck fitting to which the forestay is attached. Nomad was simultaneously at risk of being beached and dismasted!
With the rest of my family watching helplessly from the faraway shore, I spent the most terrifying 30 minutes of my life trying to save Nomad. This meant starting our reluctant Mercury outboard and retrieving both anchors, on a pitching, heeling boat without the benefit of a tiller pilot. At some point, I managed to cast off the kayak so it would wash ashore and could be used by the family to reach me.
With everyone back aboard, we threw a long nylon rope over the spreaders and tied it forward to support the mast. For the next two hours, the mood was somber as we limped back to the marina at Brighton, Ontario, from where our week-long sailing holiday had begun the day before.
The next morning, we tore apart the front of the v-berth and the anchor locker, removed the severely damaged anchor roller, pounded it back into functional shape, and re-attached it to the bow.
Having since completed a few Canadian Power and Sail Squadrons boating courses, I have come to learn my syllogism was entirely faulty. One anchor is nearly always the best solution. Securing a boat at the bow allows the hull to flow freely with the natural forces of wind and wave, minimizing the forces on the ground tackle. In my case, adding the stern hook served initially to orient the boat in a manner which pointed the bow into the seas, but doing so raised the danger that should either anchor drag and reset, the boat could wind up trapped as she was. There are limited cases when anchoring with a bow and stern hook makes sense, but it's not accurate to surmise that two is always better than one, not even if both are set off the bow. In fact, I might never have reason to deploy more than one anchor for the rest of my sailing career.
Do I regret my own ignorance which led to this near-disaster? No. It was this experience—this mistake—that led me to learn what I've learned. I'm a wiser and safer captain today.
Lee Brubacher is the husband of one, father of three, and has been the Director of Worship at West Highland Church, Hamilton, Ontario, since 2001. He is an avid sailor who enjoys refurbishing older boats and then cruising on them.

---
cherylbrubacher
Lee Brubacher is the husband of one, father of three, and has been the Director of Worship at West Highland Church, Hamilton, Ontario, since 2001. He is an avid sailor who enjoys refurbishing older boats and then cruising on them.
---