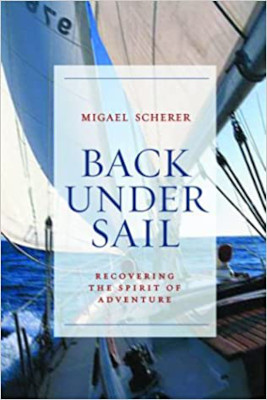 Migael Scherer starts her book in Juneau, Alaska, where she is living aboard with her husband, Paul, on their sailboat, Orca. She enjoys time spent with friends, especially Joyce. Migael and Paul sail on to Seattle, where she is brutally raped in a laundromat. After the rapist has been tried, convicted, and sentenced, depression nearly crushes Migael. Soon afterward, Joyce is diagnosed with cancer and dies.
Five years earlier Migael had been invited to sail in a race on Joyce's boat, Eagle, as part of an all-woman crew. The race was to take place in Juneau, take six days, and cover 200 miles, but Migael had come down with the flu and had been unable to go, a decision she regrets. Now she is invited once again to sail in the race but this time with five men, only two of whom she knows. She is to be the only female aboard. Paul encourages her to participate. She accepts the invitation but wonders about her decision to be in the race: will she fit in, will she let the others down, will she be able to pull her own weight? She worries about being on a sailing adventure without Paul. She realizes that she's grown tired of waiting for something to happen, of always looking over her shoulder.
Once she has become part of Eagle's crew, Migael spends some time reflecting about the things that have happened to her and the people she has met. Throughout the race, her thoughts bounce back and forth. Even in the midst of the beautiful Alaskan setting, black thoughts haunt her. But during the race she starts to see herself in a different light. She is important. What she has to say is worth listening to, and she is just as much a part of the crew as the others. Most importantly, her marriage — made rocky after the attack — has started to turn around. Paul begins to see her for who she is. She begins to realize that she is the one who has to pick up the pieces and start the rebuilding process.
This is a good book, not to be read as a novel but more like a road map. There is enough emotion in this book that all readers can relate to. Throughout life there are situations that happen that will knock the wind out of our sails or run us aground. Sometimes it may seem that darkness is consuming us., For Migael and for the rest of us, I like how the book ends. She doesn't know what lies ahead, but another voyage and more adventure await. She knows that she and Paul will face their adventures together.
Back Under Sail: Recovering the Spirit of Adventure by Migael Scherer (Milkweed Editions, 2003; 203 pages)