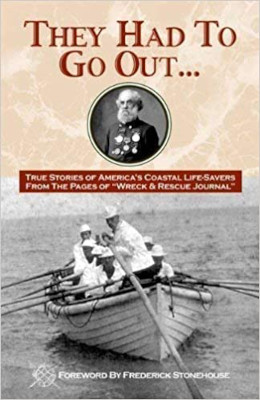 In 1995, a small group of historians, writers, and National Park Service workers did two things: first, they founded the United States Life-Saving Service Heritage Association, a group dedicated to preserving the history of that Service; second, they created Wreck and Rescue Journal, a quarterly publication to keep alive the stories of the brave men who served in the Life- Saving Service between 1880 and 1915.
As Frederick Stonehouse says in his introduction, the USLSS defined courage — If ever the old phrase "wooden ships and iron men" applied, it was to them. These crews trained and prepared, then went out in rowboats — rugged, near-unsinkable rowboats, but rowboats nonetheless  to pluck sailors from their foundering ships and bring them safely to shore. Their cynical motto: Our Book says we have to go out — it doesn't say anything about coming back.
This book is organized into sections titled, The Lifesavers, The Issues, and The Rescues, but almost all the stories included here describe the men of the Life-Saving Service going out into incredible conditions of storm and sea to save people endangered by shipwreck — and yes, not always coming back. Men such as Joshua James, who saved 20 men during the Portland Gale of 1898. At age 75 he fell dead on the beach, after drilling his men for hours in gale-force winds.
Two of the stories describe the rescues of George Plough, keeper of the Harbor Beach station on Lake Huron, and Miss Ida Lewis, keeper of the Newport Harbor lighthouse, who saved over 30 people herself, rowing out in her skiff to save the last ones when she was 64 years old.
These stories go back to the founding of the Massachusetts Humane Society (the organization that first built life-saving stations on Cape Cod in 1785), all the way to the adventures of Coast Guardsmen in the 1950s, such as the tale of Chief Boatswain's Mate McAdams and his cigar: If the cigar was lit, you could relax…if he takes it out, turns it around and sticks the lit end in his mouth, you're going to get wet.
These 25 stories by 13 authors will give the reader a sense of the bravery and fortitude of the Life Savers and Coast Guardsmen who were — and still are — dedicated to rescuing those in peril on the seas.
Read this book on a November night with a full gale howling outside, and be grateful.
They Had To Go Out: True Stories of America's Coastal Lifesavers by Wreck and Rescue Journal(Avery Color Studios, 2007; 208 pages)