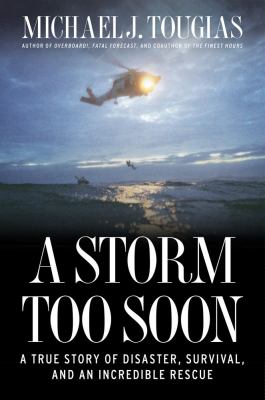 The normal Atlantic hurricane season does not start until August, but "Climate is what we expect; weather is what we get." In May 2007, two low-pressure centers spun together off Cape Hatteras and formed a storm that imperiled four yachts.
One of the boats was the Sean Seamour I, owned and captained by Jean Pierre "JP" de Lutz. He was sailing from Jacksonville, Florida, to the Mediterranean with two newcomers to long-distance sailing: Rudy Snel, a Canadian who sailed on the Ottawa River, and Ben Tye, an English sailing instructor.
The Sean Seamour was a well-equipped vessel and the three were experienced, cautious sailors, but the weather and the Gulf Stream worked against them. Soon they were trying to survive in 70-foot seas and 80-knot winds, their life raft damaged, much of the survival gear lost, and their EBIRB not working.
They were certain that no one would be able to get to them in the conditions they were enduring. They were wrong.
Much of the book describes the teamwork of the United States Coast Guard personnel at the Search and Rescue Command Center at Portsmouth, Virginia, and Station Elizabeth City, South Carolina. With skill, determination, and no small measure of luck (the observer on the C-130 search plane got a half-second glimpse of their last working flare and without hesitation, yelled "Mark Location!" enabling the plane to turn back and find the ridiculously small life raft in the mountainous seas), the Coast Guard pulled off a rescue in incredible conditions. At one point the radar altimeter readout was changing by almost 80 feet. The helo was flying level — the waves passing underneath were changing the height-above-sea numbers.
There were three other vessels caught in this storm: Seeker, Illusion, and Flying Colours. The latter, a 54-foot Hinckley being delivered from the U.S. Virgin Islands to Annapolis by a crew of four, was lost without a trace. Brief accounts of the rescues of Seeker and Illusion are included, and biographies of the four sailors from Flying Colours are added to the book. It seems like Tonglas wanted to write a longer piece with more details about all the boats in distress, but that the information simply was not available.
Touglas writes in present tense, which is a tad annoying at first, but imparts immediacy to the events being described. DeLutz, Snel, and Tye had a well-found boat and did everything right, yet they still almost lost their lives to a vicious storm that developed at a time and place where it had no reason to be. That they were not lost is a tribute to the training and skill of the United States Coast Guard.
A Storm Too Soon: A True Story of Disaster, Survival and an Incredible Rescue by Michael J Touglas (Scribner, 2013, 224 pages)