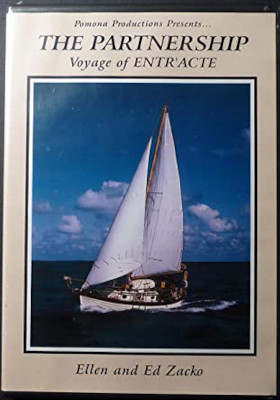 Step back in time to a day when sailboats were simpler and our own needs for cruising comfort were more in line with camping. Talented musicians Ed and Ellen Zacko met, dropped out of the New York symphonic rat race, finished out a sailboat hull, learned to sail, and set off cruising in 1981.
Then they told the story of their travels with a slide show that evolved into a multi-media production. (Remember the term? It meant having two or more projectors fading slides in and out. It was the end of the click, click, click presentation.)
The Zackos' narrated slide presentation was so popular they continued to show it as the years moved along and technology changed. That show, now available on DVD, while faded and dated, still entertains and informs. These days, it also offers a view backward in time.
Called The Partnership, Voyage of Entr'acte, Ed and Ellen's presentation is a romance set to music as this couple travels through the Bahamas, the Caribbean, the Azores, Portugal, Spain, the French canal system, the Mediterranean, the Canaries, West Indies, and home again four years later. All this was accomplished on the Nor'Sea 27 they built from a bare hull. (That part of the adventure took an additional three years.)
The best part of the story is that Ed and Ellen are still cruising, still meeting interesting people, and still stopping to smell every rose along the way. They had just left the Galapagos for the Marquesas as this review was written. And they're still sailing the same Nor'Sea 27, Entr'acte. Encore, Ed and Ellen!
The DVD is available from Pomona Productions, 2312 Maplewood Dr., Culpeper, VA 22701, or from their website at http://www.enezacko.com.
The Partnership, Voyage of Entr'acte by Ellen and Ed Zacko (Pumona Productions, 2008; 103 minutes)