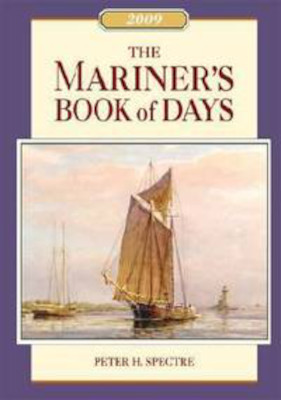 Not found on AMAZON
 If you need an appointment book to organize your life, and who doesn't, The Mariner's Book of Days — 2009 is worth looking at. If you're a maritime aficionado, and since you're reading this in Good Old Boat you more than likely are, it's worth having. If you love nautical lore, facts and figures, historical anecdotes, etc.,it's practically indispensable. But if you're all of the above and, like me, can't wait to dazzle your friends (or bore them to tears) with your Cliff Claven-esque gift of little known facts, you'll find this book as necessary to your life as a lawyer is to a politician.
The book is laid out week by week, Monday through Sunday, as most datebooks are. When opened, the left-hand pages contain passages from a variety of authors and literary works, plus excerpts from the logs of ships, yachts, or fishing vessels, dating from the 18th through the 20th centuries. There are also reproductions of line drawings, most of which depict nautical scenes. Certain pages have a definite theme. For example, the week of October 12 contains several facts related to Herman Melville.
At the top of the right-hand page there is a short passage from a book or poem, then below that a space to note each day's appointments. In addition, there is a historical event noted for each particular day. We learn that on October 18, 1851, Moby Dick was first published, which is why the left-hand page for that week is devoted to Melville.
If there is anything negative about this book it's that it is simply too pretty to clutter with personal scribbling, especially if your handwriting looks like mine. But that aside, The Mariner's Book of Days — 2009 is a wonderful way to keep your life organized while giving you an arsenal of worthwhile information to keep life interesting. It would also make a great gift for someone interested in things poetic, nautical, or both.
The Mariner's Books of Days — 2009 by Peter H. Spectre (Sheridan House, 2008; 56 pages)