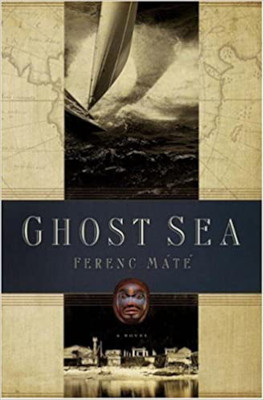 Ferenc Máté is perhaps best-known to good old sailors for his "best boats" books, in which he describes classic designs as eloquently as he might describe living beings. In Ghost Sea, he turns his talents to fiction, populating a rugged and mysterious landscape with human characters, while still displaying his flair for the nautical.
Set along the British Columbian coastline about a century ago, the story centers around Dugger, an outlaw coastal trader who is hired to teach Katherine, a wealthy man's wife, to sail. The two become lovers, which complicates Dugger's next job: to navigate 200 miles of uncharted shoreline to save her from two native warriors who have taken her hostage. Dugger finds himself aboard his ketch with Hay, the husband; Nello, a half-native, half-Italian first mate; and Charlie, a Chinese cook. They enter a world fraught with unexpected dangers and murderous enemies. The outcome isn't certain until the final pages.
The novel recreates the world of the Kwakiutl Nation, a tribe reputed to practice cannibalism, orgies and torture, and hallucinatory potlatches. Máté extensively researched its culture; he spent years sailing the Kwakiutl Islands and visiting long-abandoned villages. His firsthand knowledge imbues the narrative with compelling context and reminds readers that clashes of culture have two sides.
Detailed descriptions and insightful metaphors sustain the title's motif: a hard wind carves "six-foot waves as steep as tombstones" and nighttime sounds "can drive you mad when you're sailing in the dark, when the hiss of the bow wake becomes sighs of the long-drowned" The author also captures the joy of sailing: "The canvas bulged, the sheets quivered, and a halyard slatted, keeping time against the mast, and I braced my foot in the cockpit corner, clutched the spokes of the wheel, and for a moment forgot about Hay below and Katherine up ahead, forgot my debts and even the South Seas — I was sailing."
Máté's novel has attracted kudos from the likes of Walter Cronkite and John Rousmaniere, who have called it "a gripping story" and "an action-packed sea adventure," respectively. The story does hurtle along; at times the pace can make it difficult to follow the action, especially in the final chapters. Also at times the characters border on stereotype, although there are surprises: two persons onboard are not what they seem to be. All in all, however, Ghost Sea is a rollicking fiction debut.
Ghost Sea by Ferenc Máté (W.W. Norton & Company, 2006; 288 pages)