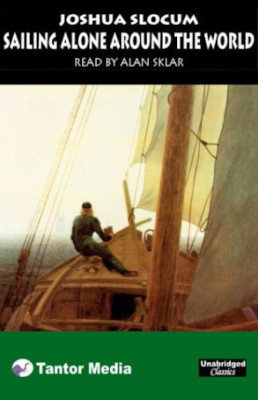 Mark: I finally made it and I'm glad I did! I've tried to read this book a couple of times before and never got through it. For some reason it just never caught and I'd end up putting it aside. I believe everyone should read—or listen to— Slocum's account of circumnavigating the world. Not only was it the first singlehanded circumnavigation, but he did it at a time when it was believed to be impossible. There was no Panama or Suez Canal and sailboats simply weren't sailed with a crew of one back in 1895.
Diana: I'm not an audiobook person: I like to read the written word. But that being said, I have to admit I've never taken the time to read Slocum's classic book. So if you've never experienced Sailing Alone Around the World, you should, so get the audiobook instead of procrastinating any longer!
Mark: Slocum is an excellent storyteller, with simple factual writing and a modest tone. And with Slocum's lean and compelling prose, it's a perfect book for audio. Jerry Stearns' clean and straightforward reading is a natural complement to Slocum's literary tone.
Diana: Any cruiser can easily relate to Slocum's story, even if you have no intention of circumnavigating. So many of his experiences are part of the culture of contemporary coastal cruising: the hospitality of new acquaintances, the camaraderie among other sailors out on the water, the logistics of provisions and boat repairs, and the lifelike affection for one's vessel. It was fascinating to hear his perspective on these emotions and events of life on Spray.
Mark: It's also easy to relate to (and admire) this modest character. Here's a man who lived his life as a sea captain but has his "heart in his mouth" the first time he brings Spray into port alone. All the old fishermen run down to the wharf hoping for the thrill of a calamity, but Slocum docks her so lightly "she would not have broken an egg." You cheer for his success while he admits that if he says a word he'll betray his shaking voice and nervous shortness of breath!
Diana: The quiet seafaring captain from Nova Scotia was prescient in many ways. I chuckled when he said the local ladies were so curious about the technical aspects of solo circumnavigating that he predicted there would be "sailing mistresses." It took 80 years, but in 1979 Naomi James became the first woman to solo-circumnavigate via Cape Horn.
Mark: Slocum was also right on the money (pun intended) about the endless trap of new navigation gadgets! He laments about the "newfangled notions of navigation" — that a mariner must have a chronometer. "Fifteen dollars!" he says. Nothing has changed in the world of navigation: instead of chronometers, now it's that large-screen color chartplotter!
Mark and Diana: In all, two earbuds up!
Sailing Alone Around the World by Joshua Slocum, audiobook narrated by Jerry Stearns with an introduction by John Vigor (produced by Good Old Boat; 6.8 hours)