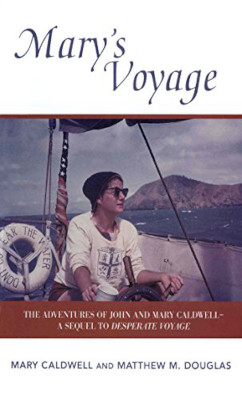 Mary? Mary who? Remember Desperate Voyage, John Caldwell's well-known book about his ill-fated solo voyage? When World War II ended, John left Panama headed for Australia and Mary, his wife. With zero sailing experience under his safety harness, John's "landfall" came when his 29′ cutter smashed on a coral ridge near Fiji.
Undaunted, however, John and Mary Caldwell, with their toddler and infant sons, became the first family to attempt a circumnavigation aboard a 36′ John Hanna-designed sailboat. They had only a sextant and dead reckoning for navigation. Oh, and Mary was pregnant when they slipped the lines in 1952.
Most folks thought them lunatics. "So are we crazy?" Mary asked. "Of course we are!" John replied. "But look at is this way. The rest of the world is even crazier. It's all about greed and screwing your neighbor and smiling while you do it." John said he preferred dying at sea to being buried ashore after 30 years of mindless routine and a gold watch.
Mary's Voyage, the sequel to John's book, is extremely readable. In a down-to-earth way, it traces the course of a couple who balanced the challenges of sailing and the onboard parenting of three children under age 4, with the rhumb line that was their dream. Black-and-white photos throughout the book document ports of call and the little boys who grew to crew.
Their experiences evoked emotions across the spectrum. When Tropic Seas left Haka Hetau after five weeks, the butcher's wife gifted them with a 6-week-old goat to be butchered at sea. (You can guess what the boys thought of that idea.) In Moorea, the Caldwells watched a group of sharks violently attack a horse that had wandered into shallow water. Then there was a 70′ whale and a Tuvuthan couple who wanted them to sing cowboy songs. And John's palm tree plantings throughout the Grenadines brought him the nickname "Johnny Coconut."
The book holds gentle lessons, perhaps unintended by the author, but clear to a reader with an open heart. Mary's simple prose takes us from the sea to shore where the family buys land, to 81-year-old John's last trip over the waves of the Caribbean as his grandson, Justin, flew his casket across the water. The ending captures the yearning of a land-bound soul who spent a lifetime smelling the ocean air and seeing brilliant stars unimpeded by the lights of land. Mary's Voyage is well worth your literary dollar!
Mary's Voyage by Mary Caldwell and Matthew M. Douglas (Sheridan House, 2008; 259 pages)