Distinctive Isla Ventana has long been used as a navigational aid by Sea of Cortez sailors. Raul Martinez III sent this photo from the 38th annual running of the Spring Regatta in San Carlos, Mexico, hosted by the Tucson Sailing Club of Arizona, in which Isla Ventana is being used as a race marker.
DIY Blues
I'm wondering if other readers are having a similar experience. I have an old boat, 1966 Tartan 27. She has an A4 engine, she was built a long time before ABYC standards. I'm trying my best to do a refit, by myself. Trouble is, around the Chesapeake Bay, at least on the eastern shore of the Bay, marinas are deciding they don't want people like me in their yard. I moved a couple of years ago from one marina when I was informed that I couldn't work below the waterline, in other words, I couldn't even paint my own bottom. I found another marina further down the Bay and was happily ensconced and working at my own pace. Suddenly the owner decides to sell. The buyer is a dealer in small boats and now has announced a similar policy. So I'm faced with moving again. But where?
–Bill Wilson, Good Old Boat subscriber
Hi Bill, we spoke to a manager of one Chesapeake Bay boatyard to get his take, below. Our personal experience (West Coast-based) echoes John's comments. Ventura Boatyard (Ventura, California) is our favorite, but we know there are many others that welcome DIYers. After reading John's comments, check out this link to reader feedback on their favorite DIY boatyards in the February 2019 issue of The Dogwatch: https://goodoldboat.com/mb-feb19/
***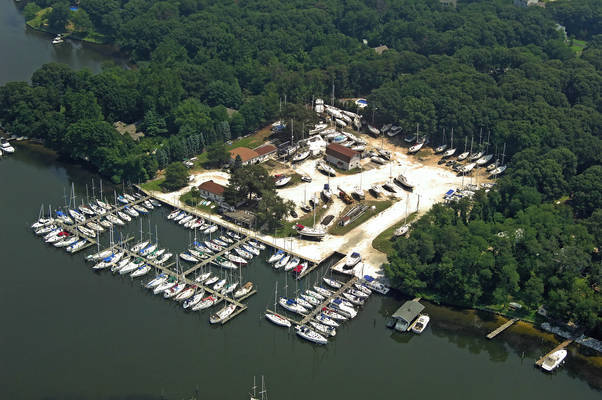 Fear not, there are still boatyards on the Chesapeake who appreciate do-it-yourselfers.
In the yard I manage, we believe that the better informed boat owners are about their boats and systems, the happier they are. To that end, we encourage DIY boat owners and enjoy talking with them about their projects and helping them through their challenges. Our customers may work below the waterline, although if their sanding gear is inadequate to contain bottom-paint dust (as required by state regulation and to maintain good customer relations), we will rent our highly effective dustless sanding systems to solve that problem.
The most important thing when searching for a new yard is to be honest and direct with the yard manager. Tell him or her exactly what you are doing and how you intend to do it. In our yard, knowing someone is going to embark on a long-term restoration means we will place the boat in our long-term storage area close to power and water to help facilitate the project.
I know there are still yards on the Chesapeake and the Eastern Shore that allow do-it-yourselfers, even below the waterline. You may have to do some research via road trip to find them, as many remain small and family-owned and perhaps aren't as well-advertised as the big yards.
–John Clarke, Operations Manager, Oak Harbor Marina, Rock Creek, Pasadena, Maryland
Bowditch Plug, Bowditch Remembrance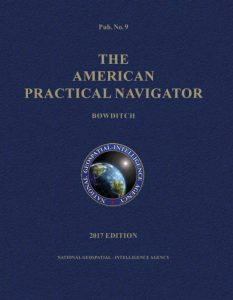 Nice to see the plug for Bowditch (Book Review, The Dogwatch, August 2019). My first Bowditch was a 1966 edition, an invaluable basic earth-science reference for me in environmental policy investigations for Congress in the late 1960s, and still useful in environmental policy studies into the 1980s.
–Gerald Schatz, J.D., Northport, Michigan
Like 30 years ago, I took celestial navigation at the Adler Planetarium here in Chicago. One evening, their chief librarian, wearing cotton gloves, brought out their second-edition (I think) Bowditch. The best parts were the scratch calculations on the flyleaves, where navigators 200 years ago had done their figuring. Very impressive.
–Chas. Hague, s/v Tangent
Sunrise, Sunset 
Regarding the Nautical Trivia in last month's The Dogwatch, one can also see the sun rise and set from Shacklelford Banks, Atlantic Beach, and Emerald Isle. All are southward-facing beaches on the North Carolina coast.
–Steve Addy
Second Favorite
We know that we publish the finest nationwide sailing magazine in Good Old Boat, that it's the sailing magazine we, the staff, want to read, that it speaks to "the rest of us." But we also know there are other great sailing magazines out there, so we were curious what Good Old Boat readers (and The Dogwatch readers), were also reading. So, we put it to the readers, in an online poll. Unfortunately, our list of mags/online periodicals to choose from was meant only as a sample of what's out there, not a comprehensive list, and this wasn't clear. So, we'll do this again next year, and we'll be more clear/comprehensive. In the meantime, below are the results from this imperfect poll, along with the write-in votes we got.
Even though it wasn't the answer we were looking for (this was not intended as an exercise in self-congratulation), thank you to those of you who wrote in to let us know Good Old Boat is the only sailing periodical you read and there is no other. We'll let John Fox speak for all of you folks in particular, and give him the first word, because he put Carly Simon and a great James Bond film into our heads…  –Eds.
***
I'm sorry, but I can't answer your question; I don't read anything but Good Old Boat. I've tried. But the alternatives contain either too much fluff, too many ads, or too much racing. I've pared down my reading of online sailing newsletters for the same reason; The Dogwatch is the only one. I just want to read about…well, what you already do. As the song goes, "Nobody does it better. Baby, you're the best."
–John Fox
Now, the poll results (just a hair shy of 200 votes), followed by a few more select comments. Thanks to write-in submitters that include: Chris Abrey, Chris Campbell, Jim Caskey, Peter Fallon, Marilyn Kinsey, George Lemmolo, Dana Mace, Craig Maumus, John Ross, and others. The write-in pubs are included in the poll results below, but each certainly would have received more votes if they'd been included in our click-options. We'll get it right next year.
Latitudes & Attitudes: 25%
Cruising World: 16%
Latitude 38: 11%
Chesapeake Bay Magazine: 8%
Sailing Anarchy: 6%
SAIL: 6%
48 North: 5%
Ocean Navigator: 5%
Small Craft Advisor: 5%
Spinsheet: 4%
Practical Sailor: 2%
Pacific Yachting: 1%
BoatUS: 1%
Sailing: 1%
Soundings: 1%
SpinSheet: 1%
Wooden Boat: 1%
Off Center Harbor: .5%
Yachting Monthly: .5%
***
Back in the day it was Good Old Boat, Small Craft Advisor, and Wooden Boat. However, as I've aged I just don't see myself taking on another large boat, one that will require moorage and/or dock fees and necessary refits, so I've had to let Gold Old Boat go. Small Craft Advisor has become my favorite go-to publication. Please don't be offended, as Good Old Boat is outstanding! It's just that the articles and boats within have outgrown my needs and abilities.
–Cecil Marmont, Stormbird, CP-16
My favorite sailing magazine (other than Good Old Boat) is Small Craft Advisor. The sailboat that owns me is a 1984 Starwind 19 by Wellcraft. Though somewhat smaller than most vessels normally included in Good Old Boat, its age necessitates restorative work and I will continue to benefit from the collective knowledge, wisdom, and creativity shared within the pages of Good Old Boat.
At 71, the sailing dream has not dissipated but has been somewhat downsized. It is through the pages of Good Old Boat that my dream is fueled and through the pages of Small Craft Advisor that my dream is kept "real."
–Paul D. Bohac
Good Old Boat is my favorite and primary. I read almost nothing else, but I read Good Old Boat from cover to cover. I've read articles from Practical Sailor, which is very good. Some articles in BoatUS are good as well. But [those magazines] are very hit or miss.
–Bill Van Emburg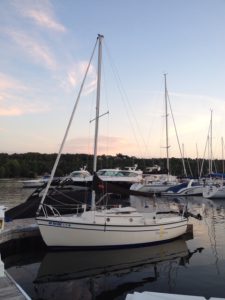 Next to Good Old Boat, my favorite sailing/boating magazine is Small Craft Advisor. I downsized from an Islander 28 to a trailersailer three years ago, a 1984 Com-Pac 19. Small Craft Advisor has lots of information and features that pertain to pocket cruisers. On the right is a photo from our vacation in Door County, Wisconsin, just after we bought her.
–Tony Rodriguez, Tulsa, Oklahoma
My favorite is Good Old Boat, mainly because of the articles on boat repair. I also enjoy the in-depth look at various boats, including the comparisons.
–John Ganann
The other sailing magazine is Sailing, from Port Washington, Wisconsin. Sailing has, among other things, Robert Perry reviews of new boats and designs, and good columns. My dad began subscribing way back in their black-and-white days and I have kept it up.
–Chris Campbell, Traverse City, Michigan