Even Older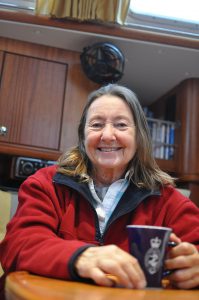 We received the following letter on March 18, from our friend Jeanne Socrates, who last year became the oldest person to have ever sailed solo, unassisted, and non-stop around the world. Her record holds, but only if we're a bit more precise about what she accomplished… –Eds.
As usual, I enjoyed your monthly offering The Dogwatch, despite my being in Australia just now, on a speaking tour, rapidly becoming an 'isolationist' tour, unfortunately.
Just wanted to comment on your remark following the announcement of Cavan's award (well done, Cavan!). We now have to add the words "around the five Great Capes" when describing my voyage, in order to maintain my status as oldest person to sail solo nonstop unassisted around the world. Alternatively, one could specify "east-about" and my record holds—with or without "around the five Great Capes" added!
[This is because on February 22, Bill Hatfield completed his own solo non-stop circumnavigation, and he's 81 years old.] But Bill went westabout and didn't go south of Tasmania or New Zealand (he was lucky to have an easy passage around Cape Horn and kept sailing north to get into southeast trades before heading south again—a longer route, but much easier than bashing his brains out by tacking into westerlies all the time! Bill left from, and returned to, Southport, Queensland, Australia.
Keep safe and well!
—Jeanne Socrates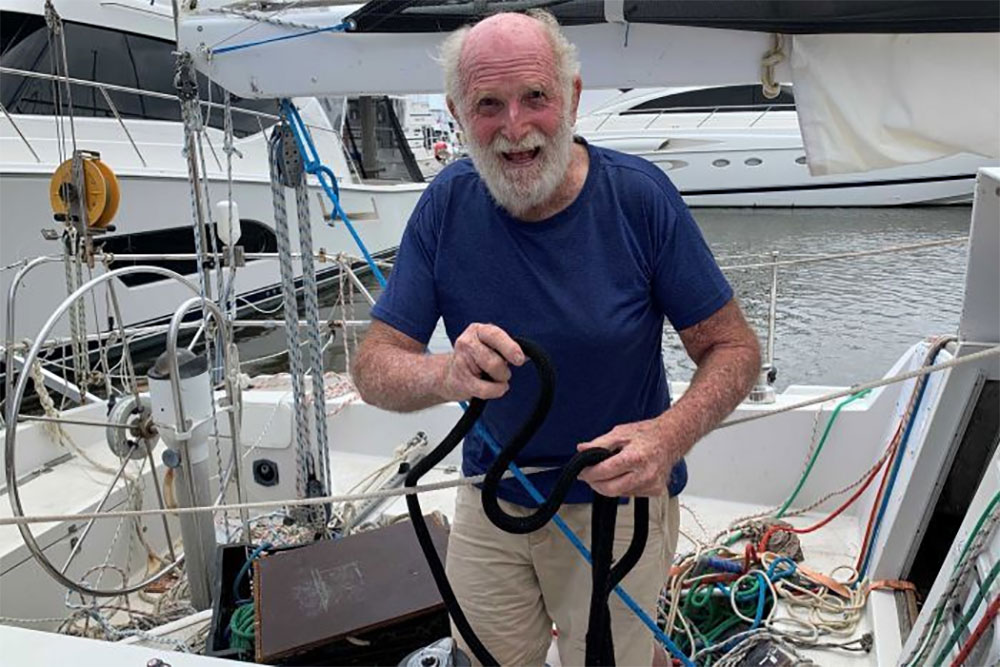 That's a photo of 81-year-old Australian sailor Bill Hatfield, his is a remarkable feat. We told Jeanne that Bill's record sail just means that she has to wait 5 years, at which point she'll be 82, and do it again.
But remember a while back, when the bid to be the youngest circumnavigator reached a fever pitch? It all started with Brian Caldwell back in the 1990s, and then the voyages got more ambitious and the sailors younger. (Finally, the folks at Guinness ceased recognizing "youngest circumnavigator"and it died off.) But now I'm hoping we don't tilt the scales the other way—the first centenarian to solo-circumnavigate!
Since this letter from Jeanne, we've heard further. She's still marooned in Western Australia, unable to leave. And Australia is not her home; she was there on a speaking tour. For the past many years, when not sailing solo or visiting sailing friends worldwide, she's divided her time between the U.K., Canada, and Mexico. Jeanne is eager to get back to Nereida, tied to the causeway (still in British Columbia), but is as powerless as the rest of us. She is using this time to write, what we hope is an upcoming autobiography.
And Jeanne shared a bit of cool news. The Greater Victoria Harbour Authority (GVHA) officially renamed their inner-harbor dock, beneath the Empress Hotel and from which the whale-watching boats and harbor ferries depart, the Jeanne Socrates Dock, to honor the fact that her 2019 completion of her second record-breaking circumnavigation, started and ended there. –Eds
Backing Up Bob
When I read your explanation of ps and qs, I was a little surprised (Nautical Trivia, in February's The Dogwatch). [Like reader Bob Taylor, who asserted this was a typesetting reference twisted to be a nautical reference], I too was subjected to typesetting class in junior high school, except I really enjoyed it. So, I know Bob's explanation is true, taught by my shop teacher many times over (Mail Buoy in last month's The Dogwatch). At the end of the semester, we had our California job cases inspected to make sure each piece of type was in its proper place. They even weighed the entire case to make sure we didn't lose too many pieces of type. Thanks for the memory.
—John Pasch
Productively Isolated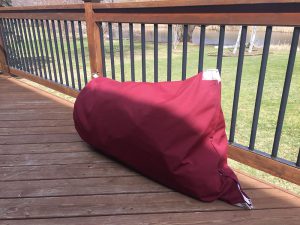 Over the last few years, we have been faced with later-than-historically-normal ice-out conditions in the Apostle Islands of Lake Superior. For example, last year I launched in late May. This year was starting to look like we would get a break, perhaps be in the water in late April or early May. Then COVID-19 reared its ugly head and now we inland-lake sailors in Minnesota are under "stay at home" orders. I am not one to sit around and do nothing for any length of time, so it did not take too long to lock into some projects I had in mind.
The boat I'm not sailing is Intuition, a 1990 Pacific Seacraft 31. Last fall, my sailing buddy, Tom, and I decided to make a run up to Stockton Island, have lunch, and sail back to the marina for dinner. Leaving the marina, the wind speed was around 15 knots, gusting to 20 knots. By the time we docked at Stockton harbor, it was blowing 30 to 40 knots. Undeterred, we put the second reef in the mainsail, let out just a bit of furled headsail, and got underway. I quickly realized that my normal 28 to 30 degrees of windward pointing ability was now around 60 degrees; tacking down a narrow channel was interesting! That's when I realized that rigging a staysail should move to the top of my project list.
Intuition has great stowage for a 31-footer, but I don't want to stow another sail bag below. I wanted to stow the staysail on the foredeck, hanked on, ready to go, in a sail bag. I had purchased a Sailrite sewing machine a few years before and so bought a Sailrite foredeck sail bag kit, sized for a 30-foot boat.
Building my staysail foredeck bag went smoothly. The bag fits my 115-square-foot sail, with hanks, perfectly. Next project in the queue? I just received my throated mainsail cover kit from Sailrite, pre-patterned for the size of my mainsail and boom. I already spent an hour cutting the pattern out with a hot knife and I will get started sewing shortly!
Hopefully—and we are all hopeful at this point—our marinas will soon open back up for business and I can install the staysail hardware, ready Intuition for launch, and see how she performs!
—Daryl Clark, behind-the-scenes Good Old Boat IT Master
The Good, The Bad, and The Worst
Last month, I put it to the readers about the best and worst boat names. The response was overwhelming. Nothing too serious here, thank goodness. I'll give Don Casey the first word because This Old Boat has inspired me, informed me, and surely saved me countless hours over the decades, so I owe him. And besides, Don's inclusive perspective is a welcome contrast to the cynical, binary tone implicit in my original question…
—Michael Robertson, Editor
***
With the media mostly horrifying, a bit of frivolous seems like a welcome relief.
I believe the only person a boat name needs to please is the owner. Like you, I would hate to be calling friends aboard It Started With a Kiss over the VHF, but I can well imagine a wonderful story that led to that name. We named our boat Richard Cory, which over the years made a lot of acquaintances look at us with tilted head (look it up), but it served as a constant reminder of why we were on the water and what really defines wealth.
That said, the best name I have seen on a cruising boat is Here Today.
—Don Casey
In 1986, I started working in a small marina in Wales. Although Welsh isn't used extensively in the area I was, many of the boat names were in Welsh. For example, Cariad, pronounced ca-re-add with a slight role in the 'r' and the 're' pronounced as it is in repeat, was a popular boat name. The English translation is darling or sweetheart.
So, you could end up with a boat named Cariad and a hailing port below the name that might be LLangwym, for example—and LLangwym is a hard one to pronounce, and happens to be a town on river Cleadau (pronounced Cled – i).
Do you get the gist? If Welsh isn't your first or second language, getting it right is damn near impossible.
In the marina was one 24-foot motor launch with the name LLamedos (pronounced clam-med-doss). I asked my Welsh family what the name meant in English and they said it was not even a word.
Year-in and year-out, the boat sat and I never saw the owner. Then, one summer's day in my third year at work in the marina, I met the owner.
"What does LLamedos mean?" I asked.
The owner grinned and in a very broad London accent, said with a twinkle in his eye, "Read it backwards!"
Sodemall made even less sense.
"Say it slowly and brake it up a little," he added.
"So-De-Mall…sounds French," I said.
"Try it again."
"Sod 'em all…ahhh!"
Thereafter, I smirked every time I heard the boat name spoken in Welsh, as it was the English owner having the last laugh every time.
—Ross Keeble
Ross, we appreciate this kind of humor, the kind that's just for us, a little inside joke that helps us get through the day… –Eds
The boat's name, Wrecks a Lot. The race, The Delta Ditch Run—67 miles of mostly downwind sailing. The day mark at New York Slough. Our skipper, Larry Weaver, on a Santa Cruz 27, Mistress Quickly, saw the multi-boat pile up about to happen at the mark. He wisely said, "Let's get away from these fools." Guess who snagged the mark with their shroud and brought down the mast?
—Stefan Berlinski, Hamachi, a Santana 22, Santa Cruz, California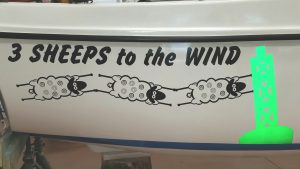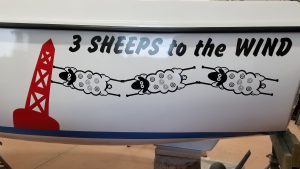 After much thought, my wife, Sheila, came up with the boat name for our Sanibel 17. See the photos of her port and starboard aft quarters.
I appreciate all the fine work which goes into Good Old Boat magazine.
—Joe Whitehead
Cirrhosis of the River.
—Steve Ray
Back in the 1960s, I would visit my folks in Florida in the wintertime. My folks were in a condo on the ICW, so we would see a good deal of boat traffic. A particular go-fast cigarette boat was seen by all of us at various times and various speeds. On the stern was the name, Proctology. We concluded the owner was probably a doctor.
When I later spot Proctology at the fuel dock, I race down to get the real story behind the boat name.
"Heck no, I'm not a doctor. Since the day I bought this boat, it has been nothing but a pain in the ass! So, I thought the name was appropriate!"
I had absolutely no reply to give him.
—L. E. Beaumont, The Little One, Prince Edward Yacht Club, Picton, Ontario
Shore Loser.
—Greg Thomas
Several years back, we ran across a rather unique boat name that has multiple meanings. I do not remember the type of sailboat that carried this name, but how could you forget a sailboat named Breaking Wind?
—Jim Shroeger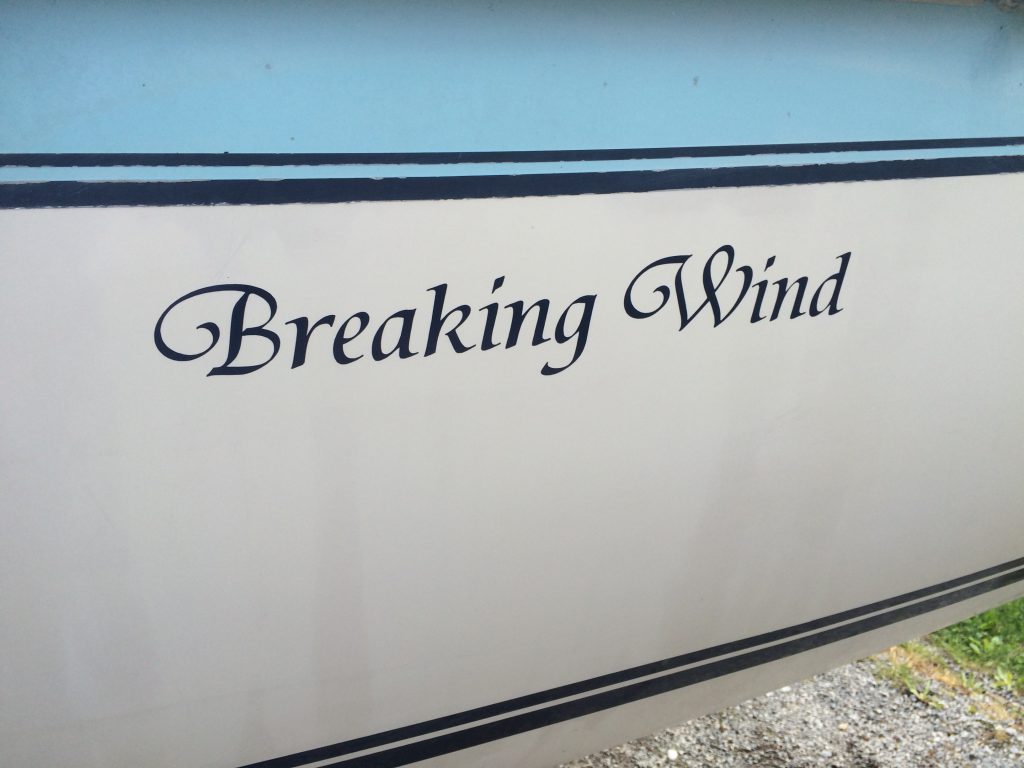 After trying for several years to find a boat name agreeable to both my wife and me, I finally took matters into own hands. She still enjoys sailing with me—it's one place where she can't see Breaking Wind.
—Rodney Gasch, Evans City, Pennsylvania
WOFTAM. (An acronym for, Waste of F'n Time and Money.)
—Michael Breid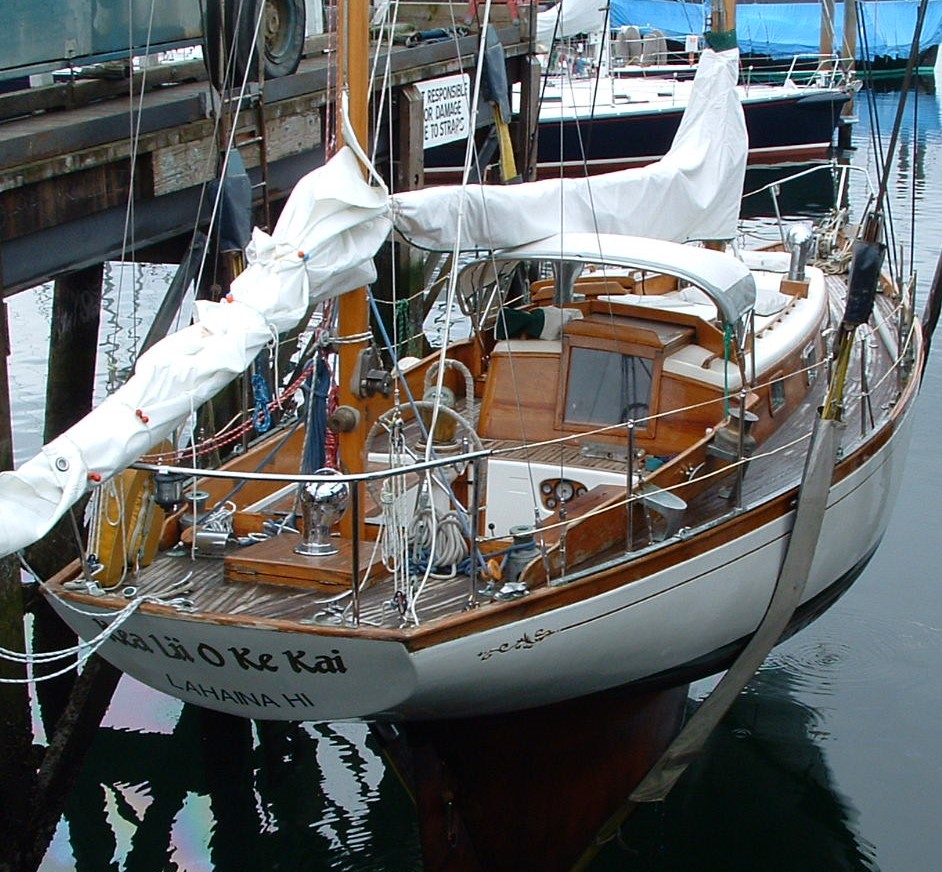 Here's one, see the picture. The name is genuine and fitting for the home port. It translates to "White Queen of the Sea"
—Bill Booker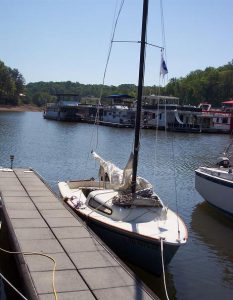 The Lusty Slogger (my AMF Sunbird 16).
—Norman Stringfield, Lake Harris, Leesburg, Florida
I met Good Old Boat founders Karen Larson and Jerry Powlas back in the late 1990's, when fellow St. Paul, Minnesota, cop Tim Lynch and I bought a 1979 Islander 32 named Hinzite, previously owned by renowned racer Chuck Hinz. Tim and I changed the boat's name (with the appropriate ceremony, of course) to Injustice. Our dinghy was called No Justice. The former has to do with the lack of fairness that society has to endure at the hands of those who prey on it. The latter pertains to the outcome society often receives.
—Mark Busta
My favorite: Never again II
I heard someone on a boat named Roger talking over the VHF with someone on a boat named Over. Very confusing…
—John Gambill, Rite of Passage
Perhaps it is bad luck to change the name of a boat, but it's also perhaps bad luck not to change a name when it just doesn't fit either the vessel or the owner. I took the chance and renamed my boat, to Colorado. I'm from Colorado and I sail the boat on Lake Powell, so it makes sense. But when I bought her, she was Sea-Section, likely the work of a proud OB-GYN. Colorado garners lots of smiles and thumbs-up as we explore the lake.
—Chris Jones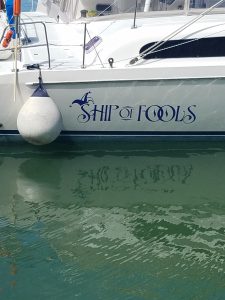 I just returned from a winter getaway to Florida where I saw a catamaran named Ship of Fools on Marco Island. This one really got me. I'd love to know the story behind the name. Is the owner's name Fool? Is s/he a professional comedian, clown, or court jester? Or are they simply humble enough to admit their level of seamanship? Unfortunately, I'll never know.
—Bill Pfund¸ Discretionary Pfunds, 1991 Precision 27, Kalamazoo, Michigan
The name of a derelict boat I saw in Gloucester: Dilligaf. It's an acronym, for Does It Look Like I Give a F&%$.
—Dana, Capricious, Marblehead, Massachusetts
We built our Corbin 39, Opportunity, from a bare hull over (too) many years ("A Corbin 39 From a Bare Hull," Good Old Boat, May 2011). We chose the name because we had the time and the abilities. When I was ordering lettering, I was conscious of the need to have a clear font—just as important as a memorable name that is not unwieldy. We named our Avon RIB dinghy, Knox! We sold Opportunity in 2014.
Our current Mariner 28 is called Day-by-Day. This is a repeat of an earlier Day-by-Day that we named for the way in which we built her from a bare hull. We named her dinghy Blo-by-Blo; she was quicker to set up!
—David Salter
There used to be a boat at the docks in Hampton, Virginia, named Dessert First. Something about that philosophy that resonated with me.
—Terry Lottes
My favorite: Frayed Knot.
—Keith
My favorite boat name to date is She Got the House. Yes, it's a sentence, but it's hilarious!
By the way, where I am, folks are coming down to enjoy their boats, the beautiful weather, and the perfect environment for social distancing. I can't think of a better script for this pandemic.
—Faith, Squalicum Harbor, Bellingham, Washington
Here's one for you: Seeking Sanity, the name of a lovely Pacific Seacraft based out of Oregon, but moored in Sidney, B.C. I'll bet the owners are seeking sanity trying to get to their boat, the borders being closed to all but essential traffic! I have a few American boating friends who may be without a boat for the summer if rules aren't relaxed in time. It could be very quiet on the water in the Gulf Islands and Desolation Sound this year!
—Bert Vermeer, Natasha, Sidney, British Columbia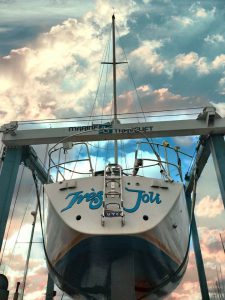 There is an art to boat naming. We purchased our 38-foot Beneteau, Tres Joli, in 2008. She came with that name and we decided to keep it. Although it requires an explanation (it's pronounced tray-joe-lee), it's a great conversation starter. The previous owner went to France to see the plant where she was built. A Beneteau heir was on the tour and upon seeing their boat she said, "Tres Joli!" —translated very beautiful. Whenever I'm asked about the name, I always say it refers to my wife, who is tres joli.
—Ron J. Stefanski, Detroit Yacht Club
I saw this one years ago: Grounds For Divorce. Given all the money that owners put into their boats, this name seems apropos.
—Hal Nash, Waldport, Oregon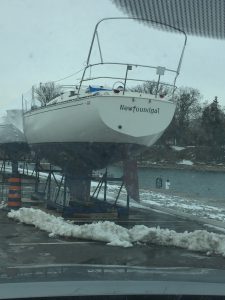 We named our Ontario 32, Newfoundgal. The name is a portmanteau of Newfoundland and Portugal. My wife, Colleen, is from Newfoundland and my family came from Portugal. We had our honeymoon in Portugal.
And the meaning is layered. We owned a Mirage 24 together for years before we got this boat in 2018…so it is our new-found gal! And because Colleen is my second wife, she is my new-found gal.
—Arthur, Mississauga, Ontario
The worst name I've seen appeared on a boat that was in my boatyard for a couple of years, a small cabin cruiser (a motorboat, of course): The Opposite of Above Job.
Just as crude as can be and I'm pretty sure the blowhard was proud of himself. It was a Florida-registered boat, of course.
—Captain Rick Williams, Saving Grace, West Palm Beach, Florida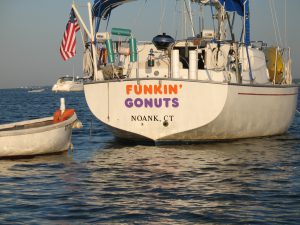 I'd never seen this one before (Funkin' Gonuts).
—Tom Sokoloski, Juniper, Catalina 400, Noank, Connecticut
The Pearson Ensign I bought came with the name Passing Wind. I almost didn't buy her because of that name!
—Linda Petrat
Seen on a large (40-foot?) center-console with big engines at a dock in Chincoteague, Virginia: Skirt Chaser. No women seen on board.
—Jim Taylor
Eternally Entwined is the worst boat name I have ever seen. It's a tongue twister and it sounds like something on a grave stone!
—Vickie
Without question, the worst boat name I've seen was on an old and battered Trojan motor yacht. The name? Used Trojan. The fact that my new in-laws were with me at the time forced me to keep a straight face. I don't think they noticed the boat, for which I remain grateful these many decades later.
—David Hankey
Baits Motel.
—William Hess
Transient is the worst boat name, period. In common parlance it is generally a negative, a polite word for the homeless. Hobo is a synonym. In electrical engineering it describes unwanted current or interference.
And speaking of Transient, why is that the name given to visiting cruisers sailing up and down the East Coast paying the highest daily rates to marinas? My wife and I are snowbirds trying to sail back north after spending the winter in the Florida Keys. The COVID-19 outbreak is frightening to all of us, and is driving toilet paper shoppers, the news media, and municipal governments to unprecedented levels of butt-covering hysteria (I'm guessing that's what the run on toilet paper is for). Worse, who is getting shunned? Transients! We've seen many (mostly municipal) marinas stay open to long-term customers, yet shun we transients.
Given that it's we voyaging snowbirds who have been living social distancing aboard our boats (our self-contained traveling habitats), we should be welcomed, as transients. Surely we're less likely to communicate a virus than the long-term liveaboard who works in a vape shop or in the kissing booth at the carnival—but at least he's not a transient! We need to come up with a new name for visiting boaters and erase the stigma. How about Welcome Guest?
—Ed MacNichol, Sunrise
I have two candidates for worse boat names. First there is I am God, spotted on a huge motoryacht in Sausalito, California. Second is Mom, spotted on a sailboat in Alaska. I hated to call them on the radio or get calls from them. "Sailing vessel Escape, this is Mom."
—Mark Philipsek, Escape