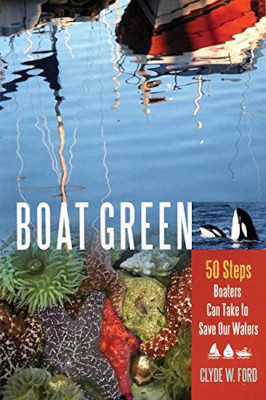 This is not a relaxing afternoon read, nor will you want to read it cover to cover. But you'll find some chapters informative and you may end up more aware of your impact on the maritime environment.
Years of concern over maritime pollution inspired Clyde Ford to write Boat Green. He appropriated his maritime environmental awareness model from ecologist Garret Hardin's indispensable 1968 essay, "The Tragedy of the Commons". Like Hardin, Ford sees our environment being jeopardized by short-term selfish interests versus long-term group interests — the common good.
In five sections and 50 very short chapters, Boat Green aims to meld environmentalism and boating, to encourage boaters to become "boat green" and operate their vessels in such a way as to protect the maritime environment. Section one sets the stage, discussing eutrophication, the process whereby soil erosion and runoff from fertilizer and sewage add excess nutrients to water and stimulate excessive algae and other plant growth that saps the oxygen from water and creates dead zones. Ford cites the 2003 Pew Ocean's Commission report, which delineates the 36 dead zones within U.S. coastal waterways, and the world's other very highly impacted regions, such as the eastern Caribbean, which suffers greatly from boaters dumping their waste directly overboard. The highlight of this section is Ford's brief discussion of Hardin's essay and of folk singer Pete Seeger's building of the S/V Clearwater in 1966, which inspired both the cleanup of the Hudson River and enactment of the 1972 Clean Water Act.
Sections two and three address vessel operation and maintenance.and The chapters comprise very familiar ideas for Good Old Boat readers. Ford is informative about biodiesel use and storage, is cautionary about ethanol use, and introduces direct fuel injection outboards, electric outboards, and diesel electric inboards. His coverage of electrical systems — solar power, wind generators, and batteries — and his chapters on gray water, recycling, using the marine head, keeping your engine tuned, and not spilling during oil changes are rather basic. I found useful his chapter on polymer bilge socks and oil-eating bacteria for keeping your bilge clean and his chapter on E-paint as a substitute for copper bottom paints, but almost all of these topics find better coverage in other books and articles.
In his last sections, Ford addresses pets aboard, marine wildlife, and protecting the ocean bottom (anchoring). He suggests boaters "leave no wake behind," which reminds me of the popular myth that Native Americans never really impacted the environment because they "walked softly across the earth." It's an important idea, but perhaps a bit romantic. More practically, Ford gives readers a way to calculate their carbon footprint, figuring carbon credits, and buying them. Finally, he offers ideas for community involvement: creating an environmental committee at your yacht club, hosting a boat green event, adopting a nearby waterway, working with local marinas, and so forth.
Boat Green is a useful but not a very polished book. Nevertheless, Ford is to be commended for his advocacy for the marine environment we all rely upon and enjoy.
Boat Green: 50 Steps Boaters Can Take to Save Our Waters by Clyde E. Ford (New Society Publishers, 2008; 224 pages)