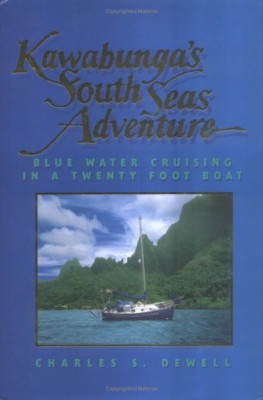 People who love to sail tend to dream. Any body of water, fresh or salt, and a little time on one's hands can provoke compelling fantasies. Dreams played a significant role in the decision of Charlie and Margaret Dewell to set sail on a most incredible journey. Both had been in the insurance claims business for 20 years. Charlie had messed about in boats at local marinas most of his life and had read extensively the accounts of sailors who had cruised the South Seas. He and Margaret decided to act, even though their combined bluewater sailing experience was practically nil.
Their story is told in Kawabunga's South Seas Adventure. There have been many books written about sailing in the South Seas; what differentiates this book – and what makes it so enjoyable to read – are the personal appeal and writing ability of the author and the uniqueness of his boat. Kawabunga is a 20-foot Flicka, a boat featured in this issue on Page 4. She was a good old boat in need of some TLC.
That she got. It took much of the Dewells' life savings, but in May of 1995 Kawabunga was ready to leave San Diego for the Marquesas, thence to Tahiti and the Hawaiian Islands, then back to California.
Charlie sailed the long first and last legs alone. There were times when he found himself questioning the sanity of his decision to cast off his old life for a new one. His engine died as he arrived in the horse latitudes near the equator. Drifting backward for days on a glassy sea beyond radio range can cause even an insurance office to assume enviable qualities.
But when he first spotted Nuku Hiva on the horizon. Charlie modestly wrote: "I felt a great sense of accomplishment, knowing I had navigated through one of the world's great oceans to a remote, wild, and captivating island."
There were many other accomplishments, adventures, and relationships to follow. In Tahiti, Charlie and Margaret witnessed the uprising for independence that sent much of Papeete up in flames and brought French warships steaming into the harbor. The passage north from Bora Bora would have tested the mettle of even the most seasoned BOC participant. And the people they met everywhere – from native Polynesians, such as Luti and his family on Christmas Island, to fellow sailors from around the globe – confirm one's faith in the fellowship of man and the camaraderie within the international sailing community.
This is a book worth reading, keeping, and rereading on future occasions. It says to each of us, "You can fulfill your dream, whatever that dream may be, if circumstances permit and you have the courage to pursue it."
Kawabunga's South Seas Adventure by Charles Dewell (South Sea Publishing; 1st edition 1999)