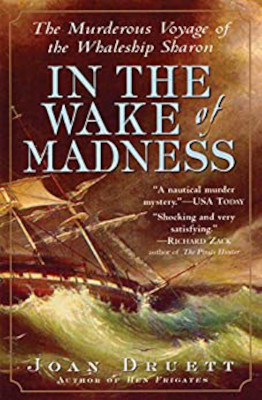 Natives murdered Captain Howes Norris on the whaleship Sharon, and people assumed that the reason was because of their savage ways. Author Joan Druett searched for the real story behind the murder in her book, In the Wake of Madness: The Murderous Voyage of the Whaleship Sharon. On May 25, 1841, the Sharon sailed out from Massachusetts to the whaling grounds of the northwestern Pacific. In the book, the author described their whaling adventures, the captain's treatment of his crew, and his murder and its aftermath.
This was a fascinating read. Joan Druett not only wrote about this piece of maritime history, she turned it into a good adventure/murder mystery yarn. She also juxtaposed this story with fellow sailor Herman Melville, the author of Moby Dick. Here was how she ended the introduction and segued into the story:
"When the events took place, Herman Melville was in the Pacific and undoubtedly heard about the murder and the heroic recapture, as gossip ran round the fleet fast. He also would have read the official version in the papers. He was home in New York when the story hit the headlines again after the Sharon arrived back in February, 1845. He heard more details from his old Acushnet shipmate Toby Greene, who in 1843, less than a year after the sensational events, had socialized with the Sharon sailors during several lengthy midsea visits. It is probably no coincidence that Captain Ahab found disaster in the same empty tropic seas where Captain Norris was killed. So what really lay behind the story of the Sharon?"
Joan extensively researched this story as evidenced by the chapter notes at the end of the book. She also included the Sharon's crew list and resources she used to research the book. Her well-documented research showed in her writing and added support to the credibility of the story. To further the Melville-Sharon connection, she provided a chronology of Melville's adventures and publications. Melville fans will especially appreciate the Melville-Sharon connection, but the Sharon story stands on its own.
What readers will appreciate about the book is that it gives you the feeling of being there. You can almost smell the air and feel the water splashing against your face. Readers will feel like crew members themselves as they read about exchanging goods with natives and turning whale fat into oil. That, plus the murder mystery itself, makes for a fine read. Those who enjoy maritime history, whaling, and Melville should embark on the Sharonbook voyage for a thrilling ride.
In the Wake of Madness: The Murderous Voyage of the Whaleship Sharon by Joan Druett (Algonquin Books of Chapel Hill, 2003; 277 pages)