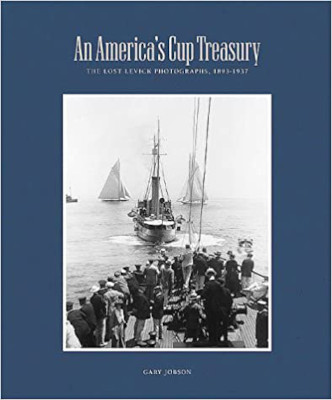 As a child growing up in Maine, one of my early memories was seeing the immense J-class boat, Ranger, sailing on Casco Bay. Gary Jobson's annotated treatment of newly recovered photographs of America's Cup giant sailing craft was, for me, a powerful reminder of the glories of past participating yachts in the Cup series.
Jobson has been involved in Cup racing since campaigning aboard Courageous in the late 1970s. He is a most appropriate analyst for the rediscovered photos by Edwin Levick and his sons which document the grandeur of Cup contenders in the period between 1893 and 1937.
The text of this volume provides a year-by-year account of America's Cup races and includes many anecdotes which document a history of features – good and bad – of the racing yachts, owners, and crewmen. The book includes informative notes in brief form on race strategies, events, and outcomes.
The key feature of the volume is the marvelous collection of photographs from the hands of Levick and his sons. Some depict the grandeur of the yachts, while others provide us with details of rigging and organizations and visual insight into the humans involved in these large-scale racing ventures.
The America's Cup yachts between 1893 and 1937 can be placed in three categories. From 1893 to 1920 the yachts were very large, ranging around 130 feet in overall length, carrying enormous gaff rigs with topsails and multiple jibs. From 1920 to 1930, vessels were reduced in size to about 75 feet in waterline length, but they retained gaff rigs.
The year 1930 marked the advent of the J-class yachts, of which 10 were built in the period 1930 to 1937. These boats were built to a rule permitting significant variation in displacement and length, but with a relatively fixed sail area. Most were about 120 feet overall, but Ranger, built in 1937, was the largest at 136 feet overall with a waterline length of 87 feet. J-class yachts were marconi-rigged, with masts weighing 5,500 pounds carrying mainsails weighing upwards of a ton. Raising the main might require 15 men. And stepping the mast must have been a joy!
The book is easy and pleasant to peruse at leisure; one's reading can begin or stop nearly anywhere, since the account is arranged chronologically with each Cup competition handled separately.
An America's Cup Treasury: The Lost Levick Photographs, 1893-1937  by Gary Jobson, Foreword by Ted Turner (Mariner's Museum, Newport News, VA, 1999)