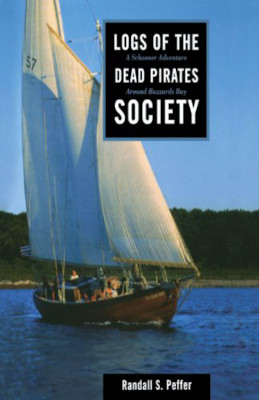 On a sunny Fourth of July, six high-school students and their instructor join author Randall Peffer aboard the schooner Sarah Abbott for the first of three cruises on Buzzards Bay. The students are participating in the Oceans program, which brings students from all over the globe together to learn about marine biology through classroom and on-water training with experienced field biologists as their instructors. This particular summer, the program will focus on a "thorough and coherent investigation of Buzzards Bay." It is this investigation that forms the backdrop for the main focus of the book: Randall's loving and thorough description of Buzzards Bay.
While it's not intended as a cruising guide, Randall shares some of his favorite hidden anchorages with us, along with his experience from many years of sailing these waters. We also learn about the bay from the students. With each location they visit, we learn about the changing ecosystems in the bay, and projects that are under way to help solve the current problems, like the scallop restoration project on the Westport River. Randall delves into the history of each location, giving insight into each area. He remembers the time the Wampanoag Indians used these beaches as their summer camps and the time the wealthy elite built rambling estates there in the 19th century. And he includes the early whaling ships along with the fisheries of recent years. The combination of these perspectives, young and old, present and past, gives the reader a deeper understanding of the bay than any cruising guide could.
Logs of the Dead Pirates Society also tells the story of the students who sail on the Sarah Abbott. The Dead Pirates Society is a club into which the teenagers are initiated during their cruise. In the head on Sarah Abbott is a plank that present and past crewmembers have signed, leaving an oath cast in wood to live up to the motto "Stir it up!" Though the teenagers are not the main storyline of the book, they contribute a bit of life to what might otherwise be a dry subject. The observations they make throughout the book provide an interesting contrast to Randall's own and seem to surprise even him. Throughout the book, Randall talks about a lingering "saudade," or uneasiness, and in the end, I think it is the perspective of youth that resolves his saudade.
The reader cannot help but yearn to explore Buzzards Bay. I found myself reaching for the chart again and again as the story progressed from one harbor to another. Above all else, Logs of the Dead Pirates Society is about the bay. From the inner harbors to the windswept shores of Cuttyhunk, Randall demonstrates his great respect and love for the bay and is passionate about wanting others to feel the same way.
Logs of the Dead Pirates Society, A Schooner Adventure Around Buzzards Bay by Randall S. Pfeffer (Sheridan House, Inc. 2000)