A trip through Florida's Okeechobee Waterway is a study in small towns and solitude.
I untie Sonas, our Catalina 320, from her mooring as the sun brightens the morning sky. We drift lazily westward under motor on Florida's St. Lucie River, heading inland, upstream, away from the Atlantic coast and its mansions, pesky power boats, and congestion. We are making our way into the Okeechobee Waterway, a 154-mile east-west route across the rural middle of the state to our home in St. Petersburg.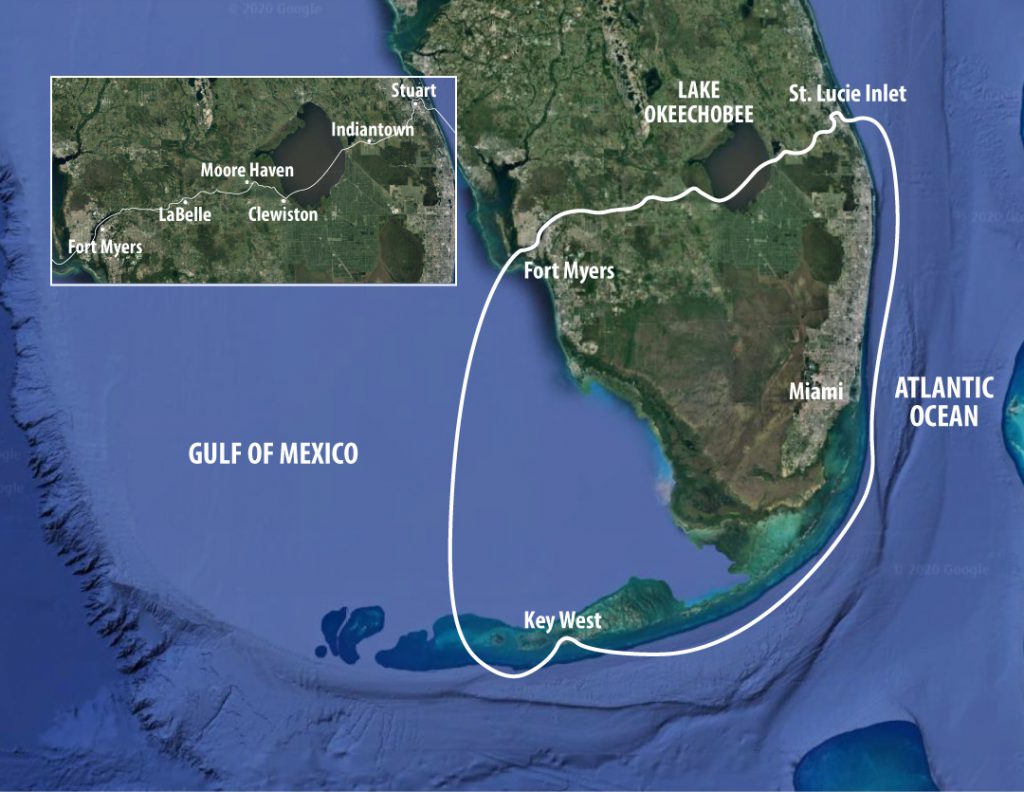 We're on the final leg of the 500-mile South Florida Loop, from Fort Myers to Key West, through the Keys, past Miami, and up the coast to Stuart, where the wide St. Lucie River meets the Intracoastal Waterway. I've never voyaged in this rural part of the state, but my husband, Jack, brought our previous boat, a Bristol 30, across from Fort Lauderdale to St. Petersburg when we moved from one side of Florida to the other several years ago. "It's bucolic," he told me.
Bucolic: "relating to the pleasant aspects of the countryside." This is the word Jack repeated when trying to convince me that motoring a sailboat past cows and gators in the middle of nowhere would be a good time. I'm a city girl, a coastal Floridian. I am suspicious of my state's empty interior.
Before noon, we enter the St. Lucie Lock, the easternmost and deepest of five locks. I'm jittery. I've never been in a lock before, though I've read up on the rules and procedures. We buckle on our PFDs as required. Lock tenders on high concrete walls drop lines to me on the bow and Jack at the stern. The gate closes behind us and the water level begins to rise. We float up 14 feet to the level of the St. Lucie Canal. I tend the line, which is to say, I stand there, taking up the slack every foot or so.
As we reach the top, I greet the lock tender with a smile. He says the locks upstream are undergoing "manatee maintenance" and to check the Corps of Engineers website for closing times and dates.
Manatees are Florida's master navigators. They move at sailboat speed, about 30 miles a day, and use locks and flood gates on both sides of Lake Okeechobee in their search for what they need: seagrass beds to munch on, fresh water, warm-water havens in winter, and other manatees to mate with in spring. But flood gates and locks caused about 4 percent of manatee deaths from 1974 to 2004. Since then, manatee protection systems have been installed on all locks and most flood gates to keep them from crushing these gentle giants.
I run my eyes over the lock's water looking for a fat whiskery nose, usually the only part of a comely sea cow you can see in the brown canal. No manatees have joined us today.
This solitude of the St. Lucie Canal is a welcome change after the frenzy of Miami and Fort Lauderdale. We were astonished at the hundreds of boats rollicking Biscayne Bay, where 15 years ago we sailed our first boat, a 25-foot C&C, in what were then much quieter waters.
"This place is insane!" Jack exclaimed, and as much as I love city life, I had to agree. In Miami if your boat's engine isn't big enough, just get bigger speakers. The cacophony of salsa, hip-hop, and electronica echoed through the large free anchorage at Virginia Key for hours past sunset. Jet skiers made a game of running the anchorage like an obstacle course, narrowly missing anchor lines and children on floaties tied to sterns.
Oblivious powerboaters kicked up 5-foot wakes as they roared past us in the Intracoastal Waterway's channel. The unbending schedules of the many drawbridges in this section of the waterway meant that we were often left circling and waiting. We headed north pledging never to take a sailboat into those waters again.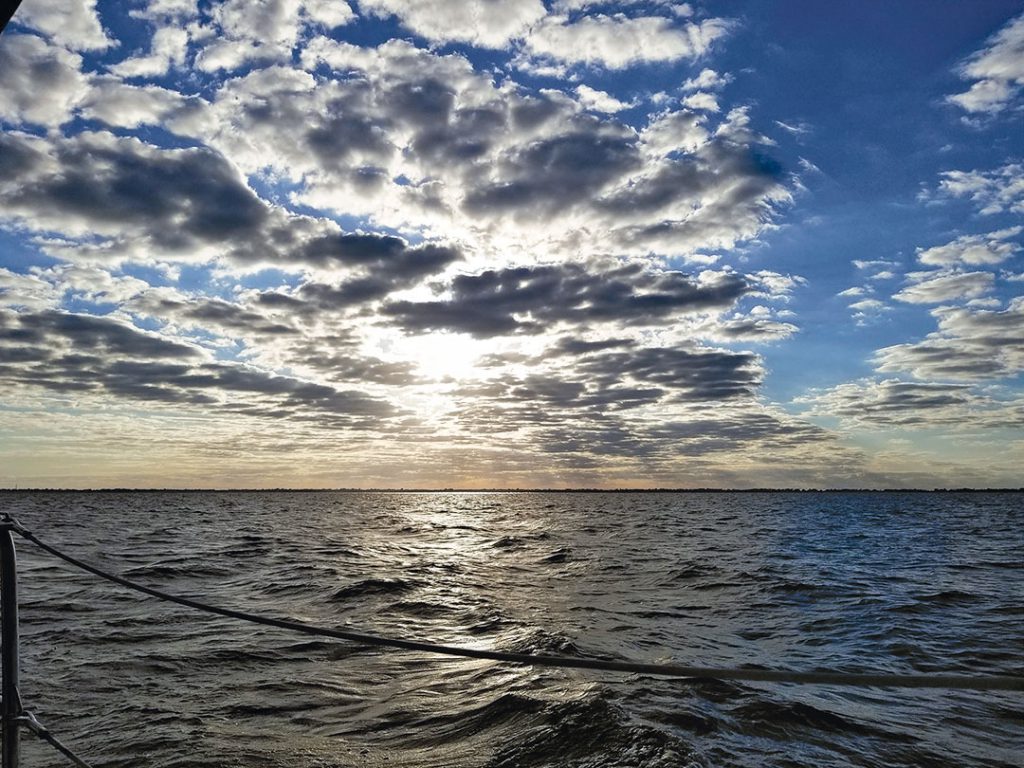 Now on the quiet St. Lucie Canal, I feel my shoulder muscles start to unravel.
About 30 miles inland we come to Indiantown, which began as a Seminole trading post in the late 19th century. In World War I, the Army Corps of Engineers dug the St. Lucie Canal to Lake Okeechobee, and a commercial marina was established here. During Florida's land boom of the 1920s, developers laid out a city to benefit from trade at the intersection of the canal and the Seaboard rail line, but a hurricane in 1928 dashed those dreams. Today, Indiantown's population is about 5,000.
For boaters, the attraction here is Indiantown Marina, which has a DIY boatyard, a marine supply store, transient docks, showers, laundry facilities, and free Wi-Fi. But it's still early in the day and we don't need provisions, so we keep moving.
After Indiantown, civilization disappears. This was once orange country, packed with groves and dotted with farmhouses, until the twin disasters of citrus canker disease and a 50-percent decline in demand for orange juice. I breathe deep, hoping to catch the scent of orange blossoms, but I smell only pungent muck. The land is vacant. With nothing to see, not even birds to watch, I settle into a novel. Jack kicks back in the cockpit and lets the autopilot drive.
Shortly before we reach the Port Mayaca Lock into Lake Okeechobee, we must pass under a railroad lift bridge. The center section is rated at 49 feet. Our mast is 47.5 feet. The water level is low, but we still hold our breath as we scoot under with several feet to spare.
For many years, a man nearby ran a service of "tipping" sailboats using large barrels and leverage so that boats with mast heights of 50 feet or more could slide through sideways. But he passed away, taking the tipping business with him. Boats with masts over 49 feet need luck and low water to pass under the bridge.
We consider a late-afternoon sail across Lake Okeechobee to get to a marina and tiki bar on the other side but instead tie up for the night outside Port Mayaca. Lake O is exceptionally shallow with an average depth of 9 feet over its 730 square miles. The main channel is toward the southern end, and if the wind comes from the north, the waves resulting from that fetch can make for an extremely unpleasant sail. We decide to sail across in the morning calm.
Jack says we can tie up to the dolphin pilings outside the lock. Each dolphin is comprised of four extra-large telephone poles driven into the bottom and lashed together around a fifth piling in the center with steel cables. The supersized cleats are too high and on the wrong side to be a convenient tie-up for a small sailboat, but with a fair amount of shouting and consternation, I manage to loop a line around one of the poles, to which Jack secures our stern. It takes a few tries to anchor the bow toward the channel. We don't want to drift between the pilings and the bank, where the water is less than 2 feet and the bottom is sticky mud. As it turns out, our maneuvering is unnecessary. Once the locks close at 5 p.m., the waterway is quiet. No boats. No current.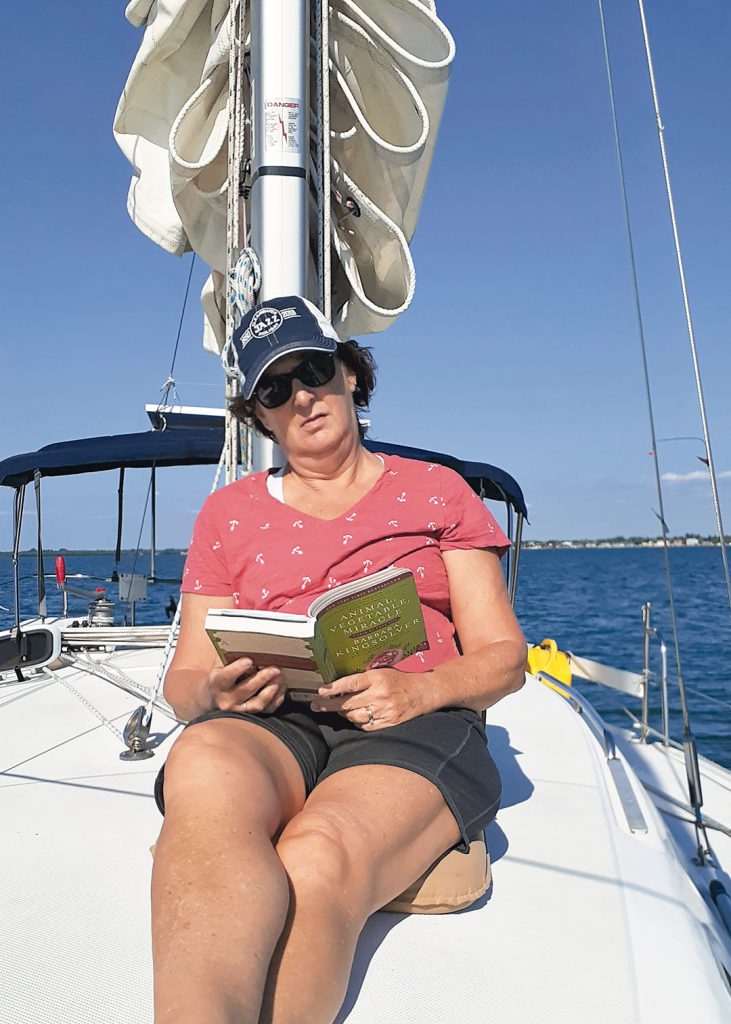 The night here is as still and silent as Miami was loud and raucous. It feels like we're the only life here. I don't see or hear any birds. There are no sounds of frogs or crickets. The cool air keeps mosquitoes away, and even the fish have stopped jumping. I know someone must live close enough to come to work at the lock in the morning, but who would know if they didn't show up? My phone has no service. I wake up several times in the night. Will there be someone there when we hail the lock on the VHF in the morning?
Precisely at 7 a.m., the Port Mayaca Lock opens and we motor through. The locks regulate the water level of Lake Okeechobee, protecting communities around the lake from summer flooding and keeping the lake from going dry in winter. At this time of year, the water level is even with the canal.
The wind gods smile on us, sending a light breeze from the southwest, an excellent angle. We hoist the main and roll out the jib. This is as good as the sailing gets on Lake O. It takes us about three hours to cross.
On our way into Clewiston on the lake's west side, the wind shifts to our nose, ending our sail. We turn into a narrow channel around the edge of the lake near the entrance to Roland Martin Marina, the halfway point on the Okeechobee Waterway. This marina has an outdoor bar, restaurant, swimming pools, camp store, and marine service center. If you wanted to stay a day or two, you could hire a fishing guide to help you catch some Okeechobee bass. We don't stop because it isn't even noon, and due to "manatee maintenance" we must pass through two more locks this day. We keep moving.
The ditch from Clewiston to the next lock is 5 to 6 feet deep, but shallower in spots. We feel our keel helping out with dredging a bit here and there. Alligators line the banks, soaking up the sun. It's a cool April morning, and the gators are stunned into stillness by the chill. Herons, gulls, and egrets land beside them. Sharp, pointed sawgrass wafts gently along the banks, which spread out toward sugar cane fields sprouting green shoots as far as I can see.
We scoot through the Moore Haven Lock and pass a city marina at Moore Haven, another convenient stopping point on the west side of the lake, with docks lining the canal. The lake and its sugar cane industry fade away and we are in deep country now, with barely a sighting of a cow, house, or dock. There's nothing to do, nowhere to be. And that's when I realize the reason for this trip: to let go of the outside world, forget its worries, and be in the moment on this boat. I find I'm enjoying puttering through Nowhere, Florida.
It's early afternoon when we enter the Ortona Lock behind a Hatteras yacht called Gypsy Soul. The lock lowers us about 6 feet. I watch for manatees but see none. Spring is mating season, and by now most of the manatees have moved to the coasts to find each other.
There are few docks or marinas and no obvious anchorages between Ortona and the last lock of the trip, which is closed today. The sure stopping point is a small marina called Port LaBelle, where a woman answering the phone cheerfully tells me it's fine to tie up to the fuel dock for the night, but the marina office is open only from 9 a.m. to 1 p.m. This means we can't get ice, and we need it: Our new refrigerator has quit working.
We decide to roll the dice and motor an extra 45 minutes, about 3 nautical miles, in hopes of grabbing a free city dock in downtown LaBelle, where there are restaurants, shops, and an ice cream parlor. Ice cream! But there is no one to call to find out if there is space available. If there is, we'll tie up. If not, we either drop anchor near the shallow banks—a dicey proposition—or we retrace our wake back to Port Labelle.
As we approach downtown Labelle, I belatedly read the fine print on the schedule we downloaded from offshoreblue.com about the one bridge in town, located between us and the city docks. This bridge is closed at what would be rush hour anywhere else, 7-9 a.m. and 4-6 p.m. We reach the bridge at 4:30, not a car in sight. The friendly bridge tender takes a quick walk to get a look at the city docks for us, but when she returns advises us that it looks "pretty tight in there. You might not get a place."
I'm for dropping the hook right here and dinghying into town, but Jack says the fuel dock back at Port Labelle is a safer option. So back we go. When we arrive, I get off the boat for a stretch and a short walk, then return, there's really nowhere else to go. I watch a bale of green slider turtles feeding in the marina's lagoon while Jack takes a look at the refrigerator. I hear him cursing, like a sailor.
"Some people say cruising is fixing your boat in exotic places," he quips, releasing the tension. I wouldn't call this exotic, but I guess remote works too.
"The freezer needed defrosting anyway," I say. "We'll manage."
By the time the sun goes down, the locks are closed for the night and the water goes completely still. I feel like I'm sleeping on land.
There is no hurry the next morning, so I make blueberry pancakes using the last of the frozen, vacuum-sealed wild blueberries. We pass under the LaBelle bridge after 9 a.m. Empty city docks taunt us. If there were boats there last night, they're gone now.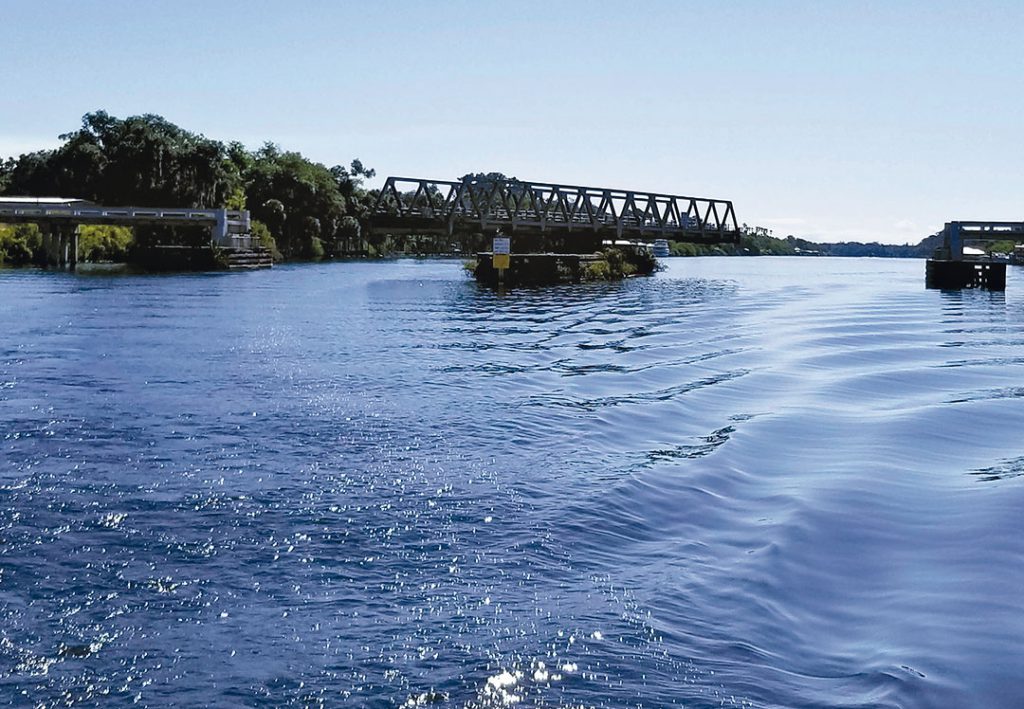 West of Labelle, we encounter the Fort Denaud bridge, one of the few swing bridges left in Florida. A woman in a flannel shirt and jeans wearing a holster for her hand-held VHF operates a big steering wheel from the fulcrum. The bridge groans while rotating 90 degrees, separating the river into two channels. Our tender says pass to starboard. We smile and wave.
In the last of the five locks, W.P. Franklin, we drop another foot or so. We share the lock with a manatee tour boat, but no manatees. From here, houses and docks line the Caloosahatchee River with increasing density. I put down the book I'm reading to gawk at waterfront palaces next to rundown shacks, fancy sport fishing boats docked beside neglected vessels of all types and sizes. I'm back in familiar Florida, the land of people who are either wildly rich or wildly trying to be. I watch a brown pelican make a deep dive and come up bill flapping. I realize I haven't seen a seabird—not a gull, heron, egret, or pelican—since we left the St. Lucie lock, except for a few that taunted the gators on the western side of Lake O. A great blue heron eyes me from the bank, welcoming me home.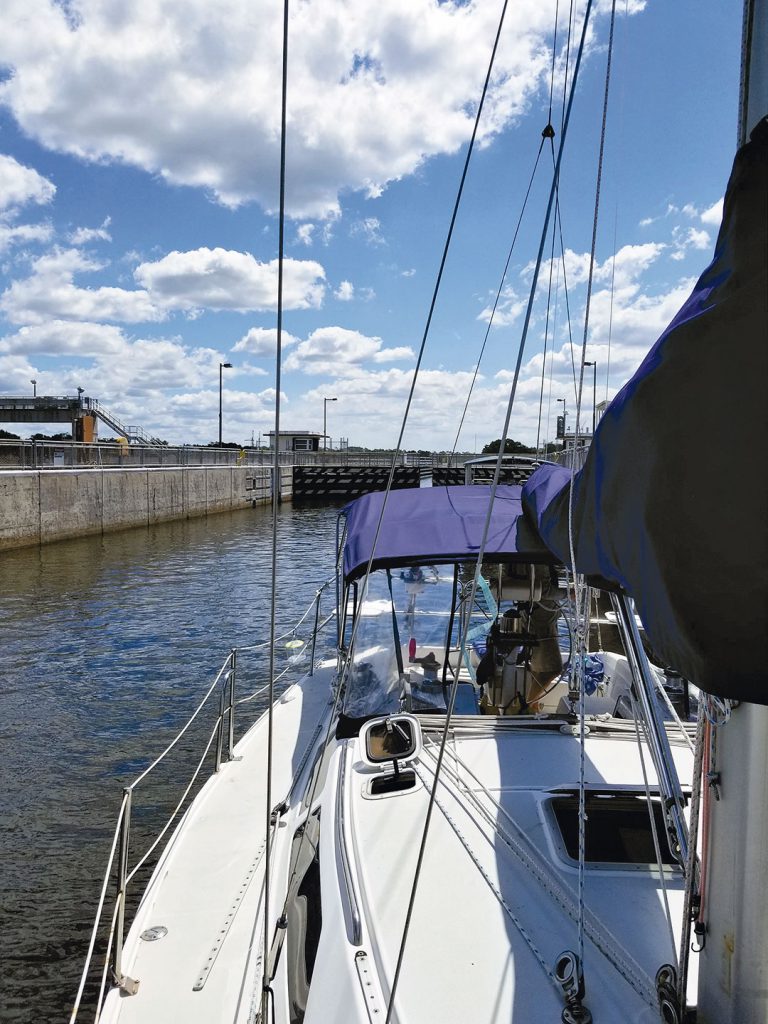 I'm ready for a long shoreside shower, so we stop in the expensive but convenient Fort Myers Yacht Basin for the night and celebrate our voyage with a dinner off the boat.
The trip from Stuart to Fort Myers on our 32-foot sailboat took us two-and-a-half days. I wasn't keen on traversing rural Florida, but now I find myself thinking I'd have enjoyed more time there. Slowing down, we could have stretched our legs at any of the little towns along the way. I'm wistful for the drinks or ice creams we didn't stop to enjoy with locals. When I tell Jack this, he laughs, an I-told-you-so gleam in his eyes.
Except for the three-hour sail on the lake, the Okeechobee Waterway was strictly a motoring trip, but we'll do it again. It's a shortcut from our home on the Gulf Coast to the Atlantic side, a way to avoid the South Florida craziness. It's peaceful, it's easy. As Jack would say, "bucolic."