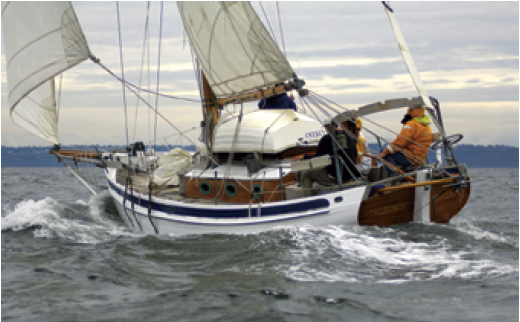 Sam rushed on deck to meet us as we rowed across the still starlit patch of water between our two boats. "Hey, good to see you two. When'd you get back? How was your delivery job? Climb on board and meet my wife. She's decided to join me on this cruise."
We secured our dinghy and went into the glowing oil-lit cabin on Delsamb. Sam poured us a drink as he introduced his tanned, twinkling-eyed wife. "This is Beatty, hasn't done much cruising yet, but she's giving it a try. I'm breaking her in the easy way. Short day hops till she knows the boat. Now sit down and tell me about your transatlantic sail. Get into any storms?"
"Not until we were only 35 miles from New Orleans," Larry began. "We were powering happily along over a flat sea, getting the boat ready to hand over to its owner, crew cleaning her up. About midnight the wind came up, dead on our nose. By 0200 we were hove-to in 50 knots. Temperature dropped from 60oF to 18oF, so cold we had to change watch every hour. We were hove- to for two-and-a-half days. Kept the engine running to try to warm up the galley. Second morning Lin got a weather forecast — waterspouts for our area — sure enough, over six of them formed up over the smoking sea. Kept the engine ready to throw in gear so we could take avoiding action if we had to. Frightening thing; never been around waterspouts before. Only way we could keep the man on watch from freezing was to use everyone's warm clothes plus wet gear and socks on his hands. Only two days before we'd been sunbathing, planning on what we'd do when we got in. Boat rode well though, hove-to."
I noticed Beatty shaking her head and I thought, "Here we go again, telling 'sea-fearing' stories. Why is it no one ever tells about the good times?"
It's hard to remember and describe all of the wonderful days because they are definitely in the majority. During that same delivery job, we had fine days such as one when a tropical sun warmed us thoroughly and our American crewman, Richard, who'd hitched a ride back from a walking tour of Europe and the Middle East, grabbed his huge duffel bag, and pulled out a hammock. He strung the hammock from the forward shrouds and as the Vagrant Gypsy surged over the seas, beam- reaching at close to 7 knots, we took turns swinging in the sunshine. Our English crewman, Chris, made his first attempt at making yeast bread after three weeks of watching the cook. So at tea time we all tasted a very successful loaf, smothered in butter and jam. Richard strummed his guitar, and we discordantly tried to sing Beatle favorites, "Here comes the sun, it feels like years since it's been here . . . "
It's not only men who are guilty of telling sea-fearing stories. I hate heavy weather and love cruising and sailing, yet as soon as the reunion kissing and hellos were over after a two-year separation from my parents, I caught myself telling two people who enjoy sailing but have done no offshore cruising, "We stayed too late in the Baltic. Everyone warned us, 'Leave by September 15 or take your boat out of the water.' But we were having too much fun. We waited out a nine-day gale and all of a sudden it was the middle of October. So as soon as the one hundred fishing boats clustered in Ronne on Bornholm Island finally set off to fish, we wanted to be underway. Weather report was fair. Well to make a long story short, as dark fell the following wind increased until it was blowing Force 10. Dropped all sail but had to keep running, couldn't heave-to 'cause all the fishing boats were trying to work back toward the island, and we had to have way on to maneuver around them. Could have been run down otherwise. Seraffyn was running beautifully under bare poles when all of a sudden one wave broke right on top of us. Covered the boat completely. Mast must have been at least 30 degrees below the horizon. Companionway was partially open. Every oil lamp lens burst, and as soon as we righted I crawled out of my bunk and stepped into water 10 inches deep. Boy did I start pumping! Bent our stanchion 45 degrees. Ripped the dinghy almost completely off its chocks. Washed our binnacle overboard. A 400-ton freighter sank in the same storm, and a 200-ton coaster that limped into the same port we did lost its whole deck cargo and needed assistance to make port."
My mother asked me, "And you enjoy this?" I realized my mistake at once. Why hadn't I told them instead about sailing for three months under the wonderful midnight sun, through the maze of 20,000 Swedish islands and 30,000 Finnish ones, safe anchorages less than two miles apart? I should have talked about the time we were whispering along on a following breeze, wearing just shorts, jerseys, and bare feet. Tree-covered islands crowded down on the narrow channel. The navigation marks on our excellent charts corresponded perfectly.
We glanced behind to see a Finnish Eight-Meter yacht running up the channel, slowly gaining on us. We rushed for our cameras; they ran for theirs. At the narrowest part of the channel they caught us. We joined their laughter and shouted greetings as the skippers on each yacht pulled in their winged-out mainsails so we could sail closer together and miss brushing the trees on either side. For six or eight lovely minutes we traded sailing gossip. I noted the special anchorages they told us about as Larry kept Seraffyn gliding along on course, less than 20 feet from the beautifully varnished racing machine. Then they slowly pulled ahead in the 8-knot breeze, and we settled back on our sunlit deck, happy to be alive.
Because we've led a cruiser's life for many years, we're constantly meeting new sailors. Often they are on the verge of making that big decision. They want to set out and go cruising. So they come on board to gather all the information they can, just as we used to when we were building and preparing Seraffyn. Soon the conversation turns from iceboxes and water systems to the question of storms. Or, three or four cruising boats arrive in the same port and everyone gets together in the largest cockpit to trade news.
Inevitably one of the couples is new to cruising and the question comes up, "What about the storms?" And so the frightening tales begin. Yet when Larry and I went through our log, we found that in 10 and a half years and almost 42,000 miles of cruising on board Seraffyn, we've spent less than 31 days in winds of Force 8 or above. Most of the time we had wonderful sailing spiced by hard beats and slow drifts. On the six deliveries I've been on, we've covered about 16,000 miles and had only two and a half days of winds over gale force. If you figure that out, it's less than one percent of all the sailing we do. We've discussed this with other long- term cruising people, and they confirm it. With proper planning, there is little reason to spend much time in storms. Yet let a new sailor come on board, and we all drag out the sea stories rarely considering their effect.
I know happy days don't make nearly as dramatic an impression, but aren't they worth telling about? What of working slowly into a deserted anchorage just at sunset, then rowing ashore to start a small bonfire so you can roast some sausages or a steak? What about the delights of a wall-to-wall suntan, carefully cultivated while you watch the porpoises weave their magic around your bow?
And then there's that perfect passage, a beam-reach of 20 or 200 miles when you never have to change sails or steer by hand, when your dinners are a gourmet's delight to an appetite whetted by a 12-knot breeze over a sea speckled with smiling whitehorses. Next time you're in a crowd of sailors and would-be voyagers and catch yourself starting to tell a sea-fearing story, look around. Could your story be the one that makes a sailor chary of his dream? Would some sailor's mate, just ready to go along on this great adventure, stop and reconsider after your tale of flying spray and soaked bunks? Instead, how about telling of the wondrous days when the winds blew fair, those days we really go sailing for?
I know it's hard, but I'm trying to do it, even if I'm dying to tell you about the time I was on watch alone, running out of Palma, Mallorca, in 25 knots of wind, when I noticed a ferocious squally cloud racing up behind, rain hissing at its foaming base . . .
From The Self-Sufficient Cruiser, revised edition, 1997, by Lin and Larry Pardey. Available from Paradise Cay Publications, 800-736-4509.
Lin and Larry Pardey have cruised together since Oct. 31, 1968, when they took their marriage vows and launched their boat. That first boat, Seraffyn, was a wooden homebuilt Lyle Hess-designed gaff cutter.
The headline is from a 1944 song introduced by Bing Crosby in a musical with Betty Hutton, Here Come the Waves. Although that seems all too apropos, the "waves" being celebrated in this movie were the kind in uniform. The song was written by Harold Arlen (music) and Johnny Mercer (words).