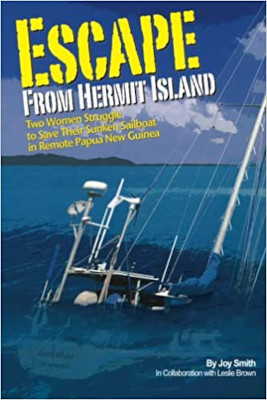 When Joy Smith and Leslie Brown's 34-ft. sailboat hits a coral reef off the north coast of Papua New Guinea, they never, in their wildest imaginings, could have foreseen the challenges they would face. One minute they were motoring to their anchorage; the next minute, Banshee is crashing onto the reef, splitting her fiberglass hull. Joy is trapped below, behind a door that shuts on her finger, as the sailboat begins to sink ten feet down, less than a mile from the shore. Not a minute too soon, Joy is pulled up out of the sinking vessel by one of the locals.
The story only begins there. After surviving the sinking, these two women are thrown into a world of chaos as they lose control of their home (Banshee), their belongings, and their lives. Forced to move to living quarters onshore, they are also expected to follow the religious customs of the devout Seventh Day Adventists who inhabit the island and live by the strict community rules of these Papua New Guinea villagers.
As Banshee slowly goes down, the village people make their way out to help remove all of the women's belongings and gear — then dumping all the waterlogged items on the beach for later retrieval. But this is when the first of the many problems begin — when these communal people see things they like and start claiming them as their own. Later, when the shipwrecked women attempt to repair their boat, the items they need to do the work are gone — not to mention clothing and food items.
To make things worse, though these courageous women know how to repair Banshee, the men of the island refuse to allow them to do the work, as they believe it is "men's work." Frustrated beyond belief, Joy and Leslie are forced to work alongside or watch as the men attempt to do the repairs their way — then sneak onboard their own boat to work on it at night and on the Sabbath. Joy has to travel from the remote island to acquire some of the materials required for the reparation work – travel in a third world country is difficult and the people are not always friendly to visitors.
Joy tells this incredible story in two points of view: her own and Leslie's. The two very personal insights give readers an extremely real and very personal perspective. Escape from Hermit Island is guaranteed to hook you. Once you start reading, you won't be able to put it down — until you find out how these determined women, over two years, pulled Banshee off the reef, repaired her and all the required gear, survived living in a very different culture, got their lives back, and sailed away.
Escape from Hermit Island; Two Women Struggle to Save their Sunken Sailboat in Remote Papau New Guinea by Joy Smith in Collaboration with Leslie Brown (Seaworthy Publications, Inc., 2008; 272 pages)