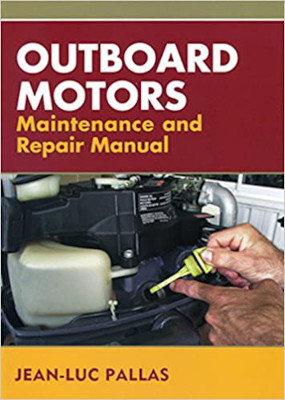 In this volume, which includes a profusion of diagrams and photographs, Jean-Luc Pallas, professor of Recreational Mechanics at La Rochelle Technical College in France, provides a most valuable resource for all outboard engine users, ranging from those who allocate all maintenance and repair to others to dedicated do-it-yourselfers willing to tackle serious maintenance and repair tasks themselves. My comments are from the perspective of a long-time sailboat owner who now operates a small-scale solo sailboat repair business on Chesapeake Bay.
Though individual engines may vary, general principles governing the care and feeding of the numerous brands of both 2-cycle and 4-cycle outboards are much the same. Wise outboard owners will, in addition to owning useful volumes such as the one reviewed here, purchase engine-specific repair manuals to supplement the meager information supplied when most engines are purchased. The more information one has, the less likely one is to be taken in or cheated by less-than-straightforward mechanics or repair facilities.
This book begins with information on the theory and operation of 2- and 4-cycle outboards. Their anatomy, operation, and terminology are explored thoroughly, supplemented with numerous diagrams, photos, and drawings. Essays on fuel, ignition, cooling, drive systems and lubrication are included among the topics covered.
Following the theory and operation section is an extensive review of maintenance issues, including instrumentation, noise analysis, cooling and fuel systems. Then comes a section on scheduled maintenance, along with an extensive list of hands-on tasks, ranging from checking and changing spark plugs to carburetor adjustments to battery maintenance.
A chapter on breakdowns follows. Such events always seem to occur at the most inconvenient times, making this portion of the book among its most useful. The breakdown tables provide a list of problems, along with listings of probable causes for each problem area. The repair solutions suggested provide a good troubleshooting guide to getting oneself out of difficulty.
The volume ends with an extensive, illustrated essay on laying up and storing the outboard at the end of a season. A conversion table for commonly used units of measurement (lengths, liquids, capacities, weights, etc.) provides an endpiece for this useful book, along with a useful index.
This reasonably priced volume would be a worthy addition to any outboard owner's bookshelf!
Outboard Motors: Maintenance and Repair Manual by Jean-Luc Pallas (Sheridan House, 2006; 112 pages)