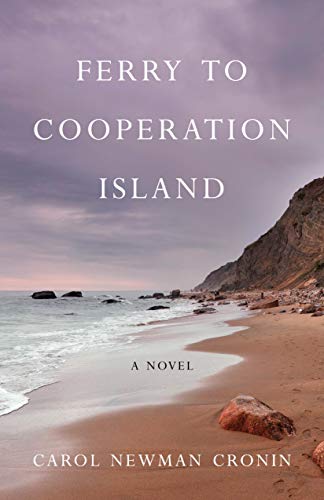 Author and Olympic sailor Carol Newman Cronin's fourth novel, Ferry to Cooperation Island, takes readers to a fictional setting in Rhode Island Sound between the real Block Island and Newport, where the salt air and small-town island life is as palpable as the granite and sand underfoot. Called Brenton Island on the charts, the place is nicknamed Cooperation Island by its residents because, "whether it's indigenous people and whites, rich and poor, or sailors and fishermen, there's always been…a get along approach," as one resident puts it.
This article contains affiliate links. If you make a purchase after clicking a link, we may get a small commission from that purchase. This comes at no cost to you. 
But that collaborative identity is challenged when island native Lloyd Wainwright, a developer living in Newport who also owns the ferry that is the island's lifeline, embarks on an underhanded mission to take control of West Brenton—a wild area that the local Narragansetts have held sacred for generations. The land grab to build a golf course there is fueled by greed but also by revenge. Wainwright despises the novel's protagonist, lifelong islander James Malloy, whom he blames for his grandfather's death, and whose family has long been an ally of the Narragansetts.
James' best friend is the leader of the local Narragansetts, Sachem Joe, and he is dying of cancer. When the book opens, Wainwright has just fired James from his job as the ferry's captain over a baggie of marijuana he was carrying to Joe to help ease his pain. James has been unceremoniously replaced by a complete outsider, a young woman named Courtney Farris who hails from Oxford, Maryland, on the Chesapeake Bay's Eastern Shore.
As he tries to navigate his bitterness over the upstart new captain and his grief over the impending death of his best friend, James begins to unravel Wainwright's plan for the takeover of West Brenton and the destruction of the wild land that he, too, holds sacred. Though he feels lost and confused, it becomes clear that Sachem Joe and the islanders are looking to him to lead the effort to prevent Wainwright's plan from succeeding.
And, it becomes clear that he will have to ally himself with young Capt. Courtney, who is going through her own boatload of emotions as she wrestles with learning how to run a big boat in open water for the first time while every eye on the island is judging her performance—especially former Capt. James—and a consistently tardy deckhand seems determined to make her late on every run. Still, once she learns of her boss's plot she doesn't want to see him succeed, having watched development pressures threaten her home on the Eastern Shore. Though the story opens with her certain that this position is temporary—a way for her to earn enough chops to land the captain's job for the Oxford ferry so she can go back home—the island and its locals slowly grow on her, even as she becomes accepted by them.
Watching the relationship between James and Courtney evolve from testy to cautious to something more is watching them both grow and change as people. James especially must open himself to possibility even as he's thinking about leaving the island and all of its painful memories and complicated relationships behind.
The story is told from alternating points of view of its main characters—Wainwright, James, Courtney, Mavis, who is Sachem Joe's sister, and Parker, the owner of the local inn who has a crush on Mavis and is in a business arrangement with Wainwright. With several other side characters and plot threads, at times it's a little tricky keeping track of the tangle of relationships and histories. But Cronin does a good job with the novelist's delicate balancing act of juggling multiple points of view, and her well-conceived plot drives the narrative firmly forward.
Cronin says one thing all her novels have in common is a happy ending, and that's as far as this review will go as far as spoiling. They all also share a clear love of the water and knowledge of the boats upon it; it's a pleasure to read scenes of James sailing and Courtney learning to drive the ferry that are completely authentic and filled with lively action.
This is a fun read, and likely there will be more stories from Cooperation Island, as Cronin says in the acknowledgments: "Brenton Islanders are already plotting their next appearance…the place is so real to me now, I keep expecting to spot the ferry on its daily runs to Newport." We will stay tuned.
Ferry to Cooperation Island, by Carol Newman Cronin (She Writes Press, 2020; 376 pages)