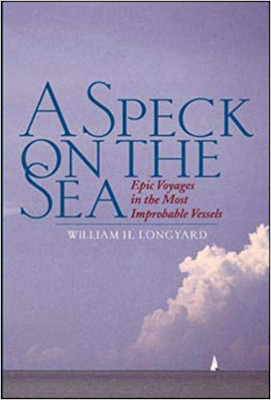 William Longyard's introduction to A Speck on the Sea begins with the question, "Why would anyone cross an ocean in a small boat?" In the following 375 pages, he presents more than 100 reasons from sailors as varied as famed captains William Bligh and Ernest Shackleton, who set to sea in launches, to the not-so-famous Australian Ben Carlin and his wife, newlyweds making a 1950-51 Atlantic crossing in a surplus Army GP-A Jeep.
A Speck on the Sea is encyclopedic both in breadth and in layout. The author begins with unnamed Inuit kayakers around 63 A.D., organizes his chapters chronologically, and ends with Spanish Count Álvaro de Marichalar y S áenz de Tejada's Atlantic crossing on a Sea Doo in 2002. His research exhausting, virtually every significant small-boat voyage is chronicled. Perhaps most fascinating is the infinite variety of vessels. In addition to the afore mentioned Jeep and personal watercraft, there are open canoes, rubber rafts, and even a 26-foot double-ended lifeboat made of sheet iron and set up with a three-masted square rig! Also encyclopedia-like, this book includes 41 pages of appendices, references, notes, a bibliography, and a thorough index. It is beautifully illustrated with black and white drawings and photographs. Very few reference books make for such riveting reading.
A later chapter covers the quest to captain the smallest vessel completing an ocean crossing. Hugo Vihlen firmly held that record for years, crossing the Atlantic in his six-foot April Fool. In 1983, Eric Peters claimed the new record in his five-foot, ten-and-one-half-inch Toniky Nou. The race was on for a crossing in a boat so small that no one would raise a campaign to beat it. One persistent challenger was Tom McNally, and William recounts his back and forth competition with Vihlen. In 1992, Vihlen's five-foot four-inch Father's Day was challenged by McNally's Vera Hugh I, an inch and a half shorter. I won't spoil the ending, but at this writing neither of those boats is small enough to hold the record!
From the absurd to the ingenious, small boats are as varied as the skippers who use them to go to sea. A Speck on the Sea is a fascinating book and will provide more nautical trivia per page than just about any other source. Most importantly, is serves an invaluable purpose to the average sailor . . . easing the endless quest for a larger vessel. Before reading this book, I wondered if my 32-foot cutter was truly capable of an ocean passage. Now, it feels unsportingly large!
A Speck on the Sea: Epic Voyages in the Most Improbable Vessels  by William H. Longyard (International Marine/McGraw Hill, 2003; 375 pages)