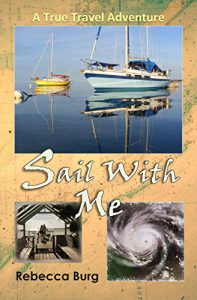 Inspiring self-reliance marks this debut memoir by sailor, artist, marine mechanic-electrician and singlehander Rebecca Burg, who in the 1990s swapped life ashore in West Bend, Wisconsin, for the Key West-based cruising life.
Her passion for sailing shines as brightly as the yellow hull of her beloved Angel, a 1978 cutter-rigged Bayfield 29. Introduced to boating during childhood, Burg learned to sail as a young adult, venturing out on Lake Michigan and nearby inland lakes as crew as well as acquiring her own 16-foot trimaran, Troika. Eventually she took her newfound skills south to pursue a life well-lived with no dreams delayed. Her platonic companion is the M&M-candy-loving Bill, a veteran Key West-based charter captain and fishing guide living aboard his 36-foot 1974 Morgan Out Island ketch, Defiance.
Rebecca and Bill, who met on the 'net while she was boat shopping, retain their independence while enjoying the safety and companionship of traveling in company. Both work hard during tourism season in "Key Weird," replenishing cruising kitties before buddy boating in their "antique" vessels to nearby cruising destinations in the Bahamas. In addition to selling her art and writing, Burg earned certifications through the American Boat and Yacht Council (ABYC) that have enabled her to partner up on a mobile marine-repair service.
Burg airs strong opinions on everything from ground tackle to the financial status of cruisers on the mooring field in Boot Key Harbor. Her viewpoints will surely spark lively discussions wherever boaters gather. Chapters on dining underway, fishing techniques, and living aboard a small boat feature some unique and useful ideas for provisioning and outfitting.
Nitty-gritty details such as anchoring laws are outdated in this decades-old not-to-be-used-for-navigation recounting of the singlehanding duo's forays in and around Florida and the Bahamas. But some topics are timeless: Mastering the intimidation factor of a Gulf Stream crossing, exploring the less-visited Marquesas, 30 miles off Key West, and successfully avoiding hurricanes. Angel and Defiance weathered the succession of storms that ripped through the Keys in summer-fall 2005 — Dennis, Katrina, Rita and Wilma — by hiding in unspecified mangrove-lined waterways in Southwest Florida. Perhaps those hidey holes and other mysteries — including the murky portrayal of a male-female friendship complicated by ambiguous sexual proclivities — will be more clearly revealed in Rebecca's next book. Curiosity also remains about the newbie sailor's first long passage down the U.S. East Coast to Florida's Gulf Coast.
At times the prose sings, especially when Rebecca discusses her Native American heritage and alignment with her boat's spirit. But Sail With Me suffers from lack of editing and proofreading, leaving typographical speed bumps that jolt readers out of the story. Maps, photo captions, and illustrations featuring the author's artwork would also help bring Rebecca's instructive and entertaining sea tales more fully to life.
Sail with Me: Two People, Two Boats, One Wild Adventure by Rebecca Burg, Createspace Independent Publishing, 2014, 234 pages)