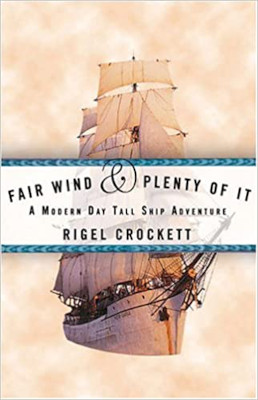 "This is the pleasure of life at sea — fine weather, day after day without interruption — fair wind and plenty of it — and homeward bound." So begins this story, A Modern-Day Tall Ship Adventure. The quote is from Two Years Before the Mast, written in 1840 by Richard Henry Dana, Jr. The significance of that book, A Personal Narrative of Life at Sea, is explained by Henry Dana in a preface: so many stories (such as J. Fenimore Cooper's) were told by naval officers or passengers. A common sailor has "a very different view of the whole matter." Rigel Crockett gives us that view in our own time, the "light and the dark together."
A year and a half at sea, completing a square-rigged barque while maintaining and repairing her on her maiden voyage is like no cruise you'll ever take aboard your boat. The author and other seasoned professionals are joined by fare-paying crew who work the ship day and night themselves — only one of the many points of dissension to come. They go through 13 ship's cooks on the way. From broken steering to mutiny, there are plenty of hardships. Ten crewmembers wanting refunds (when jumping ship) threaten the whole project. And yet, through it all, this is more than a romantic adventure; it's a love story.
The details, whether of furling a square mizzen topmast stays'l or how the fire in the galley is fought, make this trip a visual and physical experience. The personal insight into the lives and personalities entwined before the mast and on the quarterdeck make it real. As for the "claustrophobia brought on by this incestuous community," well, "it just goes to show that sometimes misery can permeate the adventure of a lifetime." Can logging 232 nautical miles under sail in one day make up for the misery? Does day after day, week after week, and month upon month of one tropical paradise after another count for more than the drudgery of painting over rust on wet steel? Yes.
The Barque Picton Castle, the spectacle of flying fish hitting sail and the allure of swimming with sharks are not the only elements of romance. "To Ariel" is the dedication, and it's the beginning of many a letter written between exotic ports of call. And to Ariel this able-bodied seaman returns, while six others of the crew become three married couples at the end of their voyage — "and homeward bound."
Fair Wind and Plenty of It by Rigel Crockett (Rodale, 2005; 392 pages)