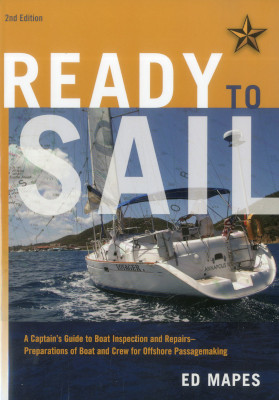 Are you planning — or even just dreaming — of an offshore passage and aren't entirely sure where to start or what to do to prepare for this daunting adventure? Don't fret: you're not the first, you're not alone, and there is help. My own first offshore passage is still in the distant future but I firmly believe that it's never too early to start preparations, and it's always best to go directly to the experts for advice.
Ed Mapes is a licensed USCG Master Mariner and delivery captain who has spent a dozen years conducting boat inspections and teaching offshore sailing. After so many years of seeing boats and crews that were unsafe and ill-prepared for offshore sailing, Ed compiled his experience and know-how into Ready to Sail.
In 12 chapters Ed covers nearly every aspect of boat and crew preparation for offshore sailing. Starting from that initial impression when first seeing the boat, he progresses to inspection, repair, and maintenance of the hull, fittings, standing rigging, gear, and other systems normally on a cruising boat. The last three chapters cover safety, crew preparation, and preparing the boat for sea. Reading this book taught me a number of things about boats, and the repair and maintenance of their systems that I didn't know before.
Ed likens this pre-passage inspection process to the initial marine survey before purchase of a yacht, but he says, "You're no longer trying to determine whether you should buy the boat; rather, you must discover its faults and weaknesses in a much higher-stakes game — that of ocean readiness." He emphasizes that you need to "focus more on function than aesthetics" and consider how each item of gear or equipment "will function in a rough seaway." And that's just in the first chapter!
Photos, illustrations, and charts are spaced throughout and each chapter concludes with a useful list of spares pertinent to that chapter's topic. In three appendixes, Ed provides 15 separate checklists for such things as gear, tools, spares, and boat inspections to aid in your passage planning. They are generic and may need to be tailored to individual needs. There is also a helpful index.
This book starts off the mark in full sail and never slows 'til it reaches the finish as it leads you step-by-step in preparing for your own offshore passage. I highly recommend Ready to Sail to anyone considering an offshore passage or who has primary responsibility for the care and maintenance of a sailboat. This book is a "keeper" that would make a positive addition to any sailor's library.
Ready to Sail: A Captain's Guide to Boat Inspection and Repairs — Preparations of Boat and Crew for Offshore Passagemaking by Ed Mapes (Sheridan House, 2009, 224 Pages)