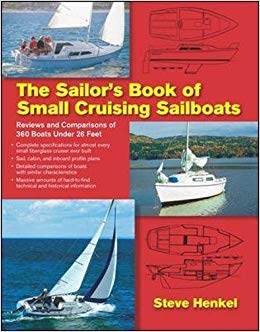 Steve Henkel collected information for decades before compiling this fascinating compendium on fiberglass cruising sailboats sold in the U.S. Nearly all of the boats get a full page, with roughly half of each page devoted to plans. The 8½ x-11 inch format is large enough to make the plans accessible, and Henkel shows us a sail plan, a full hull profile from abeam, and an interior plan for each boat. Each review includes Henkel's own opinion of the boat's best and worst features, and data for several comparable boats. The book is organized in six sections, according to boat length, so comparison is easy. Henkel uses length on deck to categorize the boats.
An unusual amount of data is included. In addition to the typical data, Henkel gives the boat's designer, the most prominent manufacturer, years of production, sail area, tank capacities, bridge clearance, PHRF rating, hull speed, and headroom. He developed a "space index" that estimates the total cabin space, and gives ratings for motion underway based on Ted Brewer's comfort ratio. In some cases, Henkel has measured from the manufacturer's drawings to supply or correct information. An introductory chapter does a fine job of discussing the measurements and their meaning.
Henkel, one of the founders of the short-lived Sailor magazine, has been writing about sailing since 1971 and has owned 23 different boats. In this book he includes lists of boats that he thinks are particularly well suited for various kinds of sailing. There is an informative chapter discussing boat character and the pros and cons of various features (tiller vs. wheel, outboard vs. inboard, full keel vs. fin, etc.). Oddly, this information follows the reviews, though it seems better suited for a place at the beginning.
This book would be improved if Henkel's generalizations were pulled from individual reviews and blended into the chapter on boat character. The 76 photos at the back of the book seem to be an afterthought, with no indication in the corresponding boat reviews that a photo is included. Regrettably, some of the drawings, apparently taken from the marketing materials of the manufacturers, are not clear enough so that all of the notes can be read or the details discerned. In a perfect world, the drawings would have been redone and sometimes simplified for clarity.
In general, however, the book is a rich addition to the literature. It's absorbing simply to read the reviews and contemplate the unfolding design trends in cruising boats. Only sixty years have elapsed since fiberglass boats were introduced, but the evolution of hull design — including changes in keel and rudder shapes — has been significant. Sail plans, to a lesser extent, have also changed. Henkel's work shows that, despite trends, a few makers have continued to sell slower but more sea-kindly hull designs, as well as interesting alternatives to sloop and cutter rigs. The design of the Cape Cod Marlin, for example, a 23-foot full-keeled sloop, reaches back to Nathanael Herreshoff, who died in 1938. The boat's lines and sail plan were revised by Herreshoff's son, Sidney, and when introduced in 1957, the Marlin was one of the first fiberglass boats to appear on the market. Interestingly, it is still being made by Cape Cod Shipbuilding.
Henkel has completed another volume, covering cruising boats 26- to 31-feet in length, which International Marine hopes to publish in the future.
The Sailor's Book of Small Cruising Sailboats: Reviews and Comparisons of 360 Boats Under 26 Feet by Steve Henkel (International Marine/McGraw Hill, 2010, 412 pages)