Articles, Volume 1 and Volume 2: Book Review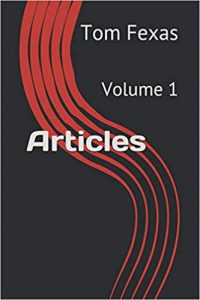 Review by Rob Mazza
When I was with Mark Ellis Design in the mid and late 1980s and early 1990, Mark was in the process of successfully incorporating more powerboats into his design portfolio. I expect that was the reason we started to receive copies of Power & Motoryacht magazine. That's how I was introduced to the writings of Tom Fexas. When the magazine arrived each month, I immediately went to his column. He was always refreshingly irreverent and an enjoyable read.
Most of us know Tom Fexas through his very distinctive powerboat designs, most notably a sleek black 44-footer named Midnight Lace that debuted at the Fort Lauderdale Boatshow in 1978. She was a striking departure from all the motor yachts of the day, employing design elements that Fexas admired in the commuter yachts of the 1920s. She was uncompromisingly black, narrow, low, and sported a large amount of varnished mahogany on her rounded contours. She was a showstopper and established Fexas as a designer of international renown. It was when Power & Motoryacht magazine entered the scene in 1985 that Fexas' articles started to appear. It was in that very first article in February 1985 that he established his irascible tone that would continue in all his writing for the magazine. That first article, and the first article in Articles: Volume 1, was entitled "Sailing is Silly (or, sooner or later one must face the fact that a so-called "sailboat" is merely a powerboat with a funny cabin and masts)." How's that for an opening salvo! Volume 1 covers all Tom's monthly articles for Power & Motoryacht from February 1985 to March 1987, and Volume 2 covers April 1987 to the December 1991. For reasons unknown, Volume 1 is the slimmer of the two books, at 163 pages, compared to 313 pages for Volume 2. My understanding is that future volumes will contain more of his prodigious output. (Articles, Volume 3 was released on January 26—Eds.)
Tom passed away at the far-too-young age of 65 in 2006. These articles have been collected for independent publication by Tom's widow Regina Fexas, who is often mentioned in Tom's writings. Articles provides an interesting glimpse into the powerboating industry of the past 30 years, told from the perspective of someone writing at that time. The articles are easily and quickly read and are as entertaining now as they were when they were written, though some of the writing may not ring with the modern ear, including his rants against holding tanks and the computerization of engines and boat systems. That said, having lived through it, his riling against the Luxury Tax of 1990 certainly hit home!
Among my favorites of Tom's articles are those in which he talks about his own upbringing, growing up as part of a Greek immigrant boating family in Queens, NY, and his early exposure to the type of boat he would grow to love and that would become an inspiration of his future design career. In one series of articles, in response to the question from a young reader, he documents his own journey to a successful yacht design career. Oddly enough, it is only through these glimpses contained in his own writings that we get any background on who Tom Fexas was. There is a short biography on the last page of Volume 1, but neither book presents anything close to a full description of his remarkable life and design career. (For that, you need to go to Wikipedia.)
Rob Mazza is a Good Old Boat contributing editor. He set out on his career as a naval architect in the late 1960s, working for Cuthbertson & Cassian. He's been familiar with good old boats from the time they were new and has had a hand in designing a good many of them.
Articles: Volume 1 and Volume 2, by Tom Fexas (Independently Published, 2018; 171 pages)