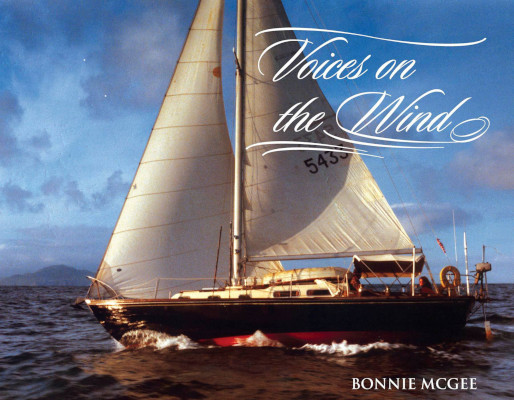 "I grieve over the homogenization of people in the name of globalization, and hope that there will always be pockets of richness like jewels waiting for those who are willing to explore." Bonnie McGee spent 4½ years circling the world aboard her 33' boat, shooting photographs and writing down stories as she cruised. Exploring those "pockets of richness" was pivotal in her life. "Besides the incredible experience of nights at sea a thousand miles from shore, the sailing life teaches self reliance and opens your heart to the wondrous possibilities of living fully. Not much can compare with it." Three friends were convinced; each bought a boat after hearing Bonnie's stories.
Voices on the Wind, with its large 10 x 12" format and stunning photography, is more than a coffee table book. It is meant not only to be read, but experienced. Webb Chiles, in his introduction, describes Bonnie's stories as the distillation of what a sensitive woman took away from the land and the sea.
Vignettes spotlight memories from the journey:
Jamaica: "Paint remover? No, Mon. We don't carry it. Why would anyone want to remove it?"
New Guinea: "He glanced at the plump moon climbing high in the sky. Several times he wrinkled his brow and pursed his lips as if trying to phrase a question. Finally, he pointed to the moon and drew a deep breath. 'I have heard,' he began tentatively, 'that a man from your country has walked on the moon.'"
Offshore: "Gary has arranged a troop of clothespins on the starboard lifeline and has begun issuing commands to them. Have we been at sea too long?"
Dynamic pictures bring the pilgrimage alive — wide pink smiles of toothless old men in straw hats; multicolored corals and creatures that live where land meets Mother Ocean, and below that ocean; native children playing in fields, paddling dugouts, grinning in the cockpit. From French Polynesia to Australia, New Guinea to Africa, across the Indian Ocean and around the Cape of Good Hope, Bonnie photographed and Bonnie wrote.
The circumnavigation ended over 20 years ago. Today, Bonnie is a successful Colorado artist who still loves the wildness of untouched places. She could be speaking of her life on the water rather than her artwork when she talks of trying to capture the power of wild places.  Her description of "the smallness of man against the backdrop of vast mountain vistas" could easily read: "The smallness of woman against the backdrop of a vast ocean panorama."
Voices on the Wind by Bonnie Mcgee (Skylark Publications, 2009; 120 Pages)