The Mercy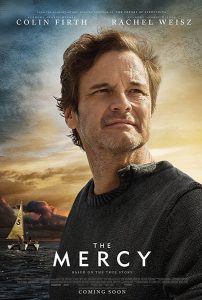 directed by James Marsh and starring Colin Firth and Rachel Weisz (Roadside Attractions, 2018)
Review by Fiona McGlynn
The Mercy depicts the tragic real-life story of British sailor, Donald Crowhurst, who attempted to become the first person to sail solo, non-stop around the world in the 1968 Golden Globe Race.
Donald Crowhurst (played by Colin Firth) was a day-sailor, inventor, and father of four (though only three children are depicted in the film). He entered the race, believing that his technological innovations would compensate for his lack of sailing experience.
The film's buildup portrays Crowhurst preparing to go to sea. The launch date of his custom-built trimaran, Teignmouth Electron, is pushed back until Crowhurst is up against an impossible deadline.
Perhaps sensing the tenuousness of the campaign, Crowhurst's backers have him sign a contract that seals his fate: if he doesn't go far in the race, he will forfeit his house and business. The film cultivates a compassion for Crowhurst, showing his attempts to quit or turn back on numerous occasions, only to be met with pressure from his sponsors and the press, "Leave your doubts with us here on the shore. Take your dreams out to sea," coos publicist Rodney Hallworth when Crowhurst tries to back out before departure.
***Spoiler Alert: this review gives away the ending. If you're not already familiar with the Donald Crowhurst story, you may want to watch The Mercy first.***
When Crowhurst realizes he won't survive the Southern Ocean, he remains in the Atlantic, but files position reports that falsely show him sailing around the world. His plan: to slip in last, such that his logs will never be carefully scrutinized.
Unfortunately, competitors continue to drop out and he is faced with entering port having made the purported fastest navigation. Realizing discovery of his deception is inevitable, the last of his resolve crumbles. "It is finished IT IS THE MERCY," are the final lines written in Crowhurst's log (recovered months later) and they're spoken by actor Colin Firth as he throws the ship's clock overboard, presumably a symbol (as at no other point are we introduced to the significance of the unlucky clock), for Donald Crowhurst taking his own life.
One thing that bothered me is that the movie gives the impression that Crowhurst sailed in a calm for 7 months. Except for one CGI storm, only flat water is shown. I think this unrealistic depiction makes it more difficult to understand Crowhurst's plight. The changing conditions and large ocean swell would have been constant antagonists, eroding his boat and mental strength. The Mercy gives the impression that Crowhurst's boat and mind fell apart while floating in a mill pond.
I came away from The Mercy with a new respect for what Donald Crowhurst accomplished. The endurance and ingenuity required to organize a campaign, to survive seven months at sea in an unsound boat, and to temporarily convince race officials and the public that he'd sailed around the world, is considerable. The Mercy casts an alternate, and I think more compassionate, light on the Donald Crowhurst story.
Fiona McGlynn recently attended the start of the 2018 Golden Globe race in France and runs a website on millennial sailing culture www.waterbornemag.com
Editor note: And if this story intrigues you, there is a 2006 documentary, Deep Water, that is a riveting, non-fictionalized account of the Crowhurst story that we highly recommend. There are also several books written about this story. One has earned much acclaim: The Strange Last Voyage of Donald Crowhurst, by Nicholas Tomalin. To learn more about the 2018 Golden Globe Race that got underway on July 1, read Fiona McGlynn's story in the July issue of Good Old Boatmagazine.